Pintello Comedy Theater's eighth annual New Year's Bash will feature the premiere of "Little Shop of Horrors"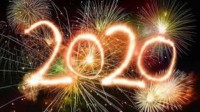 ---
By Mark Fenichel
Celebrate New Year's Eve with your entire family at Gilroy Gardens. The celebration begins at 4 p.m. and ends at midnight. Ring in 2020 with family and friends for a special New Year's celebration at Gilroy Gardens. Visit Gilroy Gardens at Night for the Holidays, and enjoy music, local wines, and craft beers at the Events Plaza starting at 8 p.m. The fireworks over Coyote Lake kick off the countdown to 2020 just before midnight and is included free with all Holiday Night admission tickets.
The New Year's Eve tradition continues at Casa de Fruta with a catered dinner and dancing including champagne and party favors. The Inn and RV park is just steps from the activities and you can spend a leisurely New Year's at Casa de Fruta without having to drive. Ask about their special RV packages. The event takes place at The Casa De Fruta Music Hall and is located at 10021 Pacheco Pass Highway, Hollister. I suggest you buy your tickets early as this event will likely sell out.
Pacific Point Christian School's New Year's Eve Gala will be held at The Milias Restaurant the day before New Year's Eve on Monday, Dec. 30. This celebration is themed Heart of Gold and all proceeds will initiate the Scholarship Fund. The Gala features champagne as you arrive followed by a sit-down dinner, music, photos on demand, a fabulous drawing, live auction, and much more. It begins at 6 p.m. and goes until 11 p.m. and tickets are $100 each.
In Morgan Hill, ring in New Year's Eve Ladera Style at the Ladera Grill.  Their annual event includes a Prix Fixe dinner, Champagne toast at midnight, dancing to DJ Thomas, balloon drop, party favors and desserts. Tickets are $125 plus tax and gratuity per person and reservations and pre-payment are required. They are located at 17305 Monterey Road and for reservations call (408) 201-9200.
88 Keys Café will be seating at 5 p.m. and is offering a four-course dinner including appetizer, soup or salad, prime rib and other choices, dessert, Champagne toast and live music featuring The Mark Richards Band. Tickets are $79 per person. Call for a reservation at (669) 888-3488. They are located at 1295 E. Dunne Ave., near U.S. 101.
The Milias Restaurant has a free event featuring live music with the all-girl band Blue House from 7:30 p.m. to 12:15 a.m. with a free Champagne toast at midnight, hats, balloons and noise makers. They are located at 7397 Monterey St. Call (408) 337-5100.
The Pintello family has made their annual New Year's Bash part of their holiday tradition at Pintello Comedy Theater for the past seven of their 17 years. This year's eighth annual New Year's Bash will feature the premiere of "Little Shop of Horrors," the campy sci-fi comedy musical smash.
The evening starts with delicious food from the Westside Grill. Local crooner Ted Sanchez warms up the audience with crowd favorites until curtain time. Then the audience will enjoy the premiere of the biggest, baddest, musical comedy the Pintellos have produced. There is a dessert buffet at intermission, and beer, wine and champagne are included. The play will end in time for folks to count down to midnight with the cast, then dance the night away past midnight and beyond. The theater company's motto "There's something funny going on here!" has never been truer.
Tickets are $125 each and available by calling (408) 337-1577 or emailing [email protected]                                              •
The District Theater in Gilroy will feature a live music celebration with the Legendary Chicano All Stars Band. They will also have hosted appetizers, fun party favors, midnight Champagne toast and a massive midnight balloon drop. General tickets are $30 each. For more information call The District Theater (408) 767-2775. They are located at 7430 Monterey St., in downtown Gilroy.
Rosewood CordeValle has a party from 9 p.m. to 1 a.m. If you are looking to dance the night away you can join the party after dinner in the Rosewood CordeValle ballroom, where DJ Rich Haun (aka Haun Solo) will be mixing beats. The party includes a midnight balloon drop, a welcome Prosecco and complimentary sparkling toast, cash bar and late night snacks. The party is $65 each and reservations can be made at (408) 695-4500.
Treat yourself this New Year's Eve but remember to be safe and watch out for the other guy!
---
Got a music tip? Email [email protected]

Latest posts by Mark Fenichel
(see all)