The celebration reenacts the pilgrimage to Bethlehem by Mary and Joseph
By Staff Report
In Mexico and other Latin American countries, people celebrate the nine days of Las Posadas leading up to Christmas Eve — Noche Buena (Holy Night).
The Christmas holiday in Mexico continues through Jan. 6, which is El Dia de los Reyes (day of the kings or the wise men).  Traditionally, this is the day Mexican children received their gifts, but with growing influence from other heritages, they sometimes receive gifts on both Christmas Day and Dia de los Reyes.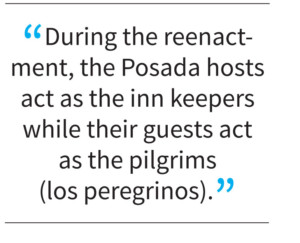 Christmas in Mexico is a time that honors the "nativity" or birth of Jesus. As part of the celebration, traditional fiestas called Posadas are held for family, friends, and neighbors. The Posadas reenacts the Census pilgrimage to Bethlehem by Mary and Joseph in search of a room. From Dec. 16 through Dec. 24, Mexican families customarily hold a Posada party one evening in each of their homes.
During the reenactment, the Posada hosts act as the inn keepers while their guests act as the pilgrims (los peregrinos). Holding lighted candles outside the front door, each group takes turns singing carols to each other.
Then the inn keeper hosts open the door and welcome the pilgrims inside to enjoy a fiesta. Often the festivities begin with a short religious service which includes a Gospel reading and prayer.
At the Posada parties, guests enjoy cheerful socializing, authentic food, and fun for the entire family, including a piñata filled with candy.
As each child takes a turn at swinging at the piñata, onlookers sing an encouraging verse:
"Dale, dale, dale; no pierdas el tino, porque si lo pierdes, pierdes el camino."
"Hit it, hit it, hit it; don't miss the shot, because if you miss it, you'll lose the way."
After the piñata is broken and the candy has been gathered by the children, the guests enjoy the merriment with a buffet of food as well as adults indulging in a Christmas Mexican drink called Ponche con Piquete (sting), a hot fruit punch containing a spicy blend of seasonal fruits, cinnamon, and a shot of brandy or rum.