Paige De Rosa and Danielle Russell receive top honors for their writing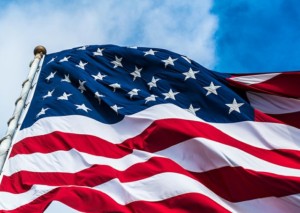 By Staff Report
Young people in South Valley demonstrated their patriotism with Gilroy's Veterans of Foreign Wars' annual essay contest with the theme "What Makes America Great."
Danielle Russell, a junior at Christopher High School, won the high school division for "Voice of Democracy: What Makes America Great."
Jaden Morgan, a senior at Bellarmine College Preparatory in San Jose, placed second in the high school division.
Paige De Rosa, a seventh grader at Brownell Middle School, won the middle school division for "Patriot's Pen: What Makes America Great."
Second place was Jacob Puentes, a sixth grader also at Brownell Middle School, placed second in the middle school division.
"These students are truly patriotic," said Alfred Alciati, VFW Post 6309 commander. "Their essays were well written and well deserving of the award."
The Voice of Democracy and the Patriot's Pen essay competitions, conducted nationwide, are part of a VFW-sponsored youth program that gives students an opportunity to write 300-400-word essays expressing their views on an annual patriotic theme.
"Despite being young, all these students really expressed themselves well on topics many adults take for granted," said John Ceballos, VFW essay committee chair. "I'd predict these young people will be leaders for their generation."
VFW Post 6309 presented the winners each with $150 and the VFW Auxiliary added another $100. Second place finishers $100 from the VFW for the local competition. Their winning essays will now move on to the VFW District level and have the potential to advance to the state and national levels.
Essay by Paige De Rosa:
America. 50 beautiful states, each with their own grace to make this country home to 327.2 million people. Many people agree that this country is amazing, but what truly makes America great? Is it our past presidency? Perhaps it is our bonded and diverse community? But have we ever considered the possibility that it is both of these factors?
There are too many elements that make this country great, but one of the greatest might be that our country stands united and strong. Through thick and thin, our neighbors have lifted us up. 9/11, which might be the worst attack our country has ever faced only brought us together. While the terrorists were looking to break us apart, the only element they succeeded in was bonding us as a country. It is the exact some situation with the shootings that our nation has been dealing with lately. I myself have been a victim of a shooting in my hometown that happened a mere 3 months ago. Feeling in danger and unsafe is the worst feeling ever, but in the aftermath, seeing our community hold vigils and weep together, sparks an inspired light within us.
Another aspect of our country's success is past leaders. Like any civilization, great leaders that leave a good mark will carry on forever. While our country has only been in progress for 243 years, it is still and will always be considered "the land of the free." In 1790, Alexander Hamilton, one of our most famous founding fathers, made a case to Congress suggesting a National Bank. Money is one of the many bases of this country.
There are many other concepts that people think makes America exceptional, but a common belief is America's diversity. Although there are times of crisis in our country where people think immigrants are poisoning us, the truth is, our country was built on immigrants. Alexander Hamilton was an immigrant from Charlestown, which resides on the island of Nevis. Other influential immigrants include Albert Einstein, Joseph Pulitzer, Madeline Albright, Isabel Allende, and Dikembe Mutombo.
So many aspects shape this country, including diversity, communities, and political success. But the one thing that will last from the past, present, and the future is UNITY. Unity is what puts the "great" in America the Great.
Essay by Danielle Russell:
Looking back upon our years as a nation, on our greatest triumphs, our heartbreaks, and all the lessons we've learned, there is one quality of America which can't be denied or ignored: the strength and promise of the American spirit, an indescribable dream of hope. Taking root before we achieved our freedom from England, once this "liberty tree" began to grow, its roots ran deeper and deeper, until nothing could uproot the undying spirit.
The life of John Peter Zenger exemplifies this spirit. Zenger worked to establish freedom of the press in the colonies, beginning in New York, where he published a weekly journal calling for the birth of a new nation. Jailed for what the Crown deemed seditious sentiments, Zenger continued to publish the journal, undaunted.
Published in 1776, Thomas Paine's Common Sense and the words forever immortalized in its pages, led the American spirit to spread like wildfire. As the pamphlet drifted through the camps of the bedraggled Continental Army, it inspired thousands to continue fighting for the idea of a free America, and it encouraged thousands more to enlist in some form. Men and women, so determined to attain their freedom, gave their lives so further generations could be free. We don't know all their names, and we never will. They didn't give their lives for fame, but for a cause greater than themselves.
This sense of duty has never been conveyed in such a poignant, heartrending manner as when our nation was torn in two by the Civil War. Thousands of Americans answered the call for volunteers to "stitch" the Union together again. Men and boys like Franklin Lewis of the 145th Pennsylvania Volunteers, aware of the great risk placed before them valiantly declared, "I will go and do what I can." It was the uncrushable, eternal patriotism encompassed by the American spirit that led eighteen-year-old Horatio Lewis, to write home after the Union's gruesome loss at the Battle of Chancellorsville, insisting, "I am not discouraged yet," and, "Our government shall be maintained at whatever cost." When he died two months later from wounds received during the Battle of Gettysburg, he became, like so many other young Americans, a symbol of eternal youth and the power of the American spirit. They knew the risks of enlistment, but their devotion to their country, mixed with a sense of duty, compelled them into action.
It was this spirit which led women to heed the call to arms in every war fought by American citizens. Before they were legally allowed to enlist in the armed forces, women like Deborah Sampson and Sarah Emma Edmonds cut their hair and fought alongside men, braving the unspeakable hardships. Others worked as nurses, caring for the sick and dying, offering them comfort in their final moments. These women lived with the same emotional scars as the men they fought beside. Their sacrifices often went unnoticed, nevertheless, these women fought on, for their families and for their country. It was this spirit which inspired Abigail Adams to beseech her husband to "remember the ladies." It was this spirit which furthered the women's rights movement and continues to do so.
When we experienced trials greater than any our forebears had ever imagined, the American spirit was there to guide us through. When our people were devastated by the ravages of World War II and Vietnam, or the 1918 Spanish Flu epidemic which killed so many, the American spirit was all we had, and all we needed. This spirit has brought comfort to the millions affected by the wars we've fought in; to the mothers, the fathers, the sisters, the brothers, the wives, the husbands, and the children who have lost a loved one in those horrific conflicts. Declaring our resilience, we banded together and grew stronger than ever before. We honored those we lost and kept them in our hearts as we strode forward in our lives. With this spirit singing in our hearts, we lay wreaths upon the graves of our fallen each December for Wreaths Across America. With this soothing spirit dancing in our souls we honor our dead each May as we place red poppies beside their gravestones and pin them to our shoulders to remember their sacrifice. As this spirit abides within, we continue to revere our veterans for the terrible sights they saw, and for the horrors they endured, all for their country.
This country has been made a beacon of hope in a world so devastated by darkness, due to the American spirit. It was this hope that beckoned to the Irish, calling them to a bright new world, when a potato famine unlike any the world had ever seen devastated their country. This light, in all its brilliance, continues to call immigrants to America, making it a symbol of everlasting freedom and unparalleled opportunity. This light, this soundness of spirit, is what fuels the American Dream.
The spirit of America, which continues to thrive, is not something that can be clearly defined, because it means something different to each American. To some, it means courage and justice. To others, it means remembrance and sacrifice. To all, it means we are Americans, united as one.