Broadway hit musical tells story about a man-eating plant from outer space
---
By Camille Bounds
Pintello Comedy Theater's latest production is "Little Shop Of Horrors," a silly delightful bit of fun for South Valley audiences. You may not leave the theater humming any of the tunes, but you will feel good and perhaps a little giddy. In these days of stress and election harping, this well-done "Little Shop of Horrors" may be just what the doctor ordered.
"Little Shop" tells a delightfully strange story about Seymour, a nebbish botanist who works in a failing Skid Row flower shop. A fly-trap type plant from outer space takes up residence in the shop. It soon turns Seymour's life into a confusing, uproarious mess as it develops a taste for human flesh.
Howard Ashman (book and lyrics) and Alan Menken (music) took Roger Corman's 1960 cult B-horror movie and created the musical that successfully played off-Broadway. The story takes the audience on a crazy ride into an unsettling story that is as campy as it can get. Songs like "Suddenly Seymour," "Somewhere It's Green," and "Ya Never Know" creates the moods of the moment. (Ashman and Menken went on to win Academy Awards for their work on "The Little Mermaid" and "Beauty and the Beast.")
Guests at Pintello's annual New Year's Bash party got a sneak peek of "Little Shop of Horrors," which director Whitney Pintello described as "the biggest, baddest musical comedy" the theater company has produced. It's unique to see a show that's usually bigger and bolder done in a tiny venue. For instance, some of the accommodations Pintello Comedy Theater makes to bring that huge plant onto the small stage actually accentuate the size and scale of the monster.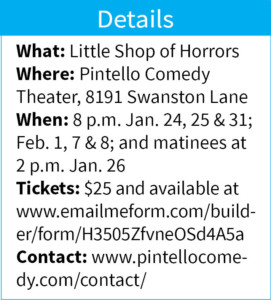 It's also a pleasant surprise to find so much heart in the center of the story of what is a campy romp of a show. There's the question of what lengths a desperate person would go to get out of Skid Row and rise up in life.
The Pintello production is well cast. The bright light here is Chloe Angst as Audrey, the innocently dumb blonde with a big heart. She plays the part flawlessly with an East Side New York City accent. She delivers her lines and songs with so much believability the audience feels for this ditsy babe and rolls with her character. Dave Leon intimates and melodically bellows with his rich bass as the voice of Audrey II (the man-eating plant). The audience finds they are really listening to a grotesque potted plant demanding to be feed.
As the show's director, Pintello moves the story along with the timing of a ringmaster in a three-ring circus. She transitions the scenes smoothly without surges and keeps her actors tight and moving. Adrianne Wilkinson's costumes are glitzy, classy/trashy and set the mood. Jennifer Young Peterson's choreography is simple and organized.

Latest posts by Camille Bounds
(see all)