Recognition celebrates service to community
---
By Donna Lane
The Spice of Life Awards were presented Feb. 1, at the Granada Theater in Morgan Hill. In addition to Man of the Year Jaime Rosso and Woman of the Year Elaine Bonino, awards were given in eight other categories.
Educator of the Year: Donna Kline
Eliot Elementary School kindergarten teacher Donna Kline has been working in classrooms for 38 years. The fifth-generation Gilroyan was stunned to learn that she'd been recognized.
"I was at a staff meeting," she recalled. "It's a blur. Our staff is very talented and deserving of the award. I had not a clue that it was me. I think so highly of my peers. There are so many deserving people."
Though Kline has taught other grades, she loves teaching kindergarten, which she's done at Eliot since 2001.
"I have a special spot in my heart for the young ones," she said. "I love their joy coming into the classroom, like 'I want to learn!' Watching their progress, eyes open, saying, 'I know this now!' It's very rewarding. It's a wonderful age of exploration, figuring out who they are, and being willing to try anything. I love to see the newness of everything in their eyes. They give me as much if not more than I give them."
Reflecting on the honor, Kline added, "Always try to do your best and do as much as you can for our children. The community has given me the reward of being recognized for my hard work. It's heartfelt. I've been fortunate to live out my dream and become a teacher, a job I love. I think I'm adding to the lives of children here and giving back to the community I've lived in forever."
Non-Profit of the Year: South County Tail Waggers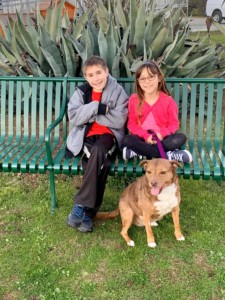 Marguerite Murphy founded South County Tail Waggers in November 2016. Since then, the organization has become known for its mission: Saving Each Other — People Saving Dogs, and Dogs Saving People Right Back! Through their Community Influence program, volunteers bring adoptable dogs to incarcerated minors, senior citizens, at-risk youth, and foster children. It's a win-win. The dogs are socialized to prepare for adoption while their human counterparts receive unconditional love.
Gilroy native Murphy acknowledged, "Getting people to work for money is hard enough. Getting them to work for free, follow your lead, get behind your ideas, and spend time, that's special. I was very touched, just blown away, by this honor. I'm proud of the team I lead and can't do this without them."
SCTW created South County's first free spay and neuter clinic and worked with the Compassion Center to alter dogs among the homeless population. They also created the first free day camp for children with special needs. In 2020 and beyond, they'll work more with the homeless population, individuals with disabilities, and domestic abuse victims. They also plan to implement a program where kids can practice reading to adoptable dogs in a safe space.
"We've won over the community's trust and become a go-to organization," Murphy said. "Our name is associated with something good and reputable. That means a lot."
Murphy walked away from a lucrative corporate career, but said, "This is the most important work I've ever done. Getting this award is a win for the dogs."
Young Professional of the Year: Majesta Patterson
Born and raised in Gilroy, Majesta Patterson returned in 2014 to buy a home, where she lives with her husband and two children. At 29, she's accomplished quite a bit. Over the last nine years, she's used her college degree as a wedding and portrait photographer. But in 2019, she began focusing on mentoring business-owning mothers, or 'biz moms,' who want to take their businesses to the next level but might feel stuck. She launched an online program and podcast. Later this spring, she'll shift her business toward a membership model.
"It's an honor to be recognized," Patterson said. "For me, it feels like a leadership position, which is what I aspire to go into. That tells me I'm on the right path, and hopefully paving the way for others to pursue their dreams. But it's also humbling. Receiving this honor has given me the space to reflect on how far I've come."
Patterson's goal is twofold: to build a support and challenge network simultaneously.
"Both roles — entrepreneurship and motherhood — are very isolating," she admitted. "I  hope to build a place for women to rally behind each other. It's easy for us to be biased toward our own lives. In this community, we can help the other person get out of her own way, give advice, and reflect on our own lives. There's magic in that."
Young Professional of the Year: Gianfranco Filice
At 21, Gianfranco Filice is poised to graduate from Stanford in June. Majoring in Economics and minoring in Italian, Filice was born and raised in Gilroy. Though his name may be well-known, his parents, Franco and Nadina, are from Turin, Italy, and El Salvador, respectively. Both emigrated in their 20s. Filice believes that having parents from two different hemispheres gave him a unique perspective.
"Being recognized for my commitment to the Gilroy community is absolute humility," he said. "Not so much because it represents me, but it reflects the guidance I've received from this community over the years, the ambition, values, and mentors."
When Filice was 14, Nadina was diagnosed with Stage 4 cancer. Inspired by her, he founded international clothing company Ripple. "I asked how I could create something to make a difference, that reflected how my mom sees the world."
After being rejected in 25 different investment meetings and failing to raise adequate funds through a Kickstarter campaign, Filice finally fou