Recognition celebrates service to community
---
By Donna Lane
The Spice of Life Awards were presented Feb. 1, at the Granada Theater in Morgan Hill. In addition to Man of the Year Jaime Rosso and Woman of the Year Elaine Bonino, awards were given in eight other categories.
Educator of the Year: Donna Kline
Eliot Elementary School kindergarten teacher Donna Kline has been working in classrooms for 38 years. The fifth-generation Gilroyan was stunned to learn that she'd been recognized.
"I was at a staff meeting," she recalled. "It's a blur. Our staff is very talented and deserving of the award. I had not a clue that it was me. I think so highly of my peers. There are so many deserving people."
Though Kline has taught other grades, she loves teaching kindergarten, which she's done at Eliot since 2001.
"I have a special spot in my heart for the young ones," she said. "I love their joy coming into the classroom, like 'I want to learn!' Watching their progress, eyes open, saying, 'I know this now!' It's very rewarding. It's a wonderful age of exploration, figuring out who they are, and being willing to try anything. I love to see the newness of everything in their eyes. They give me as much if not more than I give them."
Reflecting on the honor, Kline added, "Always try to do your best and do as much as you can for our children. The community has given me the reward of being recognized for my hard work. It's heartfelt. I've been fortunate to live out my dream and become a teacher, a job I love. I think I'm adding to the lives of children here and giving back to the community I've lived in forever."
Non-Profit of the Year: South County Tail Waggers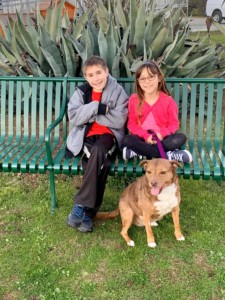 Marguerite Murphy founded South County Tail Waggers in November 2016. Since then, the organization has become known for its mission: Saving Each Other — People Saving Dogs, and Dogs Saving People Right Back! Through their Community Influence program, volunteers bring adoptable dogs to incarcerated minors, senior citizens, at-risk youth, and foster children. It's a win-win. The dogs are socialized to prepare for adoption while their human counterparts receive unconditional love.
Gilroy native Murphy acknowledged, "Getting people to work for money is hard enough. Getting them to work for free, follow your lead, get behind your ideas, and spend time, that's special. I was very touched, just blown away, by this honor. I'm proud of the team I lead and can't do this without them."
SCTW created South County's first free spay and neuter clinic and worked with the Compassion Center to alter dogs among the homeless population. They also created the first free day camp for children with special needs. In 2020 and beyond, they'll work more with the homeless population, individuals with disabilities, and domestic abuse victims. They also plan to implement a program where kids can practice reading to adoptable dogs in a safe space.
"We've won over the community's trust and become a go-to organization," Murphy said. "Our name is associated with something good and reputable. That means a lot."
Murphy walked away from a lucrative corporate career, but said, "This is the most important work I've ever done. Getting this award is a win for the dogs."
Young Professional of the Year: Majesta Patterson
Born and raised in Gilroy, Majesta Patterson returned in 2014 to buy a home, where she lives with her husband and two children. At 29, she's accomplished quite a bit. Over the last nine years, she's used her college degree as a wedding and portrait photographer. But in 2019, she began focusing on mentoring business-owning mothers, or 'biz moms,' who want to take their businesses to the next level but might feel stuck. She launched an online program and podcast. Later this spring, she'll shift her business toward a membership model.
"It's an honor to be recognized," Patterson said. "For me, it feels like a leadership position, which is what I aspire to go into. That tells me I'm on the right path, and hopefully paving the way for others to pursue their dreams. But it's also humbling. Receiving this honor has given me the space to reflect on how far I've come."
Patterson's goal is twofold: to build a support and challenge network simultaneously.
"Both roles — entrepreneurship and motherhood — are very isolating," she admitted. "I  hope to build a place for women to rally behind each other. It's easy for us to be biased toward our own lives. In this community, we can help the other person get out of her own way, give advice, and reflect on our own lives. There's magic in that."
Young Professional of the Year: Gianfranco Filice
At 21, Gianfranco Filice is poised to graduate from Stanford in June. Majoring in Economics and minoring in Italian, Filice was born and raised in Gilroy. Though his name may be well-known, his parents, Franco and Nadina, are from Turin, Italy, and El Salvador, respectively. Both emigrated in their 20s. Filice believes that having parents from two different hemispheres gave him a unique perspective.
"Being recognized for my commitment to the Gilroy community is absolute humility," he said. "Not so much because it represents me, but it reflects the guidance I've received from this community over the years, the ambition, values, and mentors."
When Filice was 14, Nadina was diagnosed with Stage 4 cancer. Inspired by her, he founded international clothing company Ripple. "I asked how I could create something to make a difference, that reflected how my mom sees the world."
After being rejected in 25 different investment meetings and failing to raise adequate funds through a Kickstarter campaign, Filice finally found success.
The Christopher High School graduate also established a scholarship in Nadina's name, to be awarded to individuals who wouldn't traditionally qualify. "First generation college students who need encouragement to know they're going down the right path," Filice said.
Having worked as a Goldman Sachs project manager, Filice hopes to go into growth equity. But he remains socially conscious. "What I'm doing is not so much about my resume, but about my integrity and humility. If you lack character and don't have intelligent thought about why you're doing something, then it's meaningless."
Large Business of the Year: Cresco Equipment Rentals
"Cresco has always felt accepted and valued by the community of Gilroy," said Chris Smith, president of Cresco Equipment Rentals. "It's incredibly rewarding to have opened a business in Gilroy and have it be as easy as it was, from planning to building, and to be able to build a nice business in a great town. We've always felt so welcomed."
He continued, "We do business in 20 cities. In most of them, we're a highly performing nobody. But in Gilroy, we're a highly respected member of the business community. It's such a treat."
But the equipment rental business hasn't always been easy. "We lived through a hard period of time, the 2008 recession," Smith said. "We're most grateful that we were able to survive the challenges of 2008 and maintain our presence and services in Gilroy. That was certainly not the case for everyone. It's nice to see Gilroy so vibrant."
Cresco is proud of its business partnership with the Gilroy Garlic Festival, and its move from the original location on Chestnut Street to its larger facility on Auto Mall Parkway.
"We are offered a diverse mix of customers from Gilroy," Smith said, "with opportunities to rent on large public sector projects while also helping with fun and interesting small projects on people's personal homes and property."
Smith concluded, "This is a fun business, and we get to serve people every day. If we weren't serving others, we would be left thinking about ourselves all the time. What a miserable and sad experience that would become."
Small Business of the Year: Straw Hat Pizza
Raj Nayyar, a native of Punjab, India, has been part of the Gilroy community for four years now. Having successfully opened Straw Hat Pizza Parlors in Watsonville and Hayward, he opened his largest location in Gilroy in November 2015. Nayyar loves Gilroy, and that feeling has been reciprocated.
"It's a very family oriented, friendly and supportive place," he said. "It makes it easy for me as a business owner. Seeing such a tight-knit community like Gilroy inspires me to be equally generous."
Nayyar's always felt the need to give back to the community. He's sponsored community organizations like South County Tail Waggers, Indian Association of South Santa Clara County, Christopher High School wrestling, Gilroy High School football and wrestling teams, and Little League teams, and has supported Wreaths Across America.
Support means coming together in hard times, too. He and his Straw Hat team, and community volunteers, stayed up all night after the incident at the Gilroy Garlic Festival, making and delivering pizzas to law enforcement. He has organized fundraisers for local groups such as the Gilroy Foundation to help the shooting victims. "We do these things not out of obligation, but out of love and appreciation for our neighbors and our neighborhood," Nayyar said.
He added, "Any kind of help I can give, I want to do it. I sponsor almost everybody who walks into my store; I don't like to say no. We've built a relationship here and become friends. It makes your confidence go up, and you feel like you're wanted."
Firman Voorhies Volunteer of the Year: Lisa Blagof
Lisa Blagof has lived in Gilroy since 1987. A professional Realtor, she covers south San Jose to Hollister, and started a YouTube channel and Facebook business page, Lisa Knows South Valley. Her volunteer efforts have taken her on quite a journey, from South County Tail Waggers and Gilroy Sunrise Rotary, to Paws in the Park and Leadership Gilroy. But it's the blood drives she's helped organize that mean so much to her.
"In my prior career, I worked in a hospital lab," Blagof noted. "I had a heartfelt attraction to (blood donation) and personal experience. I wanted to go where I could make the biggest impact. And I realized there weren't many opportunities to donate blood in South County."
Soon, she'd organized a blood drive that collected 32 units of blood, and then another that collected 30 more. She plans to continue.
Another event important to Blagof was Leadership Gilroy's Tame the Flame, an effort to install smoke and carbon dioxide detectors in the Wagon Wheel mobile home park for seniors. At last year's event, residents could exchange old smoke detectors for new, and they handed out 132. "It was shocking to see how many people don't have working smoke detectors," she said.
She enjoys how Gilroy's generous community has demonstrated the ability to pull together in a crisis. After shots rang out at last year's Gilroy Garlic Festival, Blagof , who had just finished her shift, helped round people up and walk them out.
"I'll be out there next year," she promised.
Susan Valenta Youth Leadership Award: Jane Tovar
At 17, Jane Tovar is a senior at GECA (Dr. TJ Owens Gilroy Early College Academy), where she's earning her AA in Communications. After graduation, she'll pursue a degree in Environmental Studies, and will be among the first generation of her family to attend college.
Tovar has lived in Gilroy most of her life, but sometimes struggled in school. "The first two years of high school, I had issues with mental health," she said. "Therapy and medications really helped me. I want people to know that it's okay. Mental health is not talked about at this age. There's so much going on at once. But if it helps someone, then I'm glad to talk about it."
At the end of her sophomore year, she ventured out of her comfort zone and ran for the Gilroy Youth Commission's club commissioner. "I went for an interview in front of the City Council," she recalled. "I didn't get it the first time, but I applied again and have been doing it the past two years."
Through that outlet, she's been involved with Pampered Princess Parties, which help boost confidence in girls, as well as teaching 4th and 5th graders every other week in the STEAM (Science, Technology, Engineering, Art, and Math) for Students program. In her spare time, she works at the outlets and helps her mom at the flea market on Sundays.
"It means a lot to be recognized by this community," Tovar said. "It meant a lot to my mom, too, to see that other people see what I'm doing."

Latest posts by Donna Lane
(see all)