New Resiliency Center helps South Valley community deal with Garlic Festival shooting trauma
---
By Jessica Ewing
"How do we react to a mass trauma?"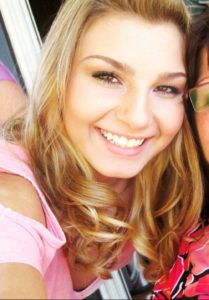 That's what Santa Clara County District Attorney Jeff Rosen asked the crowded room. Indeed, how does one properly respond to such a violent and hateful act like the one that occurred at the Gilroy Garlic Festival July 28?
Everyone I attended the event with reacted differently. My friend, Jordan, seemed to have moved on from the incident as quickly as it came. Only days later whenever anybody asked him about it would he tell them he didn't want to talk about it. My roommate, Leah, who has a very innocent demeanor, was completely shell-shocked the days following and would cry any moment she had time alone with her thoughts. Hershel, who has a history in law enforcement, was more of a comforting presence for those of us who hadn't quite moved on yet. My father, Dayton, with a military background, spent his moments after the event divulging every bit of information he was able to glean during the tragedy to the police officers already on scene. He would periodically check up on me but never seemed to be too affected himself.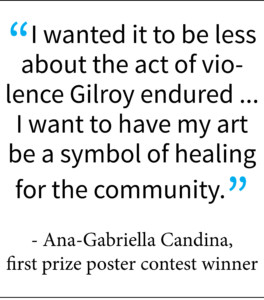 It seemed to me like I had taken it the hardest of anyone in my group. Granted, I was the first to recognize the popping sounds for what they were, so I took off running before anyone else had moved. Both Leah and Dayton thought the sound had come from the music stage the band Tin Man was playing on, maybe fireworks to close out the show. By the time I reached the back end of the vendor area, I realized everything in my purse had gone flying; my phone, my car keys (which I drove us all to the festival in) and my wallet. At this point, I looked up to see my father running in the other direction, toward our car but also where the shots were coming from. I ran the opposite way, toward where the school buses were being overrun by fleeing festival-goers. It was frightening being separated from everyone in my group, not knowing if they were safe and not being able to contact anyone.
Two days later, I left for a planned trip to Hawaii. I felt like the whole community was coming together in unity and resilience while I was on vacation just trying to forget. But I was also obsessively reading articles on not only the Garlic Festival shooting, but the tragedies in El Paso and Dayton the following weekend. When I got home, Leah told me she'd been doing the same thing. We would both jump in fear at the sound of any loud noise and grab onto whatever was nearest. Leah and Hershel attended the Outsidelands Music Festival a week later. When a speaker blew out near the stage, it reminded them of the gunshots. They both took off running but a security guard assured them everything was okay. Months later, I attended a concert for the first time. I had to stay away from the standing room-only area because I was paranoid that if anything were to occur, I'd be trapped.
These kinds of traumas are long lasting, for some people more than others. Everyone I went to the festival with was perfectly safe, but traumas like this "resonate like aftershocks after an earthquake," as Rosen said. It's in our darkest times when we need to be able to focus not on the violence of an act but the positive and healing response by those affected. I can't express how wonderful it was to walk through the room at The Neon Exchange, the building where the new Gilroy Strong Resiliency Center opened. It was packed with supportive community members and works of art from throughout the county.
First-prize poster contest winner Ana-Gabriella Candina said, "I wanted it to be less about the act of violence Gilroy endured … I want to have my art be a symbol of healing for the community." I believe she has done just that. Her artwork is vibrant, the "Gilroy Strong" slogan is emboldened right across the top, and the woman holding her hand in the air amidst a field of fresh garlic perfectly encapsulates the strength our community possesses.
As of now, the center will be open from 5:30 to 8:30 p.m. Tuesday and Thursday. More services are expected to be available in April. I highly encourage all, whether emotionally impacted or not, to stop by and enjoy the art which all 35 of these students have created.
---
Jessica Ewing is the marketing director for Gilroy Life. Reach her at [email protected]

Latest posts by Guest Column
(see all)