Mount Madonna School student performers provided a lot of energy in telling tale from the Middle Ages
---
By Camille Bounds
The musical "Pippin" opened on Broadway in October  1972  and tells a story about a journey a young prince takes to find the true meaning of his life. In Mount Madonna School's production, director Sampad Martin Kachuck and choreographer Charleigh France keeps the 40-plus ensemble moving throughout the performance.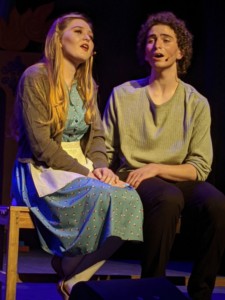 The simple set design by Erika Rosendale moves with the production, sound engineer Nick Wallace and lighting director Paul Skelton never missed a cue and Isa Stead's costumes fit the moment. Musical director Gitanjali Rivera kept control throughout the performance.
Braeden Will as the Lead Player keeps the show connected with good  timing. Noah Tervalon plays a sensitive Pippin who eventually finds his purpose in life. Connor Murphy as the domineering King stomps his way to attention and Fiona Burgess plays Berthe, Pippin's grandmother, with a sassy charm.
The music and lyrics by Stephan Schwartz, ("Wicked,"  "Godspell"), with the  book by Roger O. Hirson and has been updated from the 1972 production to fit the new premise without losing the original intent of the story.
Mount Madonna School's production of "Pippin" is a show where the student performers provided a lot of energy in telling the story based on a historic figures from the Middle Ages. Well done, students, in putting on this play about a young man's search to understand the mysteries of life.
"Pippin"

Where: Mount Madonna High School – 491 Summit Rd.-  Watsonville

Through:  Jan. 24 through Jan . 26 –  ( 3 performances)

Running Time:  2 hours and 20 minutes – with one intermission

Latest posts by Camille Bounds
(see all)