Two Gilroy residents have died of coronavirus as of March 25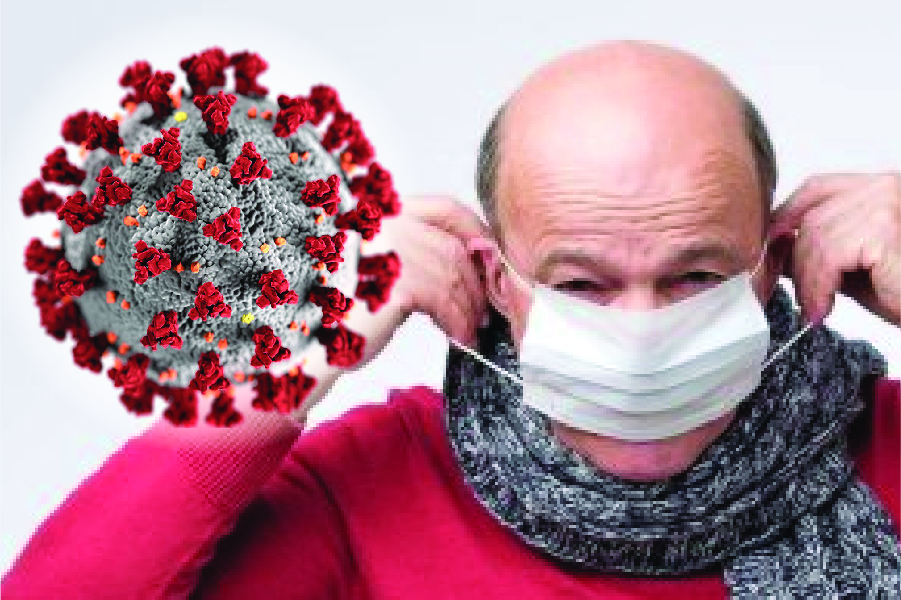 By Robert Airoldi and Marty Cheek
It's been more than a week since Santa Clara County public health officials ordered all county residents to shelter at home and close all non-essential businesses, Gilroy residents are feeling the social and economic impact of the COVID-19 global pandemic.
The coronavirus, which causes a pneumonia-like illness, has breached 169 countries around the globe, infecting more than 456,000 people and killing at least 20,500 people, based on data compiled by Johns Hopkins University as of noon March 25.
Silicon Valley has become "the epicenter" of the pandemic in the Bay Area, Dr. Sara Cody, the public health director for Santa Clara County, said. The county as of March 25 has 375 confirmed cases – almost double the amount reported three days prior – and 13 deaths reported, up from 6 on March 20. A Gilroy woman in her 80s who fell ill died March 16. Gilroy resident Gary Young, 66, died March 17 after testing positive. As of March 23, city officials were not aware of any Morgan Hill residents confirmed with the virus.
"Based on the data we know the rate of COVID-19 will accelerate," Cody said. "These are tough decisions and we need to make them quickly."
In compliance with the order, Gilroy City Hall closed through April 7, 2020. This closure includes recreation centers and all non-essential services provided by the city.
"The health and safety of our community continues to be our number one priority," said Mayor Roland Velasco. "The Gilroy City Council feels strongly that it is in the best interest of our community to do our part to slow the spread of this pandemic. Therefore, we will close City Hall and discontinue all non-essential functions of the city in compliance with the order from the Santa Clara County Public Health Department. I believe that together, as a community, we can improve the outcome of this situation if we all do our part. Please take care of yourselves. We will get through this together."
For regular city business, please call (408) 846-0583. This line will be monitored and calls related to essential services will be answered within 48-hours.
For non-emergency public safety needs please call (408) 846-0350.
For emergencies, please call 9-1-1.
The city of Gilroy is monitoring the situation closely while working in partnership with local, state, and federal partners to ensure the safety of the community and employees.
Wednesday, March 25, the Gilroy Unified School District, along with all other school districts in Santa Clara County, have extended school closures through May 1, 2020.  Students will return to school May 4, 2020.  For more information, please visit: https://www.gilroyunified.org/novel-coronavirus-information.
Meanwhile, the Gilroy Senior Center will continue to facilitate the daily Senior Nutrition Program coordinated with the YMCA. Additionally, the bi-monthly Second Harvest Food Bank Brown Bag program will continue to take place the first and third Thursday of the month.
The actions taken by officials from local to federal government agencies are required to "flatten the curve" of the number of people catching the COVID-19 virus, which spreads easily though human contact, health experts say. The virus can cause severe symptoms for vulnerable populations, particularly older adults, and individuals with underlying chronic health conditions.
In response to the county's order, the city of Morgan Hill – like Gilroy – closed facilities to the public for non-essential services. These include the Community Center, City Hall, the Morgan Hill Library, the Centennial Recreation Center, the Aquatics Center and the Outdoor Sports Center. City parks are still open, with the exception of downtown's Railroad Park and the Skate Park, but the playground equipment and picnic areas cannot be used because of the danger of virus transmission. All schools in the county are closed as well as Gavilan Community College.
"We encourage the community to get out so long as they are observing the social distancing guidelines. Get out and take walks. It's very good for us mentally and physically," said Maureen Tobin, the city's communications and engagement director. She stressed the importance of the community taking action to attempt to prevent the spread of the virus by physical distancing and the shelter-in-place order by the county. The order has impacted local businesses from manufacturing to retail as people are forced to stay home. Grocery stores and supermarkets have seen their shelves emptied as concerned shoppers stock up on items. Local restaurants are closed to dining, but many offer take-out. The Premium Outlets in Gilroy and service businesses such as hairstylists considered non-essential have closed.
Many community events and fundraisers have been canceled including the Gilroy Garlic Festival, the Poppy Jasper International Film Festival, which would have opened April 1 for eight days of cinematic celebration. Gilroy Gardens has delayed the opening of their park until at least April 4. The AAUW Wildflower Run scheduled for March 29 was canceled, but organizers encourage residents to participate in a "virtual run" April 19 to 26 to raise money for scholarships and its programs. Participants can pay their entrance fee, get their T-shirts and other goodies from a location (or mailed) and  can run or walked from any location they choose. Henry Coe State Park is open for hiking, but closed to backpacking and camping. The Mushroom Mardi Gras board of directors made the decision March 24 to cancel this year's festival.
"After much consideration and in lieu of new recommendations by the CDC regarding events/festivals within the next eight weeks, we have made the heartbreaking decision to cancel the 2020 Morgan Hill Mushroom Mardi Gras Festival," executive Director Sunday Minnich said. "Please know that this was a very difficult decision and we did not take it lightly. Public health and safety are our utmost concern. Unfortunately, postponing until later this year was not a viable option given the number of factors involved in planning and executing the festival and site availability. We sincerely regret the inconvenience and disappointment this causes everyone who was looking forward to joining us this year.
Santa Clara Valley Medical Center's coronavirus response is headed by Dr. Jennifer Tong. The system includes St. Louise Regional Hospital, which is preparing for a growing influx of coronavirus patients from the South Valley in the coming weeks.
"If they should need support from our other hospitals, we have identified intensive care unit beds and low-level beds at both of our other hospitals where we can provide that support and accept such patients," Tong said.
To keep beds available for those most in need, the hospital system has deployed a telephone triage system to help identify patients who are safe to manage themselves at home.
Self-management for COVID-19 is much like self-management for influenza, Tong said. People should take over-the-counter medication, get plenty of rest, and receive monitoring for any worsening conditions.
"Some other healthcare practices we recommend for influenza we also recommend for potential COVID-19 cases," she said. "Try to sleep in your own bedroom, try to use a separate bathroom from others at home if you can, wash your hands frequently, don't share bath towels, and, of course, don't share kitchen utensils."
For those who don't have access to their own bedroom, Tong recommended wearing a mask, but this only applies to the person who might be infected with the virus.
"Let's say it was a single parent at home with a child and no other person to care for the child, we would recommend simple masking with something like a surgical mask to help protect the individual who is at home from the one who is infected," she said.
Tong stressed those who are not infected should not mask themselves, citing a worldwide shortage of face masks.
"It's really critical that we ensure that healthcare workers are protected," she said.
Santa Clara County's Public Health Department gave a general recommendation that individuals who feel they have been exposed or are exhibiting symptoms should contact their primary physician who will determine if a test is needed.
Staff at Visit Gilroy, a state Welcome Center at the Premium Outlets, said the virus has affected South County's tourism industry.
The majority of Visit Gilroy's yearly international visitors come from either China or Taiwan. In February, visits from Chinese tourists were down 75 percent compared to February 2019.
"I've been doing tourism for 16 years and I've never experienced anything quite like this," Visit Gilroy Executive Director Jane Howard said. "We're in uncharted territory, and I think all of us are just doing our best to adjust and respond accordingly."
Santa Clara County District 1 Supervisor Mike Wasserman, who represents the South Valley community, described COVID-19 as unlike anything the South Valley community or the world have ever seen since the Spanish influenza of 1918 because the disease spreads rapidly and its mortality rate is very high. That pandemic a century ago killed as many as 50 million people.
"Our communities, our state, our country and the world have effectively come to a standstill, and fear of what's next is in everyone's minds," he said. "I'm proud of the way our Public Health Department has responded to this crisis and the thousands of people working 24/7 to 'slow the roll' of this virus spreading."
The shelter-in-place order is a tough one, especially on small businesses and the self-employed, but county health officials and other leaders believed it to be the best course of action at this time, he said.
"Take care of yourselves and your loved ones," Wasserman encouraged. "We will get through this. Be strong."
People clearing supermarket shelves of essential food items is a sign that residents are worried about what long-term outcome the coronavirus crisis will bring for themselves and their families, Tobin said. And going to crowded stores at this time increases the chance they might pick up the virus.
"There is no need for hoarding. There is no need for packing up for months and months of food supply. It's not as if our food supplies have been impacted except for how people are responding," she said. "There obviously is a lot of uncertainty. And, of course, with human nature, people see other people responding in certain ways such as buying lots of toilet paper or whatever, and so think, 'Oh, I better get some.'"
The Santa Clara County Library System has set a tentative reopening date of April 12, in line with the Santa Clara County School District plans to re-open following spring break. SCCLD recommends patrons hold onto physical library materials on loan until efforts to contain the virus are lifted and the libraries reopen.
No late fees will be assessed during the closed period. The library has many online library services available through the website. The library district canceled all events in March and April.
"Closing public libraries is an extraordinary measure and a decision that is not taken lightly," said Jennifer Weeks, acting county librarian in a press release. "The decision to close is driven by our first priority — protecting the public and our staff's health and safety."
The YMCA of Silicon Valley is offering emergency services and programs to those who need it most through this challenging health crisis.
While services are developing and growing each day, early examples include:
Critical Care for Essential Workers' Children – They are working with hospitals, medical providers, first responders, and municipalities to repurpose staff and facilities to provide emergency care for the children of medical providers and first responders. Starting March 23, two sites with the collective capacity to serve 200 children will open at our El Camino YMCA and the Morgan Hill Unified School District. A third site will open on March 30 at our Southwest YMCA. These care centers will follow strict guidelines in accordance with the Public Health Department. As the need and funding becomes available, we anticipate additional facilities and staff will be redeployed to open even more sites.

Child Nutrition Sites – When schools closed, many children and families lost access to healthy meals. The Y quickly partnered with Child Nutrition Services, Second Harvest Food Bank, and several schools to distribute essential food to children and families in need through "drive-up and pick-up" stations. Today, 20 sites are providing more than 6,000 healthy meals daily – and this number is growing every day.

Blood Donation Stations – The Red Cross is experiencing a severe shortage of lifesaving blood. The Y is working with the Red Cross to set-up stations for individuals to donate blood. The first station is anticipated to open at the South Valley branch within the coming week.

Hot and Healthy Meals for Seniors – The Y is ensuring the most vulnerable population impacted by COVID-19, older adults, still have access to healthy meals. Staff teams are making home-cooked meals, packaging them, and running them out to the cars of mobile adults and caretakers. More than 120 meals are currently being distributed daily at sites in Gilroy and Morgan Hill.
Stay up to date on all the ways they are supporting our community through this health crisis at ymcasv.org.
For those in need of food:
Cathedral of Faith Gilroy, 7250 Forest St. will begin food distribution March 28, 2020, from 10 a.m. to noon every Saturday.
Cathedral of Faith's Morgan Hill church campus hosts a food distribution every 2nd Tuesday of the month from 11 a.m. to 1 p.m., at the Morgan Hill Community Center parking lot, 17000 Monterey Road. The next food distribution will be held on April 14, 2020.
For those interested in supporting the cause, they can donate by visiting www.reachingout.us.
Additional help is available at:
Nob Hill & Raleys: Starting March 21st offering a discounted bag of grocery essentials for seniors every day for $20 (plus a $35 option with ready-to-eat meal). The bags are available for pick-up curbside, or you can send a text to have the bag delivered right to your car. Details: https://sf.funcheap.com/city-guide/nob-hill-raleys-senior-essentials-bags/
Trader Joe's – Trader Joe's will implement senior hours every day between 9 and 10 a.m. (store hours will remain 9 a.m. to 7 p.m.). Staff will maintain an additional line outside the front door for senior customers. This will ensure those customers in need will have an expedited entrance to the store. Details: https://www.traderjoes.com/announcement/supporting-our-senior-customers
Walgreens – Every Tuesday for the near future, Walgreens stores will open from 8 to  9 a.m. dedicated to senior citizens. This hour is also available to their caregivers and immediate families may also visit the store during this time. Additionally, they will offer their senior day discount all day Tuesdays during this time. Customers age 55 and older will receive 30 percent off regularly priced Walgreens brands and 20 percent off regularly priced national brands. Details: https://news.walgreens.com/our-stories/covid-19-faq.htm#stores
Costco – Tuesdays and Thursdays, from 8 a.m. to 9 a.m., Costco will temporarily implement special operating hours for members who are 60 and older. The pharmacy will also be open during this hour; however, the food court will maintain its normal operating schedule. These hours apply to all locations except the Business Centers, which will remain open during regular hours. Details: https://www.facebook.com/Costco/
Safeway: Senior customers and at-risk guests will have special shopping hours at Safeway stores between 7 a.m. and 9 a.m., Tuesdays and Thursdays. Details: https://www.albertsonscompanies.com/newsroom/shopping-hours-for-vulnerable-customers.html
Target: Senior citizens and people with underlying health concerns can shop at Target stores nationwide every Wednesday starting at 8 a.m. All Target stores across the country will close at 9 p.m. to restock their shelves. Details: https://corporate.target.com/press/releases/2020/03/target-announces-reduced-store-hours-dedicated-sho
Walmart: From March 24 through April 28, Walmart's 5,000-plus U.S. stores will host an hour-long senior shopping event every Tuesday for customers 60 and older, which will start one hour before stores open. Stores will be open from 7 a.m. to 8:30 p.m. local time. Stores that open later than 7 a.m. will continue their regular starting hours. Details: https://www.usatoday.com/story/money/2020/03/18/coronavirus-walmart-changing-hours-senior-shopping-product-limits/2872045001/

Latest posts by Robert Airoldi
(see all)