At home in quarantine with lots of schoolwork, seniors have no exciting end-of-year activities to look forward to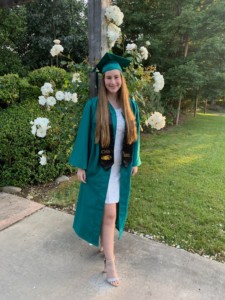 ---
By Sandy Sabath
It started March 13 at around 12:15 p.m. Everyone's phones were buzzing with the news. Due to the coronavirus, school was going to be cancelled for four weeks until further notice.
While at first most high schoolers were ecstatic to have four weeks off of school with no obligations, it was a different story for the seniors. I've been looking forward to senior year since middle school.
By this point in the year I had already dealt with most of the academics, winter finals, college essays, and scholarships. Now was supposed to be the final stretch. The exciting part of the year.
With senior prom and graduation in the distance it seemed all the hard work had finally  paid off. But now I'm here at home in quarantine with lots of schoolwork still to do but no exciting activities to look forward to. There would be no more sports, dances, spirit days, or public events for the academic year. It stung to receive my graduation cap and gown in the mail.
This time was supposed to be full of excitement and endless possibilities. Prom would have been May 9. Like many other girls, I had already bought a dress. Now my dress sits in my closet collecting dust. I am unsure I will ever have a chance to wear it. With students at home, how was school to continue?
I am grateful to live in Gilroy where the GUSD staff had spent time preparing for distance learning. Schools distributed Chromebooks to students in need and continued breakfast and lunch services for families.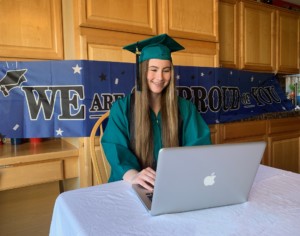 Although apart, GUSD students once again came together to learn. Using online resources, teachers have constructed new methods of teaching. Soon schedules were set in place and there was a bit of "normal" restored.
Unfortunately, I cannot return to school for personal closure. I'll miss moments as big as walking across the stage at graduation and signing yearbooks at lunch. I wish to see my friends at school one last time. I wish to park in my painted senior spot again that has been empty for over two months now.
Like many other seniors, I was excited for those special last moments in high school. As senior year closes, the future seems so unsure. With my peers taking all sorts of different directions in life, I can only wish them the best from afar.
Even our freshman year at college is uncertain with many campuses moving classes online. It breaks my heart that senior year was cut short, but I will forever cherish the memories I have made during my time at Christopher High School.
While I understand the importance of social distancing to flatten the curve, I do wish to be a part of society again. The shock from an everyday busy life to the sudden home lockdown wasn't easy. I am extremely lucky to have healthy friends and family. I've struggled, but I have begun to find small silver linings in this lockdown.
Although the day-to-day life has changed drastically, it is a time to reflect on ourselves and the community. Take care of yourself and your loved ones.
Cherish the times spent close to friends and family.
I never thought I would say this but I miss school. Moving forward, I will remember this time and remind myself to never take my education for granted.
---

Sandy Sabath is a senior graduating from Christopher High School. In the fall, she will attend CSU Monterey Bay, majoring in communications and marketing. She wrote this column for Gilroy Life.
Latest posts by Marty Cheek
(see all)