Student-led project fundraiser will benefit St. Joseph's Family Center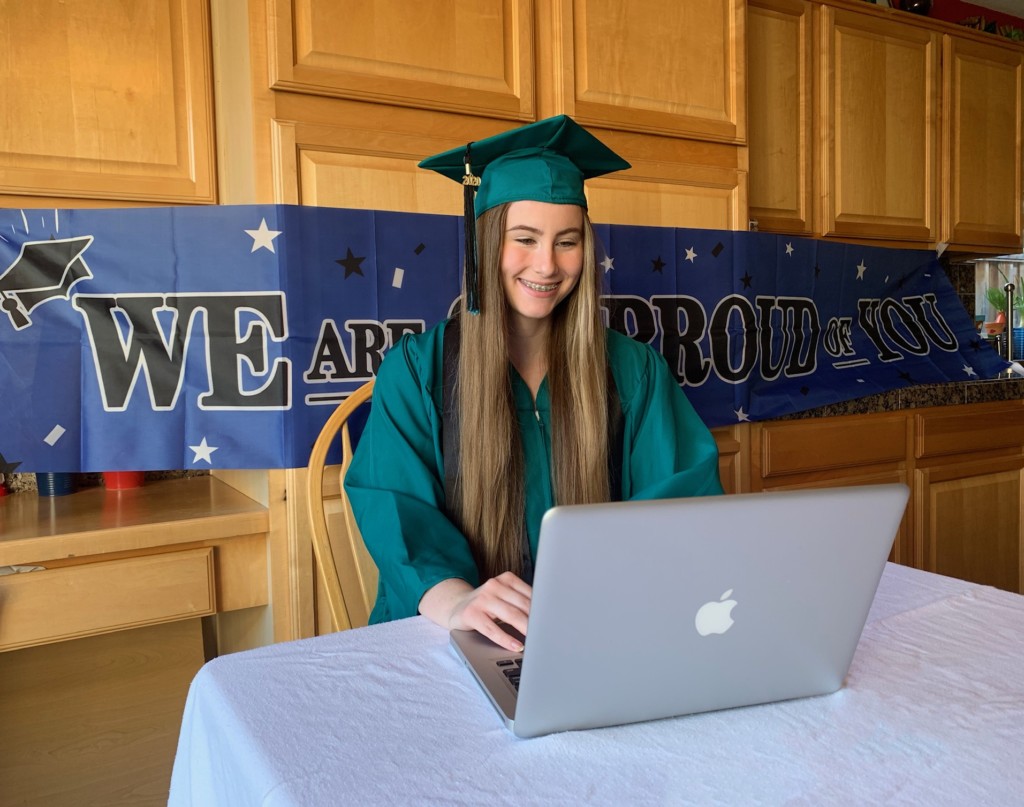 ---
By Isabel Soloaga
High school graduation ceremonies are a hallmark of new beginnings and exciting futures for many young people, but the coronavirus pandemic brings challenges. Gilroy class of 2020 graduates and their families will celebrate in new ways as traditional cap-and-gown ceremonies are cancelled.
"It was a blindside," said Candace Eje,  a senior at Gilroy High School
Her shock at missing out on many long-awaited last semester privileges — including senior prom and the hallmark moment of walking across the stage to receive her diploma — reflects feelings shared by many of friends.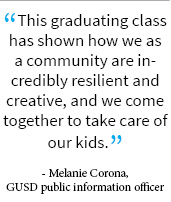 Students are not the only ones left scrambling in the wake of the lock down when the about 11,000 students of the Gilroy Unified School District switched to mandatory online learning March 13. Melanie Corona, GUSD public information officer, compared the district's task of educating students to "drinking from a firehose. You are trying to catch your breath and swim every day."
"I'm not going to say it's been easy," said Erica Clinton, who has four upcoming AP tests she is preparing for.
She expressed her gratitude toward the district for its commitment to students and puts the changes in her last high school semester in global perspective.
"There's a lot of students all around the world who don't even have the resources to have an education at all," she said.
In light of the pandemic, traditional commencement ceremonies have come to a halt. Instead of hosting traditional celebrations, Gilroy high schools will live-stream video ceremonies. Open to all, these graduations will be accessible on custom-made microsites on each high school website. They will follow the traditional protocol of an in-person ceremony and include slide shows, pictures and videos celebrating each graduating class. This year, GUSD has covered all costs for the graduation, providing each graduate with a lawn sign and mailing graduation caps and gowns to each student's home.
Community members and parents also jumped in to support the class of 2020. Parents mobilized to build lawn signs for seniors. Some signed up to the Facebook "Adopt a Senior" program, through which community members can volunteer to make custom-made gifts for graduates. Cal Silk Screen Printing, a local Gilroy business, is making T-shirts featuring the iconic "Friends" TV-show logo style for students.
In normal years graduations have a limited number of coveted tickets for friends and families to attend the ceremony. This year, they will be swapped for a take-out and TV so that on the online  commencement event not only loved-ones but the entire Gilroy community can watch from the convenience of their homes.
Despite the sting of missing out on a rite of passage most teenagers look forward to in their academic life, the many seniors understand that the crisis requires them to skip the Pomp and Circumstance style of ceremony.
"Most of us know that this is to save lives," Eje said. "We're hopeful."
For many Gilroy students, the 2019-2020 school year was a tough one. They started their academic year following the aftermath of the Gilroy Garlic Festival shooting last summer. They end the year as the world faces the  historic pandemic. Through it all, the class of 2020 grew together, inspired to serve their community in new ways to deal with the crisis.
"This graduating class has shown how we as a community are incredibly resilient and creative, and we come together to take care of our kids," Corona said.
As the senior class fundraising and dance commissioner, Christopher High School senior Erica Clinton represents her school community as a leader. She's worked hard to keep her graduating class together even though they are forced to study at home because of the COVID-19 crisis.
"I feel like I've had to grow up so quickly in this lock down," she reflected.
Clinton received her graduation gown in the mail in mid-May. She and her family plan to celebrate commencement by watching together in their home. She will be decked out in full graduation regalia.
The senior has served her school as a leading member of her student body and in her community for as long as she's lived in Gilroy since she moved to the city from Long Island as a seventh grader. With uncertain days, she is even more driven to do the community outreach she cares so much about.
Although she loved New York, she is struck by the sense of community Gilroy provides.
"I feel like in Gilroy, there's a feeling of community and togetherness," she said. "I saw how important volunteering is in my community, and it woke something in me to want to be more proactive and help my community in general."
Gilroy's community attitude shaped the senior's character. She sees service to her fellow Gilroyans as her life's mission. In the fall, she plans to pursue a double major in political science and international relations at Howard University in Washington, D.C. This will be the first step towards a career dedicated to pursuing justice for women and children of color.
As Clinton and Eje wind down their high school careers, they are spearheading a benefit show called "Gilroy's Got Talent" dedicated to raising funds for St. Joseph's Family Center. The student-led project brings together Gilroy's two comprehensive high schools — traditionally rivals — to work towards "a common goal," Eje said. Airing 7 p.m. May 29 via YouTube Livecast, the show raises funds for the nonprofit, which during the pandemic has gone from feeding around 200 families a day to almost 800.
"We know they're doing great work and we want to be there to support them," Clinton said.
As one of several graduates behind Gilroy High School's media and Instagram page, Eje played an especially critical role in communicating through the crisis. Her posts give seniors a moment in the spotlight. They raise awareness for ways that members of the community can actively assist one another through COVID-19.
"To me, graduation isn't about a handshake and a piece of paper," she said. "I think it's a transition between me being a child and being an adult. I'm still excited to graduate. Regardless of whether I am walking the stage or not, I know there's a lot waiting for me in my future."
More than anything, Eje expressed thanks to the entire Gilroy community including the essential workers, GUSD staff, 2020 class grads, parents and all the teachers who rallied to support students over the course of a particularly challenging senior year.
"This 2020 class has really stayed positive though it all," she said.
As people all around the country and the globe grapple with the future, Gilroy's own class of 2020 takes lessons from the pandemic.
Brandon Velasco, who graduated from Mt. Madonna in November, found that in his post-high school time, he faces many challenges because of COVID-19, something many students can relate to as they face the uncertainty of the time. "At this point, I'm not really sure what I want to do in life," he said.
The pandemic has brought out leaders and heroes among community members, he said. Reflecting on the actions of paramedics and other first responders, Velasco knows one thing for certain: "I want to stay involved with my community."
At Mt. Madonna the students and staff are like family, Velasco recalled.
"Everyone there is like brothers and sisters," he said. "You feel like you belong there. That was life-changing for me."
And that feeling of community is something that he endeavors to share even during the stay-in-place order.
Considering what drives him to stay involved, he said, "It's my family who keeps me motivated. They push one another. I'm proud to be a part of my family."
While "commencement" means "a beginning," starting anything new proves difficult with shelter-in-place in effect. However, if nothing else, this crisis has served as a reminder of the importance of the relationships students have with their friends and families and the community where they make their home. "When we all get back together we're going to appreciate it so much more," Clinton said.