Impact Teen Drivers's mission is to prevent the deaths of young people by encouraging responsible driving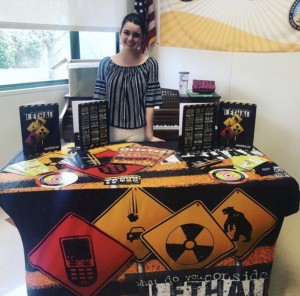 ---
By Isabel Soloaga
Lauren DeRosa will complete her final online AP test at home May 21. Her graduation cap and gown will be nearby because the exam falls on the same day as her live-streamed graduation celebration. The GECA senior has been busy since the shelter in place started, including launching a campaign with Impact Teen Drive called "Make an Impact," an event that is held annually at the school, but will go nationwide this summer
In seventh-grade, DeRosa's best friend's sister was a passenger in the backseat of a car with three other girls traveling along a South Valley road. The driver had a provisional license and the vehicle was traveling at twice the speed limit when she turned around to look at a backseat passenger's phone. In that split second, she lost control of the car and it veered off the road, hitting a tree.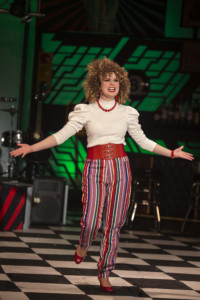 Sadly, the girl in the front passenger seat, Natalia Salcido, died of injuries. It was the night before Mother's Day and a week before her Sweet Sixteen birthday. Watching her friend and their family go through this loss had a profound impact on her.
The tragedy drove DeRosa to become involved with the nonprofit group Impact Teen Drivers, which has the mission to prevent the deaths of young people by encouraging responsible driving.
She found out about the program when California Highway Patrol Officer Chris Miceli went to her school with the proposal to create a teen driver education program that could be taught throughout a school week. She calls the program "Make An Impact Week" and hopes it will help prevent Gilroy and other communities from having to  go through the trauma of losing a teen unnecessarily.
"I took all of the tools provided to me and I compiled them into a curriculum that schools can implement in 30-minute increments throughout the next five days to create a fun-filled week of activities," she said on an ITD webpage about her program.
DeRosa's nationwide launch of Make an Impact will go ahead in June in partnership with Impact Teen Driver. She's currently finalizing a video summarizing her work, which will be posted to the group's website at www.impactteendrivers.org and sent to schools around the country. In it, she encourages teenagers in middle school and high school to be safe passengers and responsible drivers as they learn how to manage a vehicle.
In today's COVID-19 crisis, she sees her program taking on an especially important role in the Gilroy community.
"My program brings people together," she said. "It gives you a chance to tell your story."
COVID-19 also impacts the graduation glory of DeRosa and 68 other Dr.  TJ Owens Gilroy Early College Academy seniors. They will not go through the usual pomp of commencement because of the crisis. GECA offers a unique high school experience. Most students earn a high school diploma plus an associate degree in an intense four years of study at the school, which is based at Gavilan Community College's Gilroy campus.
"It's tough," DeRosa said. "People think we're super geniuses. We're not. We are just people who saw a chance and took it."
GECA ranks 6th out of high schools in California, according to US News. It's funded by the Bill and Melinda Gates Foundation in partnership with Gavilan. It is one of many early college academies throughout the U.S. offering college-level education to high schoolers. It is especially focused on helping struggling learners as well as those from first generation households. Minority enrollment at GECA is 77 percent, while 33 percent of students come from economically disadvantaged households.
Like many students at GECA, DeRosa is a first-generation student. Her academic success there is representative of the empowerment that the school seeks to provide its students.
"Lauren is a wonderful role model for so many young women in our community. She is talented and driven," said Melanie Corona, public information officer at the Gilroy Unified School District. Corona is also a mentor to DeRosa, who was one of the original members of the GUSD Communications Intern Program. At GECA, the high school senior made a home for herself.
In some ways, GECA's uniqueness has made it resilient, preparing the school for the transition to other forms of learning required by COVID-19. Students at GECA have been taking online college classes throughout their schooling. For example, DeRosa's summers were always filled with online college courses in her field of study.
"We had some previous experience with online classes," she said of the school switching to all online classes as of April 13. "That's not to say all of our teachers had experience with it."
Unlike Gilroy High School and Christopher High School, GECA provides no extracurricular opportunities for students. Nonetheless, students stay busy exploring passions outside of classes. These include theater, band and even sports through community groups or other local high schools. In addition, students are expected to complete at least 80 hours of community service to graduate, but COVID-19 interrupted that requirement.
"It's all about finding that balance," DeRosa said.
The GECA senior's balance comes from her commitment not only to her school but also to the Gilroy community and local theater. She performed in the South Valley Civic Theatre's production of the high school version of the musical "Rock of Ages" earlier this year. Given the tragic circumstances of the Gilroy Garlic Festival shooting last summer, SVCT decided that the South Valley community needed a show that was uplifting.
"It was all about having fun, despite the fear (of COVID-19) around us," DeRosa said.
Although the coronavirus lock-down forced the production to close before its final performances, the theater group provided her with a place of joy, safety and celebration for a community facing crisis. It's proved particularly essential this school year, which started — and is now coming to a close —  in the midst of momentous challenges.
DeRosa says she's especially proud to graduate this year from both GECA and Gavilan College. Her father also studied at the community college. Just down the block from her family home, DeRosa's grandmother lives in the house where her father was raised.
"I love this town," the GECA senior said. "For me, my biggest concern has not been graduation. To look around and see my family means the world to me. If staying home means keeping other people's family safe, I'm happy to do that."
In the fall, she will attend California Lutheran University in Thousand Oaks. She plans on majoring in communications with a minor in theater arts.
Asked about her going through an online graduation instead of a more traditional one, she reflected, "Even though we're in a pandemic, I don't feel that I'm missing out on the things that matter. In the long run, I know I'm going to look back on this and see something I can be proud of."

Latest posts by Guest Column
(see all)