Instead of celebrating the college's centennial graduation in June, it has been postponed until December
---
By Marty Cheek
Dr. Kathleen Rose couldn't help but note what a wild coincidence it was for Gavilan Community College to be celebrating its centennial year in the middle of a time of pandemic. In the autumn of 1919 when it started in Hollister as San Benito Junior College, the "Spanish flu" ravaged the world, resulting in the deaths of as many as 50 million people
"The irony hasn't been lost on us," said Gavilan's superintendent/president of the college's dealing with the COVID-19 crisis.
The highly contagious disease forced administrators to close the campus and transfer students to online learning in mid-March when shelter-in-place orders were issued by the county. Virtually overnight, more than 4,000 students in 675 sections of instruction were learning virtually. The students and faculty members quickly adjusted to the new education paradigm.
Students without laptops or access to the Internet received help to connect to their classes. Many instructors had little or no experience teaching via Zoom meetings and other communication systems and so had to get up to speed quickly. The 150-acre campus and its various off-site locations had to be closed and secured. Decisions had to be made quickly to deal with the uncertainties of how long the coronavirus would impact the world.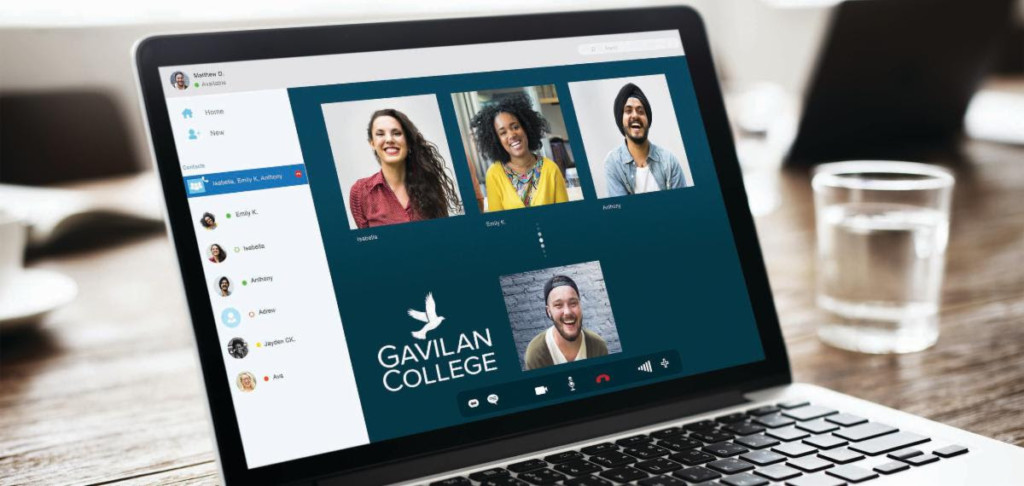 Gavilan had been preparing for a special 100th anniversary year graduation in June, which was cancelled and replaced with a two-hour salute to the students on video. (A social-distance graduation, divided among the various departments, is planned for Dec. 19, 20, and 21 at the campus theater.)
"It's been an incredible heavy lift, but what we learned at the end of the spring semester was that by and large students hung around and completed despite those circumstances," Rose said.
To help with the emotional stress students might feel, faculty and staff called every one of them. Rose personally called 75 students.
"Some of those students said, 'I'm doing OK, I'm hanging in there. I'm doing the best I can,'" she said. "Some students said to me, 'You know, Dr. Rose, going to school is the last thing on my mind, I'm going to drop. I don't have a job, my family is in distress, we don't know how we're going to pay our rent.'"
Many of the students faced financial issues because of COVID-19 and loss of jobs or reduced work hours. The college set up an emergency student fund and the community so far has raised more than $22,000 to help them. The Gavilan College Educational Foundation gave an additional $20,000. The federal CARES Act provided $2.2 million in funding with a directive that half of it has to go out to students. About 850 of the most vulnerable Gavilan students received $700 each with this aid.
The college will continue with online learning for all summer classes and the majority of fall semesters. For fall, it expects as many as 4,800 students of a full-time equivalence. Class caps are kept relatively small, between 24 to 30 students, so the students can receive the instructors' attention.
All student services and instructional support will also be offered online, including the bookstore, library, counseling, and financial aid. There will be no drop-in access to the campus or any other Gavilan College locations.
"The faculty and administration spent a lot of time looking at the best way to move forward for fall to serve students while protecting student and staff safety," Rose said. "Everything that can be effectively taught online will be, and where face-to-face instruction is required, social distancing and daily cleaning will be enforced. While we wish we could welcome everyone back to campus this fall, we must wait until we can do so safely,"
The college received guidance from the Office of the Chancellor of the California Community Colleges and state and local public health authorities. Other Bay Area community colleges, including Hartnell, Cabrillo, and West Valley, are taking a similar approach. The California State University System, including San Jose State and CSU Monterey Bay, has also announced that fall semester will be primarily online as have most of the colleges in the University of California system.
Gavilan expects its classes will fill quickly as recent South Valley high school graduates who had previously intended to begin at a university this fall take advantage of the First Two Years Free – PROMISE program. As in past times of high unemployment the college is also expecting to see an influx of students seeking to improve their job skills.
The quality of education every Gavilan student receives is a major consideration for the faculty and administration. During the summer break, the college's instructors are receiving training through online systems to better provide content, do Zoom meetings effectively and make sure they can engage with their students and encourage interaction over the Internet.
"It's an ongoing process, it's a continuous process," Rose said. "When we made the changes in spring, some faculty had never taught online before and so we did the best we could for the balance of the spring semester in the early days of COVID."
The thing students miss with the online learning is the facetime and the opportunity to get to know people and makes friends in the classroom, said Jan Bernstein Chargin, the public information officer for Gavilan. But the campus found in the switch from classroom to Zoom Room most students were able to make the adjustment. A key is for the teachers to be engaged through the electronic medium and the training they're receiving is helping them do that better.
"That makes it far more effective from the student perspective," Bernstein Chargin said. "They need to know the instructor is engaged and is comfortable with the environment and is making the best use of the technology."
What also helps is that people today, compared to two decades ago, are used to modern technology for communication. This is especially true for young people who grew up in a world where digital devices were easily available at home and in their K-12 learning, she said.
"The shut-down happened at a good time," she said. "If it happened 10 or 20 years ago we would have been in a much worse condition. We wouldn't have the tools to navigate through this that we do now."
Latest posts by Marty Cheek
(see all)