Owned by local family for 123 years, downtown shop is on market for $900,000

---
By Kaylee Arca
Downtown Gilroy is saying farewell to one of its beloved and historic stores. After 34 years of business Porcella's Music closed its doors.
Located adjacent to the Gilroy  Center for the Arts's grassy plaza, the 1,280-square-foot building is now on the market as owner David Porcella, 71, heads into retirement. The site is listed at $900,000.
The historic building was constructed in 1888. David's grandfather, Charles Porcella, bought the property in 1898 and ran a dry-goods general store. The family has owned the building for 123 years.
After Charles' death in 1922, his wife, Agnes, leased the store and it operated as a barbershop for a few years. She then passed the store on to her son George, David's father.
Porcella recalled his youth playing in the back when it was run by his father. He described being surrounded by the joys of music during his childhood as his father sold both clothing and instruments from 1947 to 1986.
"Dad had it as a clothing store, but being a musician he sold instruments here, too," Porcella said. "He taught lessons in the back for a good 40 years. He taught everybody in Gilroy."
George introduced many students to music as they came to the shop to rent and buy instruments for the local school bands. He left a lasting impression on the music community.
"I had people come back that learned (to play) instruments from my dad," Porcella said.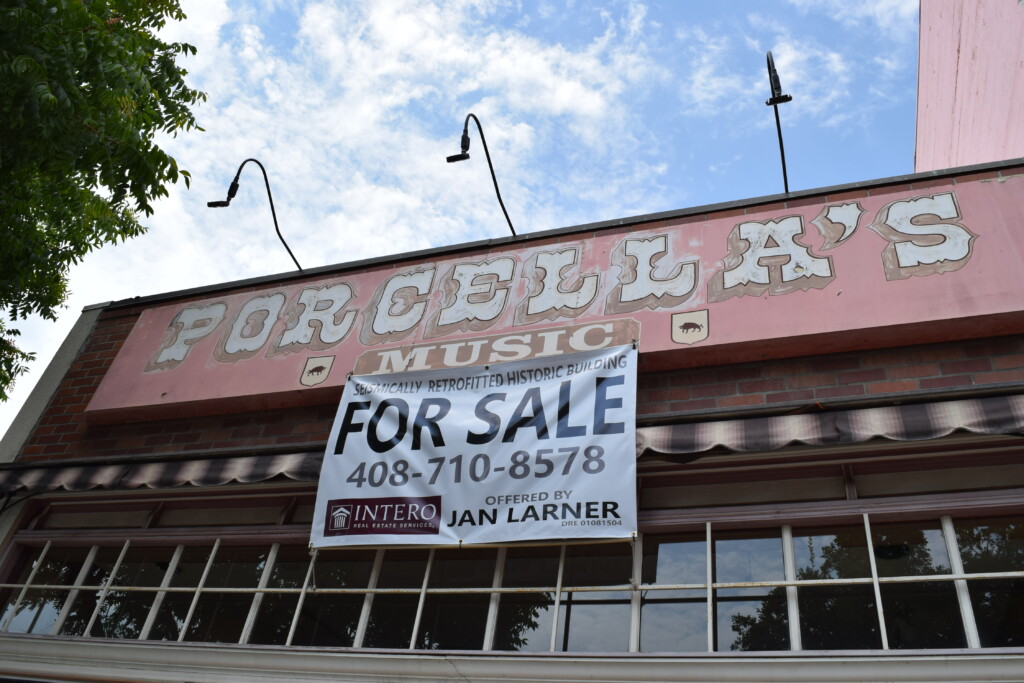 Porcella learned to play many instruments from his father and the musicians who frequented the store. His favorite is a Hammond electric organ that sat alone in the middle of the store. It is a reminder of the once lively music shop.
When Porcella took over the store in 1986, he rebranded it as Porcella's Music. Making this change, he had to clear out the old merchandise from his father's ownership.
"I got rid of all the clothing," he said. "There were clothes in here from the '40s that were brand new and unboxed. He never had a sale. The sale was when the customer came in."
Recalling the decades serving the Gilroy community, Porcella said his favorite part of running the shop was assisting nervous young students and inspiring their confidence as novice musicians. Whenever a new customer visited the music store, Porcella took the time to teach them how to care for their instrument.
"When we rented or sold an instrument, I would go through the process with the student of how to start playing," he said. "I'd have kids that didn't even know how to play come in. I'd sit in the back with them for half an hour. I'd show them how to put their instrument together, how to maintain it, how to oil it. When they walked out of here I had them playing five notes."
Porcella's joy and enthusiasm inspired new musicians and continued the legacy his father built.
"The kids would walk in nervously," said Yvette Chavez, Porcella's partner since 2005. "When they left they had the biggest smile. The parents would say, 'Thank you so much for showing my child how to play an instrument.'"
During her 15 years managing the store, Chavez took pride in making sure it was maintained as a clean, organized and welcoming environment for every customer, whether they were a new or an experienced musician.
The stresses of running a small business during the pandemic and Porcella's age forced him to close his store and put the building up for sale.
"It was a tough decision," Chavez said. "I grew with the store for 15 years, and David grew up at the store from when it was his father's."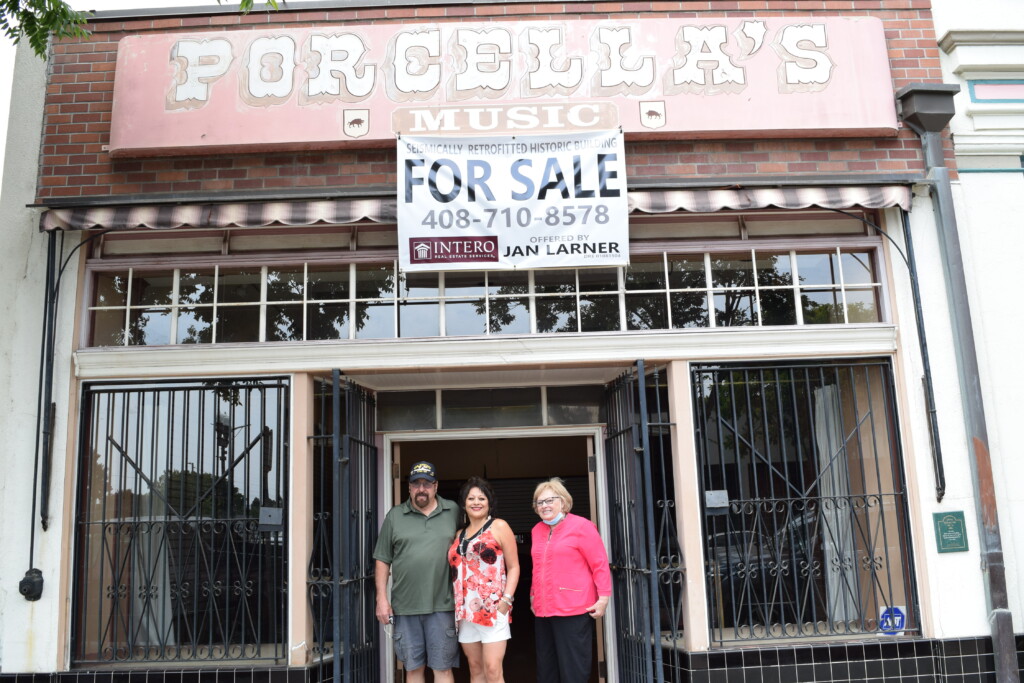 Porcella's Music offered anything a musician might need. Violins and guitars hung on the walls, cases were filled with music books of all difficulty levels, guitar picks and reeds sat behind the front counter.
"We sold woodwinds, brass, keyboards, guitars, a little bit of everything," Porcella said.
He was known for quickly repairing instruments on the front counter when customers brought them in.
Porcella originally planned to retire in June 2020 at the age of 70 because he first opened his store in June 1986. COVID-19 postponed that milestone. When Porcella's Music was able to reopen after the shutdown, the store struggled.
"Business was terrible," he said. "There was no school band, nobody was playing gigs, there was nothing."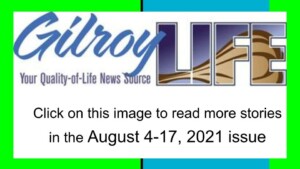 In the summer of 2020 when the Black Lives Matter movement was covered by the national news, Porcella felt nervous about local protesters potentially damaging his store and instruments. He placed all the merchandise into storage and put plywood on the windows.
"We moved everything out of here, every book, guitar pick, instrument, everything," he said. "We boarded it up because we didn't know what would happen."
The protesters, however, were peaceful in their demonstration in downtown Gilroy and his store was unharmed. He decided to slowly move the merchandise back. Still, with the pandemic there were few customers.
Earlier this year, Porcella contacted local real estate agent Janet Larner to facilitate the sale of the family store.
"Janet's been a friend of the family for many years," he said. "We didn't just want anybody coming in here to sell it. We wanted to have the right person."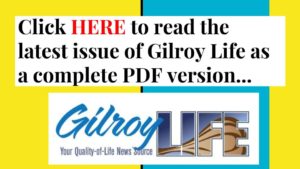 Larner has taken the family's store into her care and is searching for the perfect new owner who will appreciate the memories of the space and add something new to the downtown Gilroy experience for residents and visitors.
The small shop holds joyous memories for the Porcella family and Gilroy, Larner said. Whoever buys the building has an opportunity to include its back parking area into the city of Gilroy's plans to create Gourmet Alley as a food and culture thoroughfare stretching from Fourth to Seventh streets, she said. Larner and Porcella hope the new owner will add to the cultural renewal of downtown Gilroy.
"The Porcellas are looking for someone who will appreciate the building and carry on its legacy," she said. "You're buying more than just square footage. You're buying history."
---
Kaylee Arca, a 2017 graduate of Sobrato High School, recently graduated from San Diego State University with a degree in Journalism and Media Studies.
---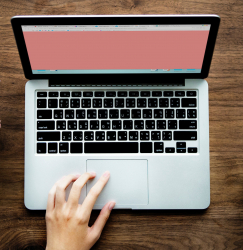 Latest posts by Freelance Author
(see all)