The contest is co-sponsored by Morgan Hill Life, BookSmart, the Morgan Hill Library and Morgan Hill Unified School District.

---
This editorial is the opinion of Gilroy Life
Human beings are by nature storytellers. We connect when we share tales that convey our humanity. That's why we encourage the residents of South Valley to tap into their creativity and participate in the Rotary Club of Morgan Hill's inaugural Flash Fiction Contest.
Flash fiction is a type of prose narrative of extreme brevity. Instead of penning a massive tome like War and Peace, flash fiction narrows the word count to focus the writer's mind on a very brief, self-contained story.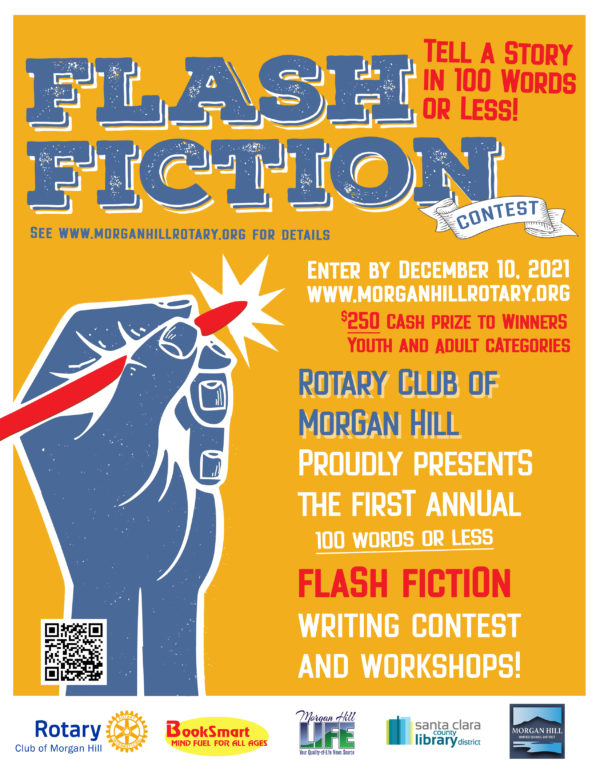 One six-word flash fiction story came from Ernest Hemingway: For sale: baby shoes, never worn. The  twist at the end conveys to the reader a tragic death of a child.
The Rotary's flash fiction contest word count is from six words minimum to 100 words maximum.
It has two categories — 17 and younger for students and 18 and older for adults. The winner in each category will receive a prize of $250. Second and third prizes will receive gift certificates to Rosy's at the Beach restaurant as well as BookSmart.
The competition runs until Dec. 10 and is open to all Santa Clara County residents. A panel of judges will select the winning entries, which will be announced in January. The Morgan Hill Library will host a virtual flash fiction workshop, "Flash Fiction: How to Write the Shortest Stories," at 11 a.m., Nov. 6 with Jordan Rosenfeld, the author of "How to Write a Page-Turner."
Entries, information tools and a how-to video can be found at www.morganhillrotary.org. Or email [email protected]
The contest is co-sponsored by Morgan Hill Life, BookSmart, the Morgan Hill Library a