"As we light our menorahs at home and as we gather as a community at the Morgan Hill Downtown Amphitheater to light the giant menorah, let's remember it's not just a flame."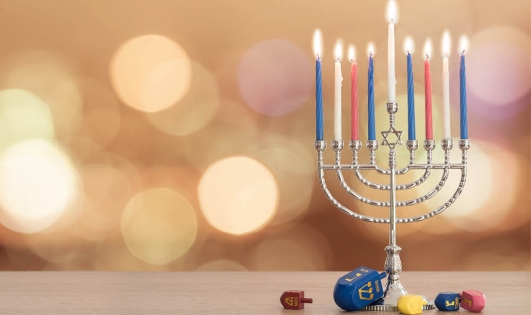 ---
By Mendel Liberow
As we prepare for this year's Chanukah festival at the Morgan Hill Downtown Amphitheater, I'm reminded of what Chanukah looked like last year. The United States was in the midst of a devastating wave of COVID-19 infections, and with vaccines not yet widely available, gathering as usual was out of the question.
But the Jewish people are resilient.
Hundreds joined a drive-in Chanukah event, organized by Chabad South County Jewish Center. Together, we watched the lighting of a giant menorah, sang songs, and enjoyed an immersive fire show — all from the safety of our cars. Yes, we were a bit farther apart, but the joy of Chanukah was undiminished. We also held virtual celebrations for those unable to join, and we delivered treats and craft boxes to families celebrating at home. It wasn't an easy Chanukah, but it's far from the most difficult our people have endured.
In 1944 in the Buchenwald concentration camp, observing anything Jewish was grounds for abuse by the Nazi guards. Even praying could bring days of solitary confinement and starvation. Celebrating Chanukah seemed