Carlos Pineda serves as program manager for the Culinary Academy at RCS
Published in the August 9 – August 22, 2017 issue of Gilroy Life
By Clairey Yang
The high noon sun pounded down on hundreds of food fans filling the bleachers surrounding the Gilroy Garlic Festival Cookoff Stage to watch four teams of local professional chefs face off in an Iron Chef-style cooking competition. The crowds were entertained by Food Network star Giada De Laurentiis who served as the emcee for the annual Garlic Showdown Cooking Competition.
At the contest for a $3,000 prize held Sunday, July 30, the chefs needed to include the "secret ingredient" — locally-grown pluots and white and yellow peaches — as well as plenty of the herb that made Gilroy famous. In 60 minutes, the contestants had to prepare an entrée and a side dish that would be tasted by a team of five judges. The food would be critiqued for presentation, originality, flavor, texture and how well the stone fruit was incorporated.
While a video team broadcast her on a Jumbotron on stage, De Laurentiis joked with the chefs in light-hearted banter as they prepared their meals.
"I hope everything has tons of garlic in it," she told them, speaking into a microphone for the audience to hear. "This is the Gilroy Garlic Festival so I better see tons of garlic."
She inspected a bottle of red wine near one of the chef's dishes sautéing on the stovetop and turned to him.
"Are you drinking this wine or cooking with this wine?" she asked.
"Both," he said, as the audience laughed.
De Laurentiis also had fun interacting with the crowds, signing autographs, taking selfies and helping Christopher Ranch CEO Bill Christopher throw bulbs of garlic into the audience.
While she was having fun with the foodies, the chefs focused on carefully concocting their culinary creations before time ran out. Participating in the contest was Michael Fisher, the 2016 Garlic Showdown champion and the owner and executive chef of Fisher's Delicatessen and Catering in Hollister. Fisher started his career working as a dishwasher and busboy. At age 19, he traveled to Paris and attended the famous Le Cordon Bleu Culinary Academy.
Jeff Raby, another chef in the competition, owns Fire 4 Hire Catering, an off-premise caterer in the South Bay. His sous chef, Justen Rood, is the executive chef at Fire 4 Hire.
Contestant Carlos Pineda serves as the program manager for the Culinary Academy and Kneaded Bakery at Rebekah's Children's Services. Born and raised in Gilroy, he graduated from the Professional Culinary Institute in Campbell in 2007. His sous chef, Nicholaas Strayhorn, a Christopher High School graduate, went through Rebekah's Children's Services three years ago and now works at SP2 Communal Bar and Restaurant in San Pedro Square in San Jose.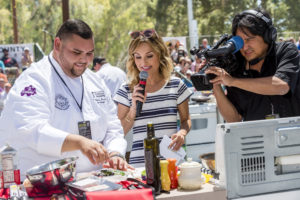 The fourth contestant, Dave Bozzo, is the head chef and caterer at the Gilroy Elks Lodge on the Hill. A restaurateur for more than 20 years, Bozzo is the former operator of Bozzo's and Gilroy Grill restaurants. His sous chef, Don DeLorenzo, is a PGA golf professional by day and an amateur chef by night.
The judges were: Gloria Melone, a local chef and wife of festival co-founder Rudy Melone; Bill Christopher, owner and CEO of local garlic farm Christopher Ranch; Ken Christopher, also with Christopher Ranch; Dave Reynolds, the 2016 Gilroy Garlic Festival board president; and Angela Greenwood, with the South County Chrysler Jeep Dodge Ram Fiat dealership.
Reynolds was impressed by how competently each contestant prepared their two entries for the judges.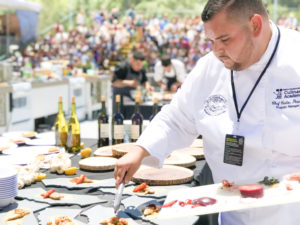 "The dishes were delicious, using the stone fruit that they chose as the secret ingredient this year," he said. "Prepared all different ways, they were fantastic. The contestants used pork and bacon with their dishes and it was absolutely delicious."
Shortly after 2 p.m., De Laurentiis gathered the chefs at the front of the stage to announce the winner. She strolled down the line of four executive chefs and four sous chefs to see who was the audience's favorite. Pineda enjoyed one of the two loudest cheers.
After that, the Gilroy Garlic Festival Board and Garlic Queen Maggie Pickford stepped to the front of the stage with a four-foot mock check with the winner's name on it. With a silent audience watching in suspense, she slowly walked in front of the contestants. She put her arm around Pineda, announcing that he had won. Pineda's team had made an entrée of English smoked lentil plum puree over a roasted garlic chicken paired with white peach espagnole sauce and garnished with a roasted garlic plum wedge served on a California-shaped slate. The side-dish was an herbed corn pepper and cauliflower beef hash with yellow peach beurre blanc sauce garnished with a smoked yellow peach and an edible gold leaf served on oak wood.
The hometown chef jumped up and down with joy and gave Strayhorn a hug. That was followed up with hugs for his fellow competitors.
"I was overwhelmed with the excitement even more because I had so many local friends and family in the audience who came out to see us and cheer us on," Pineda said.
The cooking in front of people wasn't the part that was nerve-racking for Pineda. It was trying to finish everything on time, he said.
"You don't want to finish things too early or they'll dry out or they won't taste right or you don't want to finish things too late. We got it done on time," he said.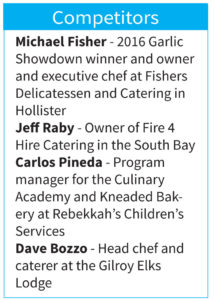 After he won, he announced he would donate the winnings to the Gilroy Foundation to be added to the Jay Minzer and Peter Ciccarelli Memorial Fund benefiting Rebekah's Culinary Academy. Pineda started the fund with the help of a few friends in the memory of the two men who for many years stayed involved in organizing the Gilroy Garlic Festival.
"The Culinary Academy is my passion for the success it has. We have been helping the community teach disadvantaged youth life and culinary skills since January 2009," he said. "Since then we have served more than 700 students and we have kept a job placing rate of 98 percent for 3.5 years… This (contest) right here is why I'm so passionate about the academy. I'm able to help these youth find their calling."
Clairey Yang, 15, is a student at Monte Vista Christian School. She wrote this story with mentoring from Gilroy Life Publisher Marty Cheek.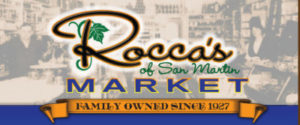 Latest posts by Marty Cheek (see all)