Published in the September 20 – October 3, 2017 issue of Gilroy Life
avilan College is presenting the first ever Gavilan Jazz Festival Sept. 30. We had a chat with the organizer, music teacher and musician Dahveed Behroozi, to get some insight into this exciting upcoming event that includes dozens of local musicians and bands.
Why did the music department at Gavilan decide to start an annual jazz festival? Who suggested it and how did it come about?
The music department at Gavilan felt that based on the success of the spring Bach to Blues annual event it would be beneficial to have another event during the fall to encourage community participation.
What performers are playing in this year's jazz festival — you mentioned the Jazz Ensemble from SJSU, your quartet, Nate Pruitt and the Gilroy High Jazz Band?
Those are all the bands playing in this year's line-up with a few edits: San Jose State's Latin Jazz Ensemble, Gilroy High School Jazz Band, Nate Pruitt's Primary Colors, Dahveed Behroozi Quartet.
How do you hope the jazz festival can grow in the coming years — what ambitions do you have for the festival?
We hope to expand the programming for the festival to include more bands from the wider Bay Area and attract top-tier talent as the years progress.
Why might you encourage people from the South Valley region to come to this year's jazz festival and discover the fun of this great American art form?
Jazz is a universal language that reflects contemporary times and there's no doubt that this years diverse line-up will be exciting and entertaining for all.
Why do you personally enjoy jazz — both performing it and listening to other people perform jazz?
First and foremost I enjoy performing and listening to jazz because of the improvisational aspect that always brings new and fresh ideas. In addition, there is such a large and rich history to jazz throughout the 20th century that there's no shortage of inspiration and ideas to expand from.
The Gavilan Jazz Festival will be held at 2 p.m. Saturday, Sept. 30 at the Gavilan College Theater. General admission tickets are $15 and just $10 for students and seniors. They are available at brownpapertickets.com, at the Gavilan College Bookstore or at BookSmart in Morgan Hill.
On another note, there are still tickets available for ALFIO in the Vineyards Sunday, Sept. 24, at Guglielmo Winery in Morgan Hill. ALFIO is an Australian born musician and can sing in five languages. He is an Emmy nominated performer and considered to be the consummate showman dazzling audiences with his powerhouse voice combined with his combination of Australian charm and Italian flair.
For tickets and more information visit guglielmowinery.com or call (408) 779-2145.
The GVA Cafe in Morgan Hill has really stepped up this time with a Blues Extravaganza like no other to come to South Valley. On Oct. 1 they will present Aki Kumar's Chicago Blues Showdown featuring the very best West Coast Blues players along with Aki who is not only a fine vocalist but also a prolific international blues harmonica phenom. Players joining him include Brooklyn born guitarist, producer, song-writer Steve Freund, who spent two years working with harmonica legend Big Walter Horton and nine years with superharp great James Cotton. In 1978 Steve landed a permanent spot as the guitarist with Sunnyland Slim and later on became the consummate piano accompanist working with Pinetop Perkins, Jimmy Walker, Henry Gray and many more. Steve also recorded on Koko Taylor's Grammy-winning album Blues Explosion in addition to appearing on 34 albums and producing seven.
Also featured that night is guitarist Rusty Zinn who has backed up many of the very best harmonica players including Snooky Pryor, Jimmy Rogers, Bay area harp veteran Mark Hummel, Billy Boy Arnold at the San Francisco Blues Festival and Kim Wilson of The Fabulous Thunderbirds just to touch on a few. Blues duo Chris James and Patrick Rynn will also be on hand to round out the bill. The show plays from 5 to 8 p.m. and tickets cost $10.
If you have a music tip send it to harmonicaman1@yahoo.com.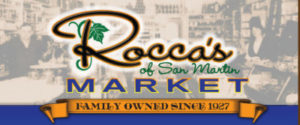 Mark Fenichel serves as the chief ad rep for Morgan Hill Life newspaper.

Latest posts by Mark Fenichel (see all)