Published in the November 1-14, 2017 issue of Gilroy Life
Charlie Lustman is truly the musical Patch Adams. Diagnosed with an extremely rare form of cancer (osteosarcoma) in his upper jaw bone in March 2006, Charlie came fact-to-face with challenging personal and professional life choices. During the course of two major surgeries, and a year of adjuvant chemotherapy, Charlie wrote lyrics and music to hundreds of songs pertaining to his cancer experience.
A custom fitted prosthetic replacement jaw, enabled Charlie to get back on stage singing better than ever and to tell the world, through his songs, about his cancer experience from diagnosis through treatment and recovery. Exactly two years from the day he received that infamous call, Charlie mastered his new recordings, Made Me Nuclear, which was released in the summer of 2008.
Charlie has performed at numerous cancer centers including The City of Hope in Duarte, California. His Made Me Nuclear album was transformed into a theatrical adaptation and eventually produced into the Made Me Nuclear operetta performed at The Santa Monica Playhouse, which opened in September 2008 and ran for 88 performances during an 11-month span.
His Musical Hope Campaign across America and throughout the world is Charlie's answer to cancer as he is doing what he was left on our planet to do, which is making a difference to everyone going through cancer. His show is presented by Phyllis Tubbs-Gingerich, director of the local Ginger-K Center and will take place at 7 p.m. Nov. 13, at Bubbles Wine Bar & Bistro, 17105 Monterey Road (corner of Fifth Street and Monterey Road in Morgan Hill).
On another note, local waitress Chantilly Lace Vincent is a wonderful vocalist singer with a big show coming up at The District Dec. 15. The show will include her band Los High Tops plus on the bill will be Sweet Daddy & The Bad Cats.
Should be a good night for live music in Gilroy.  Watch for a future story on Chantilly coming soon. We met at a house party a few years ago and got the opportunity to play some songs together there. Her bubbly personality makes it always fun when she is serving a cheese omelet or on stage singing with her band.
The turnout for Morgan Hill's first ever blues festival was not bad considering organizers had just 60 days to put the event together. Stopping by for a sample of blues music was a treat for me and my brother visiting from the East Coast.
I did get to see Alvin Draper, who is a long-time pillar of the San Jose blues scene. Last time I ran into Alvin, he was recovering from throat cancer and had to speak with his fingers covering a talk box on his throat. It was a great feeling seeing him playing and singing as the opening act of a long day of blues music. Congrats to local musician and Coldwell Banker Realtor Tony Johns who not only produced and created the entire event but when I saw him, he was donning an apron and flipping burgers and sausage at one of the food booths. I heard there will be a second annual blues festival next year.
Got a music tip? Send it to harmonicaman1@yahoo.com.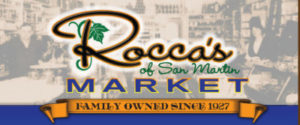 Mark Fenichel serves as the chief ad rep for Morgan Hill Life newspaper.

Latest posts by Mark Fenichel (see all)