Published in the April 18 – May 1, 2018 issue of Gilroy Life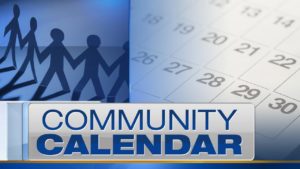 Ongoing
Women's Support Group
An eight-week personal study with other caring women healing from post-abortion. These are individual or group sessions. Details: (408) 847-8880.
AARP Safe Driving Course
A refresher course for motorists 50 and older is taking place. Must call and register to get date and location. Participants will familiarize themselves with driver safety and new laws. No tests. Course, class materials and instructor provided by AARP. There is a minimal DMV certificate fee. Details and to register, call (408) 779-7117 between 1 and 7 p.m. only.
Monday
Free Guitar Lessons
Gorden Gibson teaches free guitar lessons at the Gilroy Senior Center, 7371 Hanna St., from noon to 1 p.m. Details: (408) 846-0414.
Line Dancing Lessons
Line dancing from 7 to 9 p.m. at the San Martin Lions Club, 12415 Murphy Ave.
Celebrate Recovery
Group meets at 6:30 p.m. at South Valley Community Church, 8095 Kelton Dr., Gilroy. Details: (408) 848-2363.
Food Addict Meetings
Food Addicts in Recovery Anonymous is a free 12-step recovery program for anyone suffering from food obsession, overeating, under-eating or bulimia. Meetings are held at 7 p.m. at Advent Lutheran Church, 16870 Murphy Ave. Details or a list of additional meetings throughout the U.S. and the world, call 800-600-6028 or visit www.foodaddicts.org.
Second Monday
Parkinson's Support Group
Meet at the Village Green Senior Living Center, 7600 Isabella Way, from noon to 1:30 p.m. Details: Judy at (408) 607-8254.
Mon., Wed., Fri. & Sat.
Join the Gilroy Gators Masters
Workout from 5 to 6 a.m. and most Saturdays from 7 to 8:30 a.m. at Gilroy High School. Masters swimming is for adult swimmers looking to get in or stay in shape, or for triathletes looking for more swim time and/or instruction. Details: www.gilroygators.org or email gilroygatorsmasters@gmail.com.
Monday & Thursday
Duplicate Bridge
Games at 1:20 p.m. Mondays and 10 a.m. Thursdays at the Gilroy Senior Center, 7371 Hanna St. Details: (408) 921-8512 or email win.stone@charter.net.
Tuesday
Ladies Golf Club
The Gilroy Ladies Golf Club is looking for new members. Details: (408) 779-0886 or (408) 776-7509.
Fourth Tuesday
Free Ukulele Jam Session
Have some fun strumming and singing with an enthusiastic group of ukulele players at the Gilroy Ukulele Jam, 6 to 8 p.m., on the 2nd floor of the Old City Hall Restaurant, 7400 Monterey Road. All playing levels are welcome, and free beginner lessons are given from 5:15 to 5:45 p.m.
Second Wednesday
SV Woodworkers Meet
If you are a woodworker or enjoy working with wood you might enjoy joining the South Valley Woodworkers, serving South San Jose, Morgan Hill, Gilroy and Hollister. Group meets at 7 p.m. in Morgan Hill. Details: www.thvalleywoodworkers.org.
Second, fourth Wednesday
Indivisible South Valley
Indivisible South Valley is a grassroots effort, aligned with the national Indivisible Movement, working to protect democracy and core values, with a focus on local communities. Meetings are from 7 to 8:30 p.m., at the Centennial Recreation Center, 171 W Edmundson Ave.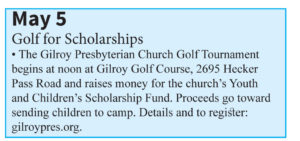 Thursdays
4-H Meeting
Learn leadership and life skills at the Pacheco Pass 4-H meetings from 7 to 8 p.m. Details: email pachecopass4hclub@gmail.com or call (408) 824-8201.
Every Friday
Friday Night Bingo
Doors open at 4 p.m. with early bird games starting at 6 p.m. at the VFW, 74 W. Sixth St.
Second Friday
Horsemen Meet
The San Martin Horsemen's Association meets at 7 p.m. at the San Martin Lion's Club, 12415 Murphy Ave. Details: www.smhorse.org.
Every Saturday
Ukulele Sunrise Jam
Meet at 8:30 a.m. for an hour of early morning jamming at Café 152 Bread Company, 60 4th St. It's a great deli-café at the corner of 4th and Eigleberry. They play songs from their past three songbooks, available at GilroyUkuleleJam.com.
Second Saturday
Poetry Readings
Join the poetry fun with the longest running group in South County area from 3:30 to 5 p.m., at the Gilroy Public Library, 350 W. 6th St. All levels are welcome.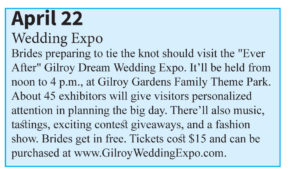 First, third Sundays
Grief Support Group
Meets at 2 p.m. at the United Methodist Church, 17175 Monterey St., and provides a safe place to share grief. Details: (408) 607-5779 or email platnumer@aol.com.
April 19
Easy Beginning Bridge Lessons
Learn the popular 2/1 method during six Thursdays through May 24 from 2:30 to 4:15 p.m., at the Gilroy Senior Center, 7871 Hanna St. The first lesson is free then $7 per lesson. Includes lecture, practice, handouts. Register with Patty Stone, ACBL Accredited Bridge Instructor. Call (408) 981-1043 or e-mail patty.stone@charter.net.
April 20
Legislative Summit
The 5th Annual Legislative Summit takes place from 11 a.m. to 1:30 p.m. at the Hilton Garden Inn. The Summit is a regional event and gives residents the chance to hear from elected officials about the issues that affect us. Speaking are Congresswoman Zoe Lofgren, Congressman Jimmy Panetta, Gilroy Mayor Roland Velasco, Morgan Hill Mayor Steve Tate, California State Senator Bill Monning, California State Assemblymember Anna Caballero, County Supervisor Mike Wasserman, and Santa Clara Valley Water District Board Member John Varela. The cost is $45 and includes lunch. Register at www.gilroy.org/events/?action=evrplusegister&event_id=10.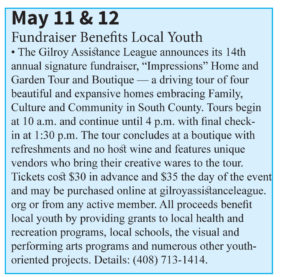 April 28
Build a Birdhouse
Children can build their own birdhouse with the Gilroy Lions Club from 10 a.m. to noon at the Gilroy Demonstration Garden, 7360 Eigleberry St. The event is free and limited to one birdhouse per family. Details: Bill Ungs at (408) 842-2245, onionbill@hotmail.com or www.gilroydemonstrationgarden.com.
South County Health Fair
The inaugural South County Health fair takes place from 10 a.m. to 2 p.m. at the Gilroy Center for the Arts, 7341 Monterey Road. The event features health-related vendors and service providers and is free to the public. The day will include onstage demos by Studio Three Dance, Zumba and a variety of screening services. Details: melanie@downtowngilroy.com.
Hearts of Gilroy Luncheon
Join Community Solutions for a day of fun, fashion and philanthropy at 11:30 a.m. at Eagle Ridge Golf Club, 2951 Club Dr. Each year, community members, donors and volunteers raise funds to provide critical services for children and families affected by abuse, violence and mental health issues. Prizes are awarded to the women wearing the best shoes and a guest is surprised with the Heart of Gilroy award to recognize her involvement in making Gilroy a better place. Tickets are $75. Details: (408) 846-4704, info@communitysolutions.org or visit www.communitysolutions.org.
Send calendar items to editor@gilroylife.com.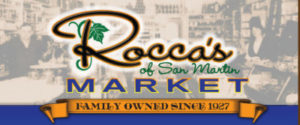 Latest posts by Marty Cheek (see all)