14th annual event will tour four expansive homes on Watsonville Road
Published in the May 2 – 15, 2018 Issue of Gilroy Life
The Gilroy Assistance League invites South Valley residents to get a Mother's Day weekend peek behind the doors of four "expansive" homes on Watsonville Road — and raise money to support local nonprofit organizations serving young people.
GALs 14th annual Home and Garden Tour & Boutique is a driving tour of houses "embracing family, culture and community in South County," said Phylis Mantelli, the home tour chair. The cost of a ticket is $30 before the May 11 and 12 tours and $35 on the two days of the event.
"We ask the owners if they might be willing to open their home and let people come through and tour it," she said. "We charge a fee for that and that is our big fundraiser for the year. In turn all that money is donated back into local charities for youth."
The garden of the last house on the tour serves as a boutique center with as many as 14 vendors. Wine and appetizers are served at this location to end the tour with a festive finale, she said.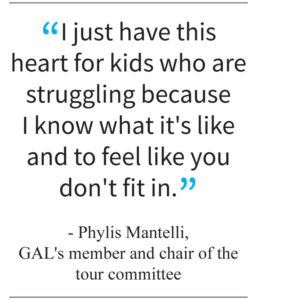 "The hors d'oeuvres are actually done from the GALs cookbook," Mantelli said. "We have a cookbook where we put together all of our favorite recipes over the years. This is our third edition and we sell those cookbooks there at the last house."
GALs is a nonprofit of 35 active women who work throughout the year to provide grants to local health and recreation programs, visual and performing arts, and numerous other youth-oriented projects in the Gilroy community.
The group began in 1959 with 15 women as a chapter of Children's Home Society. Back then, members were involved in adoptive services. In 1984, the group changed its name to Gilroy Assistance League, or GALs, and the members decided to concentrate all fundraising efforts on the local community.
GALs limits its membership to 35 women to stay focused on local causes and needs the group feels are important.
Every month, a member opens her house for lunch. Two other members prepare the meal. After their business meeting, they dish out the food for a social time eating and chatting, Mantelli said.
"If someone retires or if life changes require them to step down, we have a voting process where we have people on a waiting list and we go with the next person on the list," she said.
Mantelli, who has spent most of her life in Gilroy, has been a GALs member for five years. She joined because she saw the benefit the group gives the South Valley region's nonprofits. At first, she was a bit reluctant to join.
"I don't do women-who-lunch sort of things. But there was something intriguing about being able to give back to the community, and I felt like at that time in my life my kids were grown, and I really wanted to do some kind of community service," she said. "I did some other things through my church, but I thought that this was something really nice to do. Once I went to the luncheon and saw how much money they were raising and giving back to the community, that really touched my heart. I really love what they do for the children."
She also saw a personal reason to join because she grew up as a welfare child, she said.
"I just have this heart for kids who are struggling because I know what it's like and to feel like you don't fit in."
At a Westside Grill luncheon Wednesday, April 25, GALs organizers gave $26,000 in grant awards to various nonprofit groups in the South Valley:
Community Solutions: $1,500 to purchase school supplies and backpacks for 50 children in the Mental Health and Solutions to Violence Program.
One Heart to Another: $1,900 to support the Cozy Hearts project at La Isla Pacifica supplying fleece blankets and notes for clients and a youth leadership retreat.
Gateway School: $1,910 to purchase a Rifton triaide and helmet so that students with disabilities can get a bike riding experience to help develop gross motor skills.
Unspoken Works: $4,000 to provide hygiene items and reusable bags for children in foster care.
Learning and Loving Education Center: 750 to purchase two DVD players, DVDs, materials, supplies and storage for 50-60 preschoolers.
DreamPower Horsemanship: $3,000 to provide six registered therapeutic riding instructors for special needs campers at a summer camp experience.
Teri Davis Patane Horse Camp: $1,200 to lease up to seven horses for the camp for disadvantaged students.
Rebekah Children's Services: $3,140 to purchase literacy, arts and music movement materials for kids.
GHS Choral Program: $2,800 to purchase 35 devices for music education.
Gateway School: $3,800 to purchase a pool lift for the indoor therapy pool and to retrofit the anchoring sleeve of the 30-year-old lift.
Christopher High School (through an ASB student): $2,000 to feed homeless making 200 burritos in bags, that include notes and toiletries.
GALs relies on much of its support from businesses and individuals in the community. The 2018 sponsors include: Benjamin Litho, Blaettler Accountancy, Christopher Ranch, gmhToday Magazine, Glen Loma Ranch, Ken Construction, Westside Grill, Pinnacle Bank, Habing Family Funeral Home, Lavendar Day Spa, Pulido Pro Fitness, Wild Flowers by Shawn, Sherrie's Farm LLC Ranch, Hollister Building, South Valley Property Management, PCB Insurance Services, LLC, ICS Integrated Communication Systems, John and Dolores Ken, Mission Valley Ford, Petrinovich Pugh & Company, LLP, Toyota of Santa Cruz, Headstart Nursery, Ronald G. Pray Company, Rosso's Furniture, Martin Ranch Winery, Dan and Lynn Vogt, Hilton Springs, and Jim and Jeri Kroske.
GALs members find themselves making friends as they fundraise together throughout the year, Mantelli said.
"We call ourselves sort of a sorority because we're 35 women who visit once a month with each other," she said. "Sometimes we don't run in the same circles, so we don't get to really see each other except at these meetings. It's really great because we've formed these friendships over the years through getting to know each other."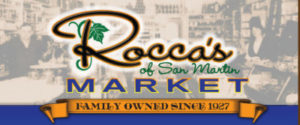 Latest posts by Marty Cheek (see all)