Published in the June 27 – July 10, 2018 issue of Gilroy Life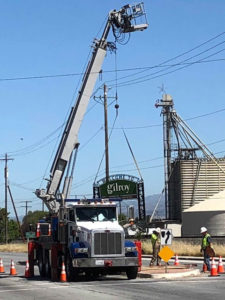 The new signs installed throughout Gilroy look amazing! In 2011, the Gilroy City Council approved a project to install wayfinding and guiding signs throughout the city in order to promote tourism and investment in the city. According to Robert Carrera, the acting management analyst trainee for the city, the original project included more than 17 signs. The first phase of the project was very well received. Due to its success, a new contract was approved in the summer of 2015, for about $334,000 for 69 signs.
"The Department of Public Works has received compliments and positive feedback about the new Wayfinding signs," said Girum Awoke, public works director. "The signs have been a great way for visitors and locals alike not only to get to various destinations more easily but also to learn about the attractions within and around the city."
Good news coming from the Santa Clara County Parks department. The Coyote Lake Visitor Center at Harvey Bear Ranch County Park in Gilroy is remodeled and will open to fanfare from 10 a.m. to noon, June 30. Visitors can arrive at 9:30 a.m. and take a short hike from the Lakeview Campground to arrive at the center in time for the ceremony.
The new center includes exhibits that feature taxidermy wildlife found in the park, live snake tanks, an aquarium with live lake fish, and interactive activities for all ages and abilities. Visitors can enjoy and interact with the new exhibits and then go outside and explore the park.
Santa Clara County Supervisor Mike Wasserman will cut the ribbon at 10 a.m. The center is located at Coyote Lake Harvey Bear Ranch, 10840 Coyote Reservoir Road.
Can't wait to check it out!
Mozart would sure have been proud of the South Valley Youth Orchestra at its Debut Concert 7 p.m. Sunday, June 10, at the Gilroy Presbyterian Church. The musicians performed classical music from the great composers as well as selections from blockbuster movies such as the "Pirates of the Caribbean" films.
South Valley Symphony is helping the young people form their orchestra, providing the benefit of a nonprofit so that donors can provide money to help build them. Anthony Quartuccio, the music director of the SVS, attended the concert and was impressed by the quality of the performance.
"This was a wonderful treat to hear these musicians play so well — and some of the pieces were very complex," he said.
The SVYA was an idea put together by Christopher High School students Andrea Levan (violinist) and Nikki Chen (flutist) during the summer of 2016. They believed that Gilroy and its community were lacking in string music programs for students and decided to start their own.
"The orchestra started off with only seven members and rehearsed in members' basements as a student-run entity where we worked to secure our own concerts, such as at Guglielmo Winery or Santa Teresa Catholic Church," said Spencer Hutchinson, who plays the bassoon.
In the fall of 2017, the young musicians decided that the program should expand beyond Gilroy. They have recruited more than 30 students from around the area, contacted numerous associations, and brought in San Benito High School music director Joey Fortino as SVYO's volunteer conductor.
"Our goal is to serve the communities of Gilroy, Morgan Hill, and Hollister to allow students in these areas the opportunity to perform in a string orchestra that they may not otherwise have," Chen said.
Any middle-school or high-school level student is welcome to join. Because it's a very small group, the SVYO does not yet require auditions.
Bravo, SVYO, for accomplishing so much in such a short time.
On another SVS music note, at the Mother's Day concert at Guglielmo Winery, Quartuccio told the audience that violinist Mai Matsumoto, the winner of the symphony's 2018 Al Navaroli Young Musicians Competition, was accepted to study this fall at the prestigious Juilliard School in New York City.
Juilliard is a performing arts conservatory established in 1905 that trains about 850 undergraduate and graduate students in dance, drama, and music. Competition is tough and the school has only a 6 percent acceptance rate, so it's quite an achievement to get in. Matsumoto proved her skill at the March 10 NextGen2018 concert held at Gavilan Community College where she performed as a soloist the extremely difficult Tchaikovsky's Violin Concert in D Major.
Best wishes to you at Juilliard, Mai! And please come back to perform again with the SVS.
Fourth of July is just around the corner, and we encourage Gilroy Life readers as well as all other South Valley residents to have a "safe and sane" holiday to celebrate American's heritage of freedom. We all love the spectacle of fireworks and firecrackers, but please use them those pyrotechnics responsibly.
Sales go from July 1 through July 4 at city-approved booths throughout Gilroy. They are stocked with permitted fireworks for fundraising for 16 nonprofit organizations and schools in Gilroy. Here's the rules for firework use in Gilroy: Only an adult should be lighting fireworks and only in front of your home, in your driveway or in the street in front of your home. Do not use at public schools or public parts or outside of Gilroy city limits. And do not use in or near hillside areas where a spark can set off a wildfire in dry grass brush. To report violations call (408) 846-0350. Go to www:cityofgilroy.org for sales booth locations and areas of prohibition.
And if you want to join other Gilroyans in celebrating Independence Day with a bang, the City of Gilroy hosts the annual 4th of July Fireworks display at Gilroy High School. The 20-minute display starts at 9:30 pm.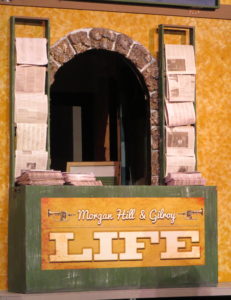 If you attend the latest South Valley Civic Theatre show "Guys and Dolls" this weekend, take a close look at the news stand on the stage. It shows a 1950s-style logo of Morgan Hill Life and Gilroy Life.
Producer Scott Lynch asked us if we wanted to participate in a fun fundraising marketing project to promote local businesses in the "Times Square" billboards of the show's set. We jumped at the chance to get our two newspapers into the Runyonesque musical comedy. Other local businesses that participated are The Ford Store of Morgan Hill, Fifth Street Coffee and Roasting Co. of downtown Gilroy, and Pinnacle Bank.
The show runs until July 1 at the Morgan Hill Community Playhouse. Visit www.svct.org/2018_guys-dolls/ to get tickets or learn more.
On a personal note, the 4th Annual Mid-Cal Cup between some of my friends from Morgan Hill and Gilroy and friends from Southern California went to the So-Cal team, again. They narrowly defeated Nor-Cal 9-7.
I was unable to attend this year and would like to think my presence would have tipped the scales in our favor, but that's probably unlikely the way I've been playing. Congratulations to the So-Cal team See you all next year!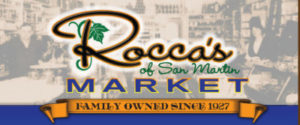 Robert Airoldi is the editor of Gilroy Life newspaper. If you have a story idea or an Around Town column item you want to tell him about, you can reach him at (408) 427-5865 or at editor@gilroylife.com.
Latest posts by Robert Airoldi (see all)