Some of the funds will go to new performing arts center, library and a campus in San Benito County
Published in the October 31 – November 13, 2018 issue of Gilroy Life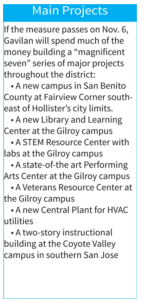 Among other projects, Gavilan Community College hopes to build a new library and performing arts center at its Gilroy campus if voters approve Measure X, the $248-million facilities bond measure on the ballot.
For the past two years, the college has worked on researching the viability of the bond, which has been "very strongly supported" by data that has come from the Educational Master Plan and the Facilities Master Plan, said Gavilan President/Superintendent Kathleen Rose.
The measure needs a 55 percent approval to pass. Two feasibility studies — the most recent in July — were done with surveys of 650 respondents in the Gavilan district, which covers southern Santa Clara County and all San Benito County. More than 65 percent of potential voters surveyed said they were in favor of the bond.
No organized opposition has come out against Measure X and there is no ballot statement against it, she said. The Libertarian Party of Santa Clara County's website endorses a "no" vote on the bond but provides no arguments.
"As we've gone out and continued our work in the community, in terms of opposition there, in my view, has not been any organized opposition that has come forward to me personally about the measure," Rose said. "Our students have been such a strong voice on why Measure X is the next step to support the college, support instruction, support STEM students, support veterans, and particularly, support San Benito County."
The bond would cost property owners no more than $25 per $100,000 of assessed value, or about $113 per year for as long as bonds are outstanding.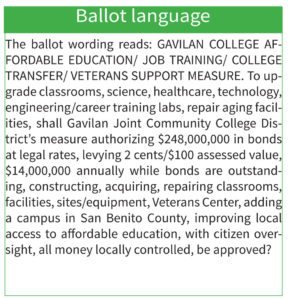 To provide fiscal accountability, a Citizens Oversight Committee is required by law and will be formed right after the passage of Measure X. Representation will come from throughout the district and the Gavilan board of trustees as well as Rose will be very involved. The committee will release annual reports and be very transparent in how they represent the interests of the bond, she said.
For the past months, Rose and other Gavilan administrators have been answering questions from individuals about the bond at Coffee and Conversations and groups such as local Rotary Clubs.
Gavilan students have been the largest single donor for our measure, Rose said.
"They've donated $65,000.77 to our campaign," she said. "They came early on into the campaign and they did so based on the fact that they believe very strongly that this is the direction of the college in the future and they want to be front and center. They've come to all of our campaign's organized events."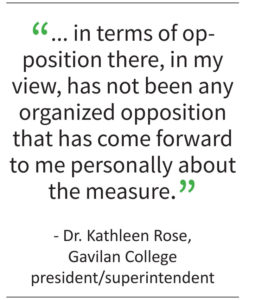 The campaign has received endorsements from all the Chambers of Commerce in the district and from two of the three mayors in the cities in the district as well as many other elected officials.
Measure X is a continuing of the Measure E facilities improvement bond which voters approved in the March 2, 2004 election. The bond's money was spent upgrading outdated plumbing and wiring, renovate aging classrooms and libraries; provide access for disabled students, improve campus safety, and developing the Coyote Valley Center satellite campus, which now is the home of the South Bay Regional Public Safety Training Consortium to training police recruits.
"The story is the same: take a look at the college, take a look at the growth of the college, look at the data that we've presented on the demographics shifts and the needs of the college between now and 2030 and vote on the measure based on the facts and two-year's worth of research that we've done going into this measure," she said.
Measure X's seven major projects will significantly improve Gavilan's academic and cultural services in the coming decades, Rose said.
Much of the money will be spent building the first phase of a campus to serve San Benito County students. Located on the corner of Highway 25 and Fairview Road on 80 acres of land purchased by Measure E funds, the 33,000 square foot facility will include "wet labs," computer labs, and instructional space.
The new Library and Learning Center at the Gilroy campus will be designed with state-of-the-art technology to help students study in a more comfortable space.
"Our library is one of our most decrepit buildings, it's 50 years old and doesn't have heating and air conditioning that's adequate, and no adequate instructional spaces," Rose said.
The STEM Resource Center at the Gilroy campus will provide a facility for increased amounts of biology, chemistry and include math instructional spaces.
A modern Veterans Resource Center is a long held dream for many service men and women at Gavilan, Rose said.
"We are seeing a growing number of veterans who are returning to community colleges, not just ours but throughout the state," she said. "Post-service veterans, as they come back, see community colleges instruction as a gateway to transfer and direct employment services through career technical education. We are increasing our CTE footprint with additional programs in the future that are appealing to veterans and we want to be able to continue to be able to serve them."
Although it's not a glamorous project, a new central plant at the Gilroy campus will modernize the campus's HVAC services. Every time there's a major accident on Highway 101 or a utility-based occurrence, the entire campus experiences brownout or a blackout, Rose said.
"We've had boilers on campus that control the heat and air-conditioning around here and they're old," she said. "Even though we were able to do some infrastructure with Measure E, it was not comprehensive."
With Measure X funding, Gavilan can expand the campus in Coyote Valley with a two-story modular building on the 15 acres "footprint" on the site to expand its instructional operations, especially with a wet lab classroom and a fully operational computer lab.
A modern performing arts center would be built in a central location by Parking Lot C on the Gilroy campus and the 50-year-old theater currently used will be torn down. A new center would provide a "face" for Gavilan for the community to associate with cultural and arts/entertainment activities.
"It would be a community-based performing arts center for the entire district," Rose said. "That would be a big dream."
Rose encourages voters to support the Measure X facilities bond because she believes it's the right thing to do for students.
"Students who come to Gavilan College are asking us to please increase opportunities for instructional access throughout our district," she said. "They've come to our campus in Gilroy for 50 years to get comprehensive degrees and certificates in the programs that we offer. But the college continues to grow and our Educational Master Plan shows clear evidence that there are growth points within our district, and we want those growth points to really flourish and be areas where we really serve students and serve the community."
Next year, Gavilan will mark a major milestone as it welcomes the community to participate in various events marking its founding as San Benito Junior College in Hollister in 1919.
"We're coming up on our centennial next year and we can't wait to celebrate with our community 100 years of service and dedication and loyalty and love of the communities we serve," Rose said. "We want to provide the same level of service — and more — for the next 100 years."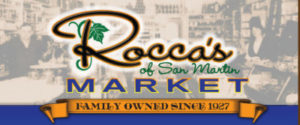 Latest posts by Marty Cheek (see all)