Harvest Dinner Dance raises funds for club activities
Published in the October 31 – November 13, 2018 issue of Gilroy Life
Most people have heard about Rotary, but there's another community service organization in town — The Gilroy Exchange Club — also dedicated to improving the quality of life in South Valley.
Since it was chartered in 1990, the nonprofit has provided an opportunity for its members to strengthen the Gilroy community through its many programs throughout the year.
Its 37 members invite South Valley residents to the club's annual "Harvest Dinner, Auction and Dance" starting at 6 p.m. Friday Nov. 9.
The Exchange Club is called "America's service club," said Lisa Fleming, president of local group. Each member of the Exchange holds near to their heart three core values — family, community and country.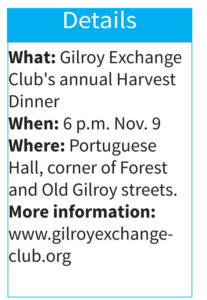 Commitment to family is interpreted not only as one's family needs, but also those of all American families. Strengthening families, with a focus on youth, is addressed in many ways through Exchange's Programs of Service.
Commitment to the community for Exchange members is the focal point for each club's efforts. Exchange is unique as a service organization in that it has the flexibility to structure projects that target the specific needs of a particular geographic location, rather than being restricted to a certain cause.
With their commitment to country, "Exchangites" are proud to join veterans and other civic groups in promoting patriotism for America and in educating today's youth to cherish its values.
These three values are translated into actions every day to bring about positive results through the work of the members, Fleming said.
"We're a group of men and women who work together to make our community a better place to live through programs of service in Americanism, community service, and youth activities," she said. "Exchange Club's national project is the prevention of child abuse."
In the service area of patriotism, the club members support a program called "Give A Kid A Flag To Wave" at Gilroy's Memorial Day Parade.
The club's "Freedom Shrines" are displayed in schools and behind the dais in the city council chambers. This historic collection of American documents include The Declaration of independence, The Constitution of the United States and The Gettysburg Address.
"Last year we added the Americanism Essay Contest distributed through the eighth-grade classes in our school district," Fleming said. "It was very interesting to hear what students had to say. The winners won Chromebooks for their school."
The club also supports the annual "Wreaths Across America" with members decorating veterans' graves with wreaths and American flags.
In its spirit of community service, the Gilroy Exchange Club hosts an ice cream social every year and delivers poinsettia's to local seniors to make their holiday season a little more colorful. Members also help those families in need with winter shelter supplies, turkeys, and holiday family shopping.
In the area of youth activities members organize a series of Back-to-School Shopping Days, one of which elementary-age children shop with a cop to get their clothes to look stylish in class.
Promoting education is an important component of the club's activities.
"We donate paper and supplies to teachers," Fleming said. "We support Safe and Sober Grad Nights, Rebekah Children's Services and the Gilroy Gang Task Force. We also had our first ACE (Accepting the Challenge of Excellence) award recipient and they received scholarship money."
In the prevention of child abuse, Gilroy Exchange Club members give "Comfort Bear" toy dolls to first responders for distribution. They also have an information booth at the annual National Night Out event every summer in downtown Gilroy.
The Gilroy Exchange Club's Harvest Dinner Dance and Auction is the club's only fundraiser during the year. Tickets are $60  and can be purchased by contacting a member or by emailing gilroyexchangeclubharvest@gmail.com.
Fleming encourages South Valley residents interested in helping others to learn more about the Gilroy Exchange Club and consider becoming involved as a members.  The club meets the first and third Wednesday of the month from noon to 1 p.m. at Mama Mia's Restaurant in Gilroy.
"We are very proud that everything we make stays here in our beautiful Gilroy community things better," she said.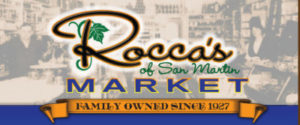 Latest posts by Marty Cheek (see all)