Published in the November 14 – 27, 2018 issue of Gilroy Life
Ongoing
Women's Support Group
An eight-week personal study with other caring women healing from post-abortion. These are individual or group sessions. Details: (408) 847-8880.
AARP Safe Driving Course
A course for motorists 50 and older is taking place. Must call and register to get date and location. Participants will familiarize themselves with driver safety and new laws. No tests. Course, materials and instructor provided. There is a minimal DMV certificate fee. Details and to register: (408) 779-7117 between 1 and 7 p.m.
Mondays
Free Guitar Lessons
Free guitar lessons at the Gilroy Senior Center, 7371 Hanna St., from noon to 1 p.m. Details: (408) 846-0414.
Line Dancing Lessons
Line dancing lessons from 7 to 9 p.m. at the San Martin Lions Club, 12415 Murphy Ave.
Celebrate Recovery
Group meets at 6:30 p.m. at South Valley Community Church, 8095 Kelton Dr., Gilroy. Details: (408) 848-2363.
Food Addict Meetings
Food Addicts in Recovery is a 12-step program for those suffering from overeating, under-eating or bulimia. Meetings are at 7 p.m., Advent Lutheran Church, 16870 Murphy Ave. Details: 800-600-6028 or www.foodaddicts.org.
Last Monday
Parenting Support Group
Join with other moms to learn, share and journey through parenting at 10 a.m. Details: (408) 847-8880.
Monday & Thursday
Duplicate Bridge
Bridge games begin at 1:20 p.m. Mondays and 10 a.m. Thursdays at the Gilroy Senior Center, 7371 Hanna St. Details: (408) 921-8512 or email win.stone@charter.net.
Mon., Wed., Fri. & Sat.
Join the Gilroy Gators Masters
From 5 to 6 a.m. and most Saturdays from 7 to 8:30 a.m. at Gilroy High School. Masters swimming for adults looking to get in or stay in shape, or for triathletes looking for more swim time and/or instruction. Details: www.gilroygators.org or email gilroygatorsmasters@gmail.com.
Tuesdays
Ladies Golf Club
The Gilroy Ladies Golf Club is looking for new members. Details: (408) 779-0886 or (408) 776-7509.
Meditation Class
Each class consists of a short introduction, a 20-minute meditation, and a brief discussion. It takes place from 6:30 to 7:15 p.m. E-mail artofyogamorganhill.com, or drop by 16165 Monterey Road, Suite 200. Suggested donation $5. No one turned away.
Fourth Tuesday
Free Ukulele Jam Session
Have fun with an enthusiastic group of ukulele players at the monthly Gilroy Ukulele Jam, 6 to 8 p.m., at Old City Hall Restaurant, 7400 Monterey Road. All playing levels are welcome; free beginner lessons from 5:15 to 5:45 p.m.
Tuesday & Thursday
Community Closet
The St. Catherine Community Closet is open from 10 a.m. to 1 p.m. and the first Saturday from 10 a.m. to noon. Get free, gently-used clothing and household items, at 13570 Depot St., San Martin. Details: (408) 857-4516.
Every Wednesday
Student Recovery/Life Skills Class
"Life Hurts God Heals" is an eight-step program for middle and high school students providing life skills for students. Free classes take place from 6:30 to 8 p.m., at Cathedral of Faith, 7250 Forest St., Gilroy. Details: Suzie at (408) 497-2494.
Second Wednesday
SV Woodworkers Meet
If you are a woodworker or enjoy working with wood you might enjoy joining the South Valley Woodworkers, serving South San Jose, Morgan Hill, Gilroy, San Martin and Hollister. The group meets at 7 p.m. in Morgan Hill. Details: www.southvalleywoodworkers.org.
Second, fourth Wed.
Indivisible South Valley
Indivisible South Valley, a grassroots effort aligned with the national Indivisible Movement, works to protect democracy and core values, focusing on local communities. Meetings are from 7 to 8:30 p.m., at the clubhouse on Montoya Circle.
Thursdays
Naranon Family Meeting
For family and friends affected by a loved one's drug abuse, these meetings take place from 7:30 to 8:30 p.m. at Gilroy First Baptist Church, 8455 Wren Ave.
4-H Meeting
Learn leadership and life skills at the Pacheco Pass 4-H meetings from 7 to 8 p.m. Details: email pachecopass4hclub@gmail.com or call (408) 824-8201.
Writer's Class
Creative writing class, no experience required, meets at 2 p.m. for 13 weeks, Merrill Gardens, 7600 Isabella Way. Details: Amanda Chiado at (408) 621-5114.
Third Thursday
Women in Touch
Women in Touch II invite others to renew friendships and make new friends. Meetings, which include lunch and lively entertainment, take place from 11 a.m. to 2 p.m., at the Gilroy Elks Lodge. The cost is $23, reservations required. Call Mary Saccullo at (408) 847-1964 or email msaccullo@aol.com.
Fridays
Friday Night Bingo
Doors open at 4 p.m. with early games starting at 6 p.m. at the VFW, 74 W. Sixth St.
Celebrate Recovery
Group meets at 6 p.m. for food, 7 p.m. for large groups and 8 p.m. for small groups, at New Hope Community Church, 8886 Muraoka St. Details: (408) 398-5107.
Poetry Readings
Join the poetry fun with the longest running group in South County area from 3:30 to 5 p.m., Gilroy Public Library, 350 W. 6th St. All levels welcome.
Late Evening Gym
Come to a safe space to play games and have fun from 6 to 9 p.m. at the El Portal gym, 222 I.O.O.F. Ave. Food is served. This program is for ages 13 to 19 though younger children are allowed if accompanied by a parent or sibling older than 18. A permission slip is needed if attending for the first time. Details: (408) 846-0460 or (408) 846-0313.
Saturdays
Ukulele Sunrise Jam
Players meet at 8:30 a.m. for an hour of jamming at Café 152 Bread Company, 60 4th St. They play songs from their past three songbooks, which are available at www.GilroyUkuleleJam.com.
First & third Sundays
Grief Support Group
Meets at 2 p.m. at the United Methodist Church, 17175 Monterey St., and provides a safe place to share grief. Details: (408) 607-5779 or email platnumer@aol.com.
Nov. 16 – Dec. 8
'Mom's Gift' Opens at Limelight
Limelight Actors Theater's 2018 comedy and annual fundraiser for The Michael J. Fox Foundation for Parkinson's Research plays at 8 p.m. (doors open at 7 p.m.) Nov. 16, 17, 23, 24 & 30, and Dec. 7 & 8; and at 2 p.m. (doors open at 1:30 p.m.) Nov. 25 and Dec. 2. Tickets are available at www.LimelightActorsTheater.com.
Nov. 17
'Fables & Folktales from Around the World'
The Gavilan College Children's Theater production of 'Fables & Folktales from Around the World' is an original adaptation and takes place at 2 p.m., at the Gavilan College Theater, 5055 Santa Teresa Blvd. The performance features song, dance, storytelling, and fun for the entire family. Audience members will enjoy a complimentary cupcake and cookie reception after the performance. Tickets are $12 for adults, $8 for seniors, students and children older than 6 and are available at the Gavilan College Bookstore, BookSmart in Morgan Hill, online at brownpapertickets.com, and at the door. A Family Pack with two adult and two children tickets is $30.
85th Annual Christmas Bazaar
The Gilroy United Methodist Women invite the public it their 85th Annual Christmas Bazaar from 8:30 a.m. to 3 p.m. at the church, 7600 Church St. The event features an array of artistic crocheting and knitting, culinary delights, and whimsical crafts. A tasty soup and pie luncheon is served in the Fireside Room for $7 Details: Edna Holcomb at (408) 671-2719.
Learn About Wing Design
The "History of the Flying Wing Airplane Development into the B-2 Stealth Bomber" presentation traces the origins of the wing design which ultimately developed into the B-2 Stealth Bomber. It takes place from 11 a.m. to noon, at the Wings of History Air Museum, 12777 Murphy Ave. Details: museum1903@gmail.com.
Please send calendar items to editor@gilroylife.com.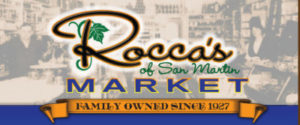 If you wish to send a Calendar Page item to Gilroy Life, please send your event's details to editor@gilroylife.com. If you have a good quality publishable photo or a flyer of the event, please feel free to send that to the same email address.

Latest posts by Calendar Editor (see all)