Voters also passed Measure A, the one-eighth percent sales tax
Published in the November 14 – 27, 2018 issue of Gilroy Life
South Valley voters Nov. 6 approved the Measure X Gavilan bond and Measure A county sales tax.
In local government, Gilroy voters selected Marie Blankley, Dion Bracco, Peter Leroe-Muñoz , and Carol Marquez to serve as city councilmembers.
District 7 voters selected Claudia Rossi to return to serve on the Santa Clara County Board of Education. Edwin Diaz will replace Walt Glines as the Gavilan Community College Board. Sheriff Laurie Smith won a sixth term.
In state government Robert Rivas will fill the empty state assembly seat vacated by Anna Caballero. In national government, Democrats Jimmy Panetta and Zoe Lofgren will return to serve the South Valley in the House of Representatives.
Measure X, the $248-million facility bond, raises money that will continue the progress made by the 2004 Measure E. It will cost $25 per $100,000 of assessed property. It will require a citizens' oversight committee and a project list so the community will know exactly how and when the money will be spent. It required a 55 percent approval to pass and received from South Valley voters 16,250 yes votes (60.43 percent) to 10,639 no votes (39.57 percent). In San Benito County, also in the Gavilan district, it received 5,390 yes votes (51.30 percent) to 5,117 no votes (48.70 percent).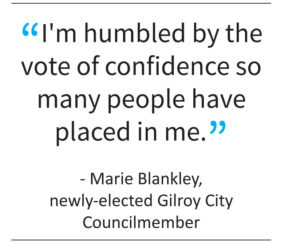 "This is a very exciting event in the history of Gavilan College," said Kathleen Rose, Gavilan president/superintendent. "We want to thank everyone who was a part of this effort — first of all, the voters who showed up and voted yes on X, and those who volunteered to walk districts, put out fliers, make phone calls, and attend events…. Even if you did not vote for Measure X, we thank you for your participation in the process and invite you to be involved with Gavilan College as we move forward together."
Measure A renews the one-eighth cent (0.125 percent) sales tax to fund general city purposes. It passed with 235,649 (72.62 percent) to 88,843 votes (27.38 percent).
Marie Blankley received 5,874 votes (25.30 percent), the most of the Gilroy City Council candidates. Dion Bracco received 4,3501 votes (18.74 percent), and Peter Leroe-Munoz received 4,261 votes (18.35 percent),
Unsuccessful candidates Tom Fischer received 3,701 votes (15.94 percent, Reid Lerner received 2,713 votes (11.69 percent) and Tim Renggli received 2,317 votes (9.98 percent).
In the short-term Gilroy City Council race, Carol Marquez won with 5,479 votes (58.08 percent) to opponent Daniel Harney's 3,954 votes (41.92 percent).
Blankley said she is grateful for the people in her hometown who supported and helped her through her first election campaign.
"I'm humbled by the vote of confidence so many people have placed in me. Even more humbling to me is the level of support I received in all of Gilroy's precincts, no matter what neighborhood or part of town," she said. "I've spent a lifetime wishing that divisiveness did not exist in our town, wishing instead for a community that can find more in common than their differences. I hope I can be that person through whom more people find reasons to work together than apart."
The four candidates who ran unopposed for four seats on the Gilroy Unified School District Board of Trustees are Enrique Diaz, Tuyen Fiack, Anisha Munshi and Linda Piceno.
In the Santa Clara County Board of Education race for Trustee Area 7, Claudia Rossi received 24,328 (55.79 percent) votes to opponent Gino Borgioli's 19,275 (44.21 percent).
In the Gavilan Community College Board of Trustees race, former Gilroy Unified School District Superintendent Edwin Diaz received 4,314 votes (65.36 percent) to incumbent Walt Glines who received 2,286 votes (34.64 percent).
Diaz said he appreciates the confidence voters have in selecting him.
"The community college system plays a critical role in many students' lives and during the past few months I have learned about the many successful programs Gavilan College provides," he said. "I have also learned of the opportunities for Gavilan College to provide more and better experiences to students, be a leader for the education community, and be a source of pride for all residents of South County."
Santa Clara County Sheriff Laurie Smith keeps her job for a sixth term with 166,170 votes (56.47 percent) to opponent John Hirokawa's 128,070 votes (43.53 percent).
Editor's note: the vote numbers are accurate as of 9 a.m. Friday, Nov. 9.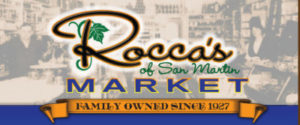 Latest posts by Marty Cheek (see all)