Published in the December 26 – January 8, 2018 issue of Gilroy Life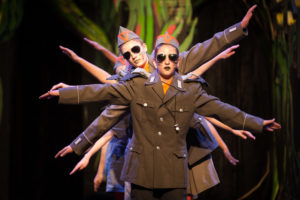 Mount Madonna Middle School students brought to the stage the 1844 fable The Ugly Duckling by Hans Christian Andersen Dec. 8 and 9.
The show "Honk! Jr." is a story that addresses struggles around acceptance — acceptance of one's self as well as others, said director Erin Fitzgerald. "Students are asked to bring themselves into their characters and to identify the similarities to find how this theme shows up in their life," she said. "This play has helped bring the middle school together as a community, not only by discussing our differences, but also by celebrating them."
Performing has helped eighth-grader Kaya Westbrook grow by facing her fears. "We stand in front of people and sing, dance and act and that can be scary," she said. "It's nice to have the opportunity in a school setting, where we aren't teased or made fun of, to try something scary and new."
Seventh-grader Sophia Manzur loves performing because it helps her overcome her nervousness. "When I am on stage, I feel like I can break out of my shell," she said. "Being in a play is not an independent thing. You work together with a community, and we each have a part to play."
Good job, young performers. Honk if you love seeing kids in theater.
Save the date: Sept. 7, 2019. That's when Gavilan College will kick-off its centennial year with a gala event called "Gavilan Through The Decades" celebrating its first 100 years serving the South Valley's higher-education needs. Tickets are now available as are sponsorships ranging from $500 to $50,000.
Gala guests will take a nostalgic and informative stroll through the decades of Gavilan's history from the 1920s to today. Each decade will feature areas of academia highlighted with education tables, as well as food stations with themed food from each decade, wine stations, live music, photo booths, students in period costume, formal portraits, live auction, silent auction, strolling card magician in a tuxedo, and a string quartet.
"We are really looking forward to this celebration and look forward to welcoming the community to campus for the party of the century," said Dr. Kathleen Rose, superintendent/president of Gavilan College.
Gavilan was established in 1919 as the San Benito County Junior College, operating under that name until 1963, when a new community college district was drawn that included both San Benito County and southern Santa Clara County. The college moved to its present main Gilroy campus in 1968.
To become a sponsor, contact Bobbi Jo Palmer at bpalmer@gavilan.edu. For tickets, visit www.gavilan.edu.
Coldwell Banker Gilroy and Coldwell Banker Residential Brokerage Morgan Hill presented funds to three local charities: Shining Star Prom, Live Oak Adult Day Services, Stanford Children's Health — Lucile Packard Children's Hospital Stanford. The money came from a Party in the Vineyard fundraiser held in Oct. 10 at Fortino Winery. They also presented Unravel Pediatric Cancer a check for $5,500 They will also give checks to Operation Freedom Paws and Magical Bridge.
Great job, Coldwell Banker.
Local photographer Kirti Fatania-Bassendine will show her work depicting the struggles of the South Valley homeless population at the Gilroy Arts Center Jan. 5 to 26. During her travels, she has met many people who are homeless or on the edge of homelessness. Hearing their stories, she realized they are mostly normal people dealing with extraordinarily painful life circumstances.
Her exhibition will put a name to the face of members in the community in crisis and to help create an understanding of their compelling stories and individual situations. More of the artist's work can be viewed at www.kirtibassendine.com. She has set up a GoFundMe page at www.gofundme.com/help-kirti-give-homeless-avoice.
Looking toward the future months with arrival of 2019, no doubt the residents of Gilroy will get engaged in debate on various local issues that we'll be writing stories about in the coming months.
Among the top issues is the ongoing challenge of homelessness in Gilroy. It's a difficult problem to solve with rising cost of living caused by the growth of jobs in Silicon Valley. We're glad we have the Compassion Center and the Gilroy Armory to provide a place to stay during the winter cold days. Far too many local people, including young children, find themselves living in tents and sleeping bags along our creeks. We must find humane ways to resolve this challenge.
The ongoing California High-Speed Rail project and its impact on the South Valley region is also an area of concern for many in Gilroy, San Martin and Morgan Hill. A state audit released this month raises many questions about flaws in the $77-billion project and its viability for continued construction. Maybe California's incoming Gov. Gavin Newsom and the state legislators need to start discussing the reality that Gov. Jerry Brown's train project has run out of steam.
Santa Clara County, I'm glad to see, recently purchased O'Connor Hospital in San Jose and St. Louise Regional Hospital in Gilroy for $235 million. I hope the transition of ownership proceeds smoothly. It's good to know residents in the South Valley still have a hospital to take care of local residents' health needs.
Another positive addition for the South Valley's families is the news that Magical Bridge Inclusive Playground project has raised enough funding to begin construction — most likely in June. The organizers and city of Morgan Hill staff held a design update meeting Dec. 17 to reconfigure the design to help meet the financial considerations required to complete the park. For families with kids with special needs — including those from Gilroy — this new park will be a fun local destination for playtime with friends. Local real estate agent Ron Locicero and his wife Shirlee got this project going several years ago. We can't wait to attend the grand opening.
Robert Airoldi is the editor of Gilroy Life newspaper. If you have a story idea or an Around Town column item you want to tell him about, you can reach him at (408) 427-5865 or at editor@gilroylife.com.
Latest posts by Robert Airoldi (see all)