Click here to find more stories published in the April 17 – 30, 2019 issue of Gilroy Life
Music will join wine as the headliner of the April 27 Wine Stroll now that the Morgan Hill Downtown Association has more than doubled the number of live music locations.
This year there will be 11 stops featuring some of the best local musicians performing all day throughout the downtown stroll route. Here is the 411 on who will be performing and where you can find them. Most of the musicians will be playing from 1 to 5 p.m.
The South Valley Wind Symphony will play at the Third Street check-in point in front of the downtown parking garage.
Chris O'Connor will perform in front of Bike Therapy at 17540 Depot St.
"Undercover" the band will perform until 4 p.m. at Bubbles & Brew at 17105 Monterey Road.
The South Valley Symphony Brass Band can be found at the Pop-Up Park on Second Street and Monterey Road.
Larry Boushey will be in front of the Jewel Box on 17190 Monterey Road from 4 to 5 p.m.
The Cook 'N Fenny Combo will be set up in front of Old Republic Title (the Millhouse Office Building) at17485 Monterey Road. (First Street and Monterey Road.)
Aprylle Gilbert will play at Rosy's At The Beach in the beer garden around the back.
Tony Johns will play keys at Sinaloa Café throughout the day.
Jeff Smith will be at The Pace Building 17390 Monterey Road, corner of Second Street and Monterey Road.
Euro Trash can be found at The Grange Hall parking lot at 40 E. Fourth St.
Tom Drake will be (tentatively) at the alley next to The Hill on Monterey Road.
The Wine Stroll is a wonderful event and has become a yearly staple to our list of downtown Morgan Hill annual events.
The Wine Stroll pairs our areas award-winning Santa Clara Valley Wineries with our downtown merchants and restaurants in a unique tasting experience.
Not only do you get to taste wines from around the region you also get a self-guided walking tour experience throughout downtown while tasting 22 local wineries and enjoying art and music from local artists. Tickets are $39 in advance and $45 the day of the event and are available for purchase at Noah's Bar & Bistro, Bubbles & Brew, Cherisse's Hair Salon, Bike Therapy, SOCO Fashion Boutique, and BookSmart. Check-in starts at 11 a.m. until 3 p.m. at the Third Street Plaza.
The stroll concludes the annual Wine & Food Week that begins Monday, April 22, with a series of winery and restaurant specials.
The week kicks off with a series of local wineries teaming with restaurants to offer special tastings, winemaker dinners, wine education and a trivia night that celebrates our relationship with Santa Clara County wineries. Almost all events have opportunities to meet the local winemakers. These are opportunities to spend time with those who love to share their passion for their work. For details, visit www.morganhilldowntown.org.
On another note, Nashville singer and songwriter Drake White will headline this year's Day On The Ridge in Gilroy Sunday, May 26. The third annual all-day concert celebration takes place in Eagle Ridge and benefits St Joseph's Family Center which offers support services to low-income families living in Gilroy and the South County.
The day's diverse lineup features an assortment of the Bay Area's most popular party bands and entertainers including Cripple Creek Band, The Purple Ones (Prince tribute band), Heartless (Heart tribute band), and DJ Ponce as well as Derek Anderson's ESS Band for a mix of R&B, soul, and pop music. To kick off the day's festivities, actress and singer Lauren Mayhew will perform the National Anthem. Last year this event raised more than $80,000.
On another note, The Morgan Hill Wind Symphony will hold its spring concert, titled "Band Favorites," Sunday, April 28. It is free and open to the community. It starts at 7:30 p.m. and intermission offers refreshments. Located in the sanctuary of the Morgan Hill Presbyterian Church, 16970 DeWitt Ave.
The newest spot for live music Kelly's Brewing Company has confirmed a regular live music schedule Thursdays and Saturdays. For details on who is playing check out kellybrewco.com and click on their 'events' button.
Got a music tip? Send it to harmonicaman1@yahoo.com.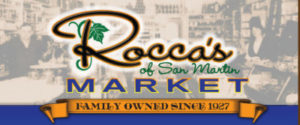 Latest posts by Marty Cheek (see all)