Trucks are quieter and cleaner than old diesel rigs
Published in the October 19 – 25, 2016 issue of Gilroy Life
By Marty Cheek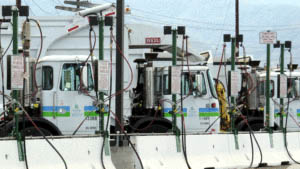 Recology South Valley aims to protect the environment and improve the quality of life for residents in Gilroy and Morgan Hill. And this summer it launched a new program to have its waste disposal and recycling trucks powered by compressed natural gas.
At a ribbon cutting at the company's Pacheco Pass facility Oct. 12, dignitaries from Gilroy and Morgan Hill joined with Recology staff and administrators to cut a ribbon and celebrate the new CNG-powered trucks and the advanced system that fuels them.
Gilroy Mayor Perry Woodward said the new trucks provide a health benefit to citizens of the South Valley region because winds often blow air pollution south from the Bay Area cities toward Morgan Hill, Gilroy and San Martin.
"It's a great thing for our community," he said. "Our air quality is worse here than a lot of places in the Bay Area, so to have these (CNG) trucks here is a good first step. There's a long way to go and it's nice to see Recology leading the way."
Recology took nearly two years and paid slightly less than $2 million to build the new system, said General Manager Phil Couchee. It had to tie its facility into PG&E's main 8-inch distribution line along Highway 152, which has 700 pounds per square inch in pressure.
At Recology's site, the line went into a two-inch piping system with meters and gauges that reduces the pressure to under 150 psi. The natural gas then goes through a compression unit. It's then fed into a line of CNG garbage trucks which go through a "slow-fuel system" from 10 a.m. to midnight where the natural gas is pumped into a "turtle-shell" on the top of the truck. When the drivers come to work in the morning, their trucks are ready to roll.
Currently, Recology has eight trucks on the road, with four serving Morgan Hill and the other four serving Gilroy. In November, 10 more trucks will be delivered, with five going to Morgan Hill and the other five going to Gilroy.
"The drivers like them because they're quieter and smoother running," Couchee said. "Natural gas over the long term is a much more stable commodity, so it will be much cheaper when diesel goes back up in price. It'll save money, and it's certainly a lot cleaner fuel."
The conversion at Recology began when Tony Eulo, program administrator for the city of Morgan Hill, approached Couchee and asked him to consider the idea of going to CNG.
"This is a normal way to pick up garbage with compressed natural gas trucks," Eulo said. "It would be cleaner for the environment, so it makes sense to do. It's all positive — reduced emissions, reduced air pollution and it's also quieter."
Most people won't notice the difference in the fueling for the trucks, but they most likely will support the more environmentally-friendly way of picking up the South Valley's garbage, he said.
BY THE NUMBERS
Less than $2M — Amount paid to create the system
18 — Number of trucks that will eventually be on the road
Latest posts by Marty Cheek
(see all)