About 1,200 runners participate raising more than $50,000 every year
Published in the March 21 – April 3, 2018 issue of Gilroy Life
The feet of more than a thousand runners will hit the pavement on a course starting and finishing at Live Oak High School Sunday, March 25, at the 35th Annual Wildflower Run. In recent years, it has grown into a major community event for not just die-hard athletes but also families who want to encourage their children to be active in healthy physical exercise.
Organized as a fundraiser by the Morgan Hill branch of the American Association of University Women nonprofit group, the local run prides itself in being a family-friendly event, said AAUW member Patricia Toombs, the 2018 Wildflower Run director.
Besides a UTFC-approved 10K course, the Wildflower Run offers a 2K run for both kids and seniors, as well as a 5K run and walk that's open to parents with children in strollers, she said.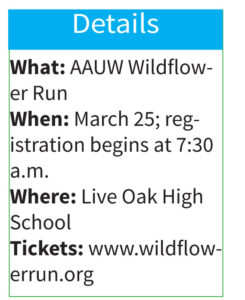 "Being one of the first runs of the year, we're able to offer families a chance to enjoy a healthy event outdoors with something for everyone to participate in, that sets a tone for the rest of the year," she said.  "For a lot of the kids running in the 2K, this is the first time they have ever been in a physically competitive event. The cheering support from our local Girl Scout troop and family and friends provides positive support no matter what their finishing time is."
South Valley resident Emily Shem-Tov's daughters, Clara and Miriam, participated in a double stroller the first year the 5k stroller category existed.
"They had a blast," she said. "They kept yelling 'Faster!' to their dad as he pushed the stroller, which made us pick up our pace. We had planned to just walk it — and we ended up jogging much more than we had expected with that encouragement."
For the past few years, the Shem-Tov girls have participated in the 2K kids race and have been encouraging their friends to join them. Now 7 and 10 years old, they're both signed up to run in this year's race and looking forward to it.