Click HERE for to read stories published in the June 12 – 25, 2019 issue of Gilroy Life
Every time you meet an alumni of Leadership Gilroy you'll hear the phrase "I'm from year so-and-so — the best class ever!" Well, I'm here to tell you: I've done it. I've found the best class ever. It's Leadership Gilroy Class of 2019.
We started out as a group of individuals with seemingly no connection to one another other than the fact that Gilroy is a place we call home. As time has progressed, we've grown to know, understand and work with one another as a family to reach a common goal: completing our leadership project.
We began with 25-plus ideas tossed around a room with Kanani Pratt, our resident teacher, writing them on a giant piece of paper for us. We spent hours upon hours sifting through our ideas until we narrowed it down to three equally promising projects we would do more research on. Members from previous years told us prior to our retreat that this process would cause us to test each other's patience and have some of us gnawing at the bit to have our ideas heard. However, our class moved through the process in a very harmonious and logical fashion.
Finally, after many hour-long meetings , discussions and voting, we came to an agreement on a final idea. "Tame the Flame" will put smoke alarms and perhaps mini-fire extinguishers in low income and senior citizen housing. Now, even though the title seems direct and to the point, the inspiration behind it is rather complex. We wanted to do something that would benefit public safety as a whole, similar to the project that put defibrillators throughout town. We wanted to cultivate a positive relationship between the public and the police force (our class has two officers: Paco Rodriguez and Mike McMahon.) We also wanted to make sure the fundraising portion of it was something that will be enjoyed by both our class and the community together.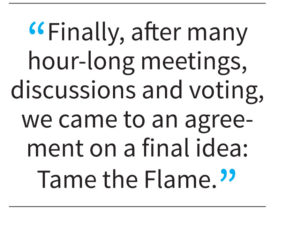 While we're still putting together our final plans, we've got most of it narrowed down. For the fundraising, we want to hold a Taco Tuesday event where supporters can purchase tickets for taco and beer tasting. We're also mulling over a "Flame vs. Tame" idea where we will have a taco-making cook-off between the fire and police departments. We're even thinking about a rap concert for teens called "Can't Tame This Flame." Catchy, right? With this, we hope to engage the community with our public safety divisions and use the proceeds to make Gilroy a safer place. Everything is still falling into place. The Class of 2019  looks forward to the culmination of our hard work.
Jessica Ewing is the marketing director for Gilroy Life and a member of the Gilroy Leadership Class of 2019 – the best class ever. Email her at sales@gilroylife.com with any comments and she'd be happy to pass them along.

This guest column represents the views of the writer and not necessarily that of Gilroy Life. If you're interested in writing a guest column for this newspaper, please email the editor at editor@gilroylife.com.

Latest posts by Guest Column (see all)