Property owners are upgrading unreinforced masonry buildings
---
By Marty Cheek
Get ready for a downtown Gilroy renaissance. A number of its 18 unreinforced masonry buildings are well on the way to completing the process of being retrofitted for safety through a partnership between the owners and the city, opening up opportunities for a revitalization with new shops and restaurants.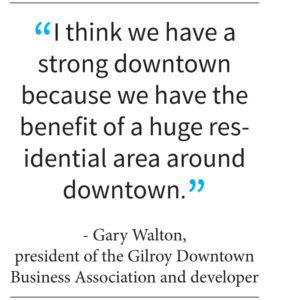 The Gilroy Downtown Business Association gave the public special tours July 19 and 20 of several of the buildings. Their owners and project managers explained what is being done to fix the buildings and plans to encourage businesses to lease them after their doors open for customers. URM buildings may collapse during an earthquake, and retrofits help to improve public safety.
In 2013, the Gilroy City Council voted 4-3 to impose $10,000 monthly fines on URM buildings to encourage property owners to take action. The city has been working closely with URM owners to address the building safety issue.
Many URM structures dot the downtowns of cities across the Bay Area and throughout California. These older buildings were built at a time when earthquake codes were not as strict as they are now. An example of the danger from these buildings can be seen in Napa where in 2014 a 6.0 earthquake that happened at 3 a.m. on a Sunday seriously damaged more than 170 structures and injured more than 200 people. If the tremor had occurred during business hours, experts believe many more people would have been hurt or even killed.
Gary Walton, board president of the downtown association and a property developer, said at the July 20 tour that the cosmetic improvements, such as flower planters in various locations in the downtown, are starting to be recognized by residents.
"I think it's beginning to show. People are saying, 'Wow, it's really improving. Things are getting better.' That's the visual part," he said.
But the safety aspect of upgrading the URMs for a high-magnitude earthquake are equally important in revitalizing the downtown to attract businesses and customers.
"Everyone always talks about Morgan Hill's downtown, but we have a more historic downtown," he told the tour of about 20 people. "We have probably three times the square footage of what downtown Morgan Hill has. It's more diverse here. They're kind of basically restaurant row. I think our strength is in our diversity."
Gilroy has a wider variety of retail shops and service businesses such as a vacuum cleaner shop, a bowling alleys, barber shops and beauty shops and taco shops.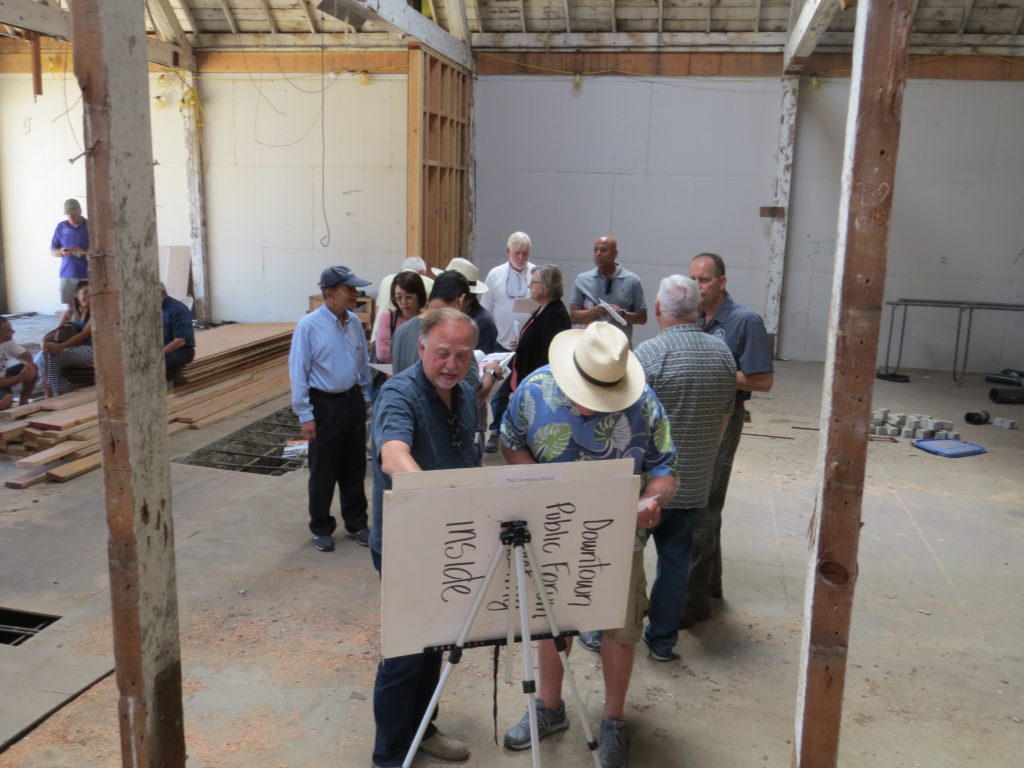 "I think we have  a strong downtown because we have the benefit of a huge residential area around downtown," Walton said. "If we can work to improve those neighborhoods, they will be as popular as Willow Glen and Naglee Park, all the ones in San Jose that people love . . . We need to develop programs within our city to preserve the best of our history and to really build on the assets, what people really like about our city."
Five URM buildings were visited during the tour. Among them was one located at 7533 Monterey St. where owner Jose Montes talked about the upgrade process and challenges. That building was constructed in 1890 and served as the site of a variety of commercial uses including a grocery store from 1920 to the 1930s. The last tenant was Mafalda's Bridal Shop and the site has been vacant since that retail store moved to another location.
Gilroy Realtor John Taft told the tour attendees that since 1984 when the city renamed the back street behind the downtown stores "Gourmet Alley," the hope was to close that passageway to cars and make it an attractive pedestrian walkway where restaurant customers can eat at tables outside, thus encouraging visitors to the downtown.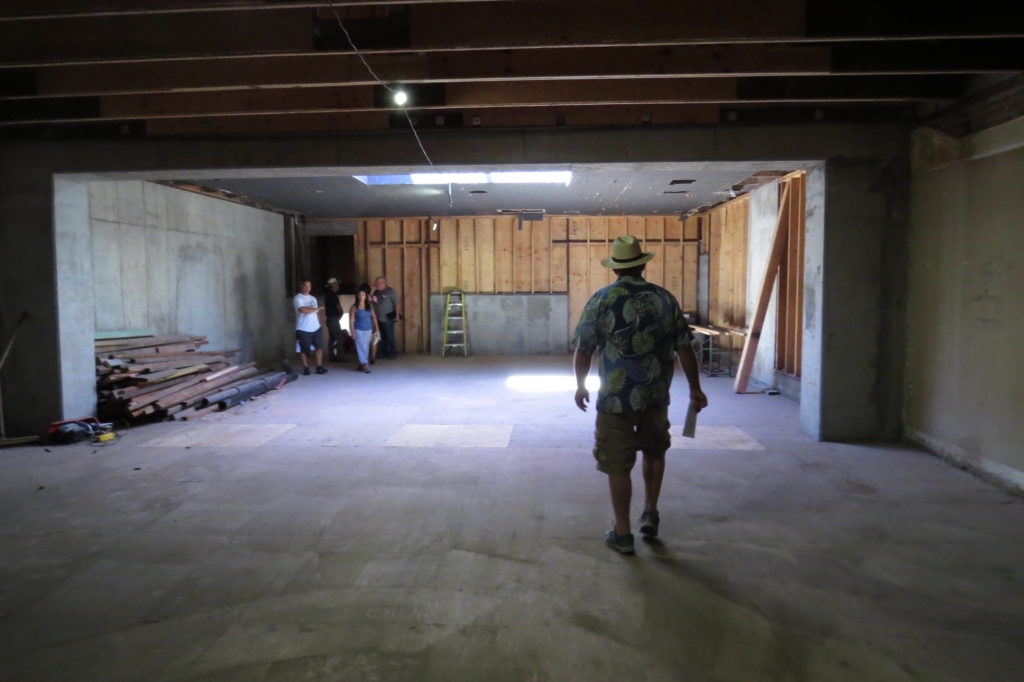 "One of the things that we've been trying to do in bringing these buildings back online is take a step to activate Gourmet Alley," he said. "And so this half of the alleyway here is the first step."
The unit could be split for multi-uses with a possible restaurant in the area facing the alley. Upstairs, the URM upgrading might allow outdoor seating for diners on the roof as well as a couple of loft apartments.
"We're trying to shift the focus to make the downtown more of a destination," Taft said. "The way to make it a destination is to focus on entertaining, restaurants, and activities."
Another URM location in the tour was 7320-7340 Monterey St., adjacent to the transit center. That building was constructed in 1923 to serve as an automotive dealership. During the tour, Taft said that the property owner's plan was to turn the building into an Asian food market. The location would include a choice of different small eateries offering cuisines including Chinese, Korean and Japanese as well as a place for people to pick up groceries.
"The food court is much like San Pedro Square. The reason I like it is that it lowers the cost point for individuals restaurants," he said. "So if you have people who want to go into a restaurant business and haven't done it before, it lowers the cost point for what they're doing. It could be a starter operation, but we could also attract experienced people here in regard to a restaurant."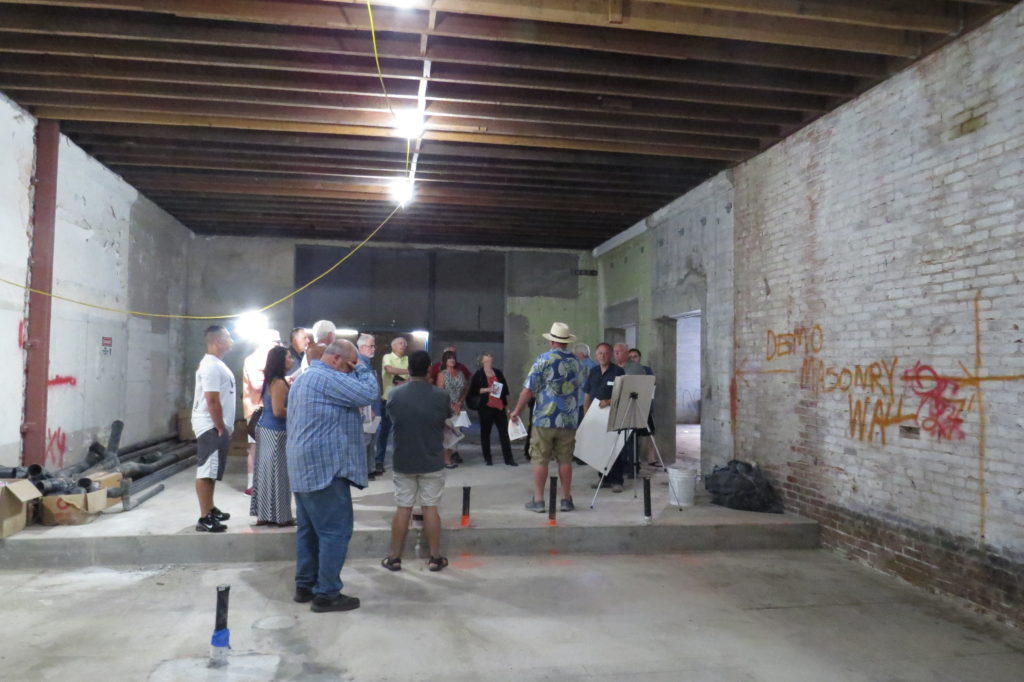 Taft said the vacancy rate for business buildings overall in Gilroy is 5.3 percent. The vacancy rate in downtown Gilroy is 1.7 percent.
"We've got most of the buildings filled. The perception and the concerns that I hear is that there's a big problem downtown," he said. "And I think the difference that people are not distinguishing is the difference between a URM building and the other buildings that are open for business. The ones that are open for business are full and we're not having any trouble attracting businesses to downtown. So I'm really excited by the fact that we're very close to bringing these URM buildings on and leasing them because I think that's where the misconception is downtown."
Walton said that much progress has been made in the goal of bringing downtown Gilroy back to a place of pride for the community.
"We're almost there. It's been a long haul, but we're almost there," he said. "I think it's a good time to do this tour before it all gets covered up to really see the amount of effort and time and money that's gone into retrofitting these buildings because they could have torn them down. If we had 35 empty lots downtown, it would take virtually forever to fill them. They would have been what they call 'missing teeth.' So we're grateful to the property owners and the investments that they've made and the work that they've done to the properties."
Latest posts by Marty Cheek
(see all)