Gavilan Community College celebrated its 100th year the evening of Sept. 7 with a gala that brought back many alumni, staff and faculty to its Gilroy campus to toast a century of higher education for local residents. It was a wonderful homecoming for many. Walking the beautiful Sycamore Lane central walkway through the Gilroy campus, guests learned from banner displays about the history of the college decade by decade.
Originally started as San Benito Junior College in 1919, students, including veterans of the first world war, attended classes held at Hollister's high school. The 1960 Master Plan for Higher Education served as a turning point in higher education in California, opening the door for the expansion of "junior" colleges throughout the state.
In 1963, the newly established Gavilan Community College District was drawn to include both San Benito and southern Santa Clara Counties. Successful passage of a local bond in 1966 provided the needed funds to construct the Gilroy campus on Santa Teresa Boulevard. In 1997, instructional sites were added in Hollister and Morgan Hill. With the passage of the Measure E facilities bond in 2004, Gavilan College upgraded its Gilroy campus and started the process of creating permanent locations in Coyote Valley and San Benito County.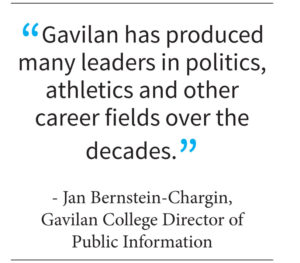 In the next several months, many high school seniors in the Morgan Hill and Gilroy school districts will be sending off their applications to four-year universities.
We'd like to suggest they consider spending the first two years of their after-high-school life at a community college such as Gavilan. There are considerable advantages to taking this route. Chief among them is the money they will save. The rising cost of tuition can burden an individual with significant student loans for decades.
According to U.S. News & World Report, the average cost of annual tuition and fees at four-year institutions in the 2018-2019 school year was $35,676 at private colleges, $9,716 for state residents at public colleges and $21,629 for out-of-state students at state schools.
In comparison, community colleges charge about $3,660 on average per year for in-state students. Savings can also come from students being able to live at home, helping to pay for themselves by getting a local job. Financial aid is also available for community college students.
Another advantage of community colleges is academic flexibility. They can serve as an excellent path for students to ease into higher education and learn at their own pace.
Students who struggled in high school will find they can get a "second chance" at education at a community college. About 60 percent of community college students go on a part-time basis, taking one or two classes a semester so they can work or support a family. 
A third advantage of community colleges is the personalized attention students receive that they might not at a four-year university. Community colleges such as Gavilan offer smaller class sizes than larger schools, meaning students receive more one-on-one time with instructors.
The value of a college education is what a student makes out of the experience, not necessarily the name of the college they attended. Many highly talented people in business, the arts and other fields got their start at success by taking classes at a local community college. Among them in the Bay Area are Apple founder Steve Jobs (De Anza College in San Jose), novelist Amy Tan (San Jose City College), and actor Tom Hanks (Chabot College in Hayward).
At a time when President Obama was promoting the idea of two years of free community college education for up to nine million Americans, Tom Hanks wrote an opinion piece published in the New York Times Jan. 14, 2015 issue in which he described how attending Chabot College — which he chose because of his poor grades in high school and the affordability — made all the difference for his life. He ended his op-ed with these words:
"I drove past the campus a few years ago with one of my kids and summed up my two years there this way: 'That place made me what I am today.'"
Many Gavilan graduates can say the same about their own alma mater.

Latest posts by Gilroy Life Editorial
(see all)