Members of Leadership Gilroy Class of 2019 learned that the elderly are at greatest risk of perishing in a fire
By Jessica Ewing
Fire burns fast, fire runs hot, fire is deadly. You have less time to react than you'd think. Large fires are becoming more common, more homes are being lost, more lives are in danger, cities and towns are being destroyed.
While exploring project ideas, the members of Leadership Gilroy Class of 2019 learned that the elderly are at greatest risk of perishing in a fire.
According to FEMA (Federal Emergency Management Agency), adults 65 and older suffered 35 percent of all fire deaths. Their risk of dying in a fire was nearly three times greater than that of the general population. That risk grew to 4.6 percent for those older than 84.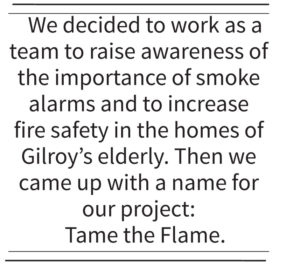 For our class, the safety of our community members was a project goal of utmost importance. We were inspired by a previous class project that involved the installation of life-saving automated external defibrillators (AEDs) in local businesses.
We decided to work as a team to raise awareness of the importance of smoke alarms and to increase fire safety in the homes of Gilroy's elderly. Then we came up with a name for our project: Tame the Flame.
According to the National Fire Protection Association, almost five million U.S. households do not have working smoke alarms. Three out of five home fire deaths occur in homes with no smoke alarms or no working smoke alarms. The risk of dying in a home fire can be cut in half when a household has a functioning alert system.
Some homeowners remove the alarm batteries after their alarm goes off randomly in the middle of the night. But their alarms most likely went off because they needed new batteries, or they were old (past the 10-year-mark) and needed to be replaced. Either way, too many homes are without working smoke alarms and so residents are insufficiently protected in the event of a fire.
Seniors are especially at risk because they typically don't change their batteries or alarms every 10 years and are often too frail to install them in the first place.
We chose to serve the residents of Gilroy's Wagon Wheel senior mobile home park by installing much-needed smoke and carbon monoxide detecting alarms. The Gilroy Fire Department helped with the execution of our project. Mobile homes in general also succumb to fire much faster than others. The project has allowed us to work as a team to raise community awareness of the importance of smoke alarms and to increase fire safety in the homes of Gilroy's elderly.
In addition to the alarms we installed, we also helped the Wagon Wheel residents fill out Lifesaving Information For Emergency (LIFE) Files. These documents encapsulate their medical history and any medication they may be taking. We helped to fill them out and they will stay on the side of their refrigerator in a magnet holder. They are meant to provide information in the case of a medical emergency where Emergency Medical Services might be called.
To ensure project success, we divided up into three sub-groups: Fundraising, Community Outreach, and Installation. This should have made accomplishing our goal easier following the idea of dividing and conquering, but in the end it brought about our biggest challenge: communication. Within our sub-groups, communication between our class as a whole started to fall through. In the end, though, we persevered and accomplished our goal of bettering the safety of Gilroy's elderly. They were very appreciative of our hard work.
While our project directly benefits the residents of Wagon Wheel and the families who received alarms at our community event, the members of Leadership Gilroy Class of 2019 have had a positive impact on the broader community through our outreach and fundraising. This lets us advocate for fire safety for Gilroy as a whole — and especially our elderly.
---
Jessica Ewing is the Marketing Director for Gilroy Life and a member of the Leadership Gilroy Class of 2019. Lisa Blagof and Jen Tomasello contributed to this column.

This guest column represents the views of the writer and not necessarily that of Gilroy Life. If you're interested in writing a guest column for this newspaper, please email the editor at editor@gilroylife.com.

Latest posts by Guest Column (see all)