Olam also entered into a tiered revenue-sharing arrangement with Mesirow
---
By Robert Airoldi
An icon of South Valley's garlic industry was just sold to a Chicago investment firm in a nine-figure deal.
Last month, Olam International, through its subsidiary Olam West Coast, completed a deal to sell the real estate assets of its onion and garlic processing facility in Gilroy for $110.3 million. The assets were bought by Chicago-based investment management firm Mesirow Financial.
"We are pleased to have secured a long-term tiered revenue-sharing agreement with Mesirow Financial for operating the onion and garlic assets for our U.S. spices business," said Olam's managing director and CEO of spices, Greg Estep. "As a large, leading financial services firm in the U.S., Mesirow has been a long-term partner of many large corporations in real estate transactions so I am confident our partnership will go a long way towards creating value for our respective stakeholders."
Olam also entered into a tiered revenue-sharing arrangement with Mesirow. They will share a part of the annual revenue from operating the assets for a period of 25 years.
The site on Pacheco Pass Highway just east of Gilroy has been a place for processing garlic since the 1930s.
If you're driving along Monterey Road south of San Martin, take a look at the progress in construction of the new Santa Clara County Animal Shelter. I'm impressed to see how much work has been done so far on a project that will be so vital to taking care of our four-legged friends.
On Nov. 22 South Valley community members enjoyed a beautiful day as they attended the "Topping off" ceremony, a monumental construction milestone where the final steel beam was installed. Many of the participants signed their names to the beam.
"When I first set foot in the existing 70-year-old County Animal Shelter as a newly elected county supervisor, I vowed then and there to help build a new and improved one," said Mike Wasserman, who attended the ceremony. "I am so proud that after years of planning, our new LEED Silver certified Animal Services Center is on track to open in 2021.
The 37,000-square-foot-facility will include modern dog dorms that provide indoor and outdoor access, an open air outside park for dogs to interact with potential forever owners, free-roam cat condos with climbing structures, a 10-stall barn and pasture, two surgical clinics to service our growing animal population, and a community space that will accommodate up to 300 people.
"We must still raise funds to complete critical infrastructure inside this state-of-the-art facility, and I hope that you will consider supporting local animals with a tax-deductible financial contribution," Wasserman said.
Want to make a donation for this part of the project? Go to www.aplace4animals.com or call (408) 918-4643.
History lies here along the sidewalks of Gilroy. And if you're interested in learning more about the place we call home, local history buff Connie Rogers recommends taking one of the special tours of the town guided by docents of the Gilroy Historical Society. They're held during the first Saturday morning of most of the months throughout the year.
"If you would like to know about Gilroy's history, theses tours will not disappoint," Rogers promises.
Meet in front of the Gilroy Museum, 195 Fifth St., unless otherwise specified below. It's too late for the first tour of Monterey Street  held Jan. 4 but other tours scheduled are:
Feb. 1 – Bungalows

March 7 – Women's History Tour

April 4 – Old Gilroy I (Railroad and Alexander Streets)

May 2 – Old Gilroy II (Forest and Chestnut Streets)

June 6 – Gavilan Hills Memorial Cemetery (Meet at the cemetery, 1000 First Street)

Aug. 1 – Fifth Street

Oct. 3 – William Weeks Building

Nov. 7 – Old St. Mary Cemetery (Meet in front of St. Joseph Family Center, 7950 Church St.)
For a democratic society to survive, its citizens must be actively involved. That means voting during elections. But we encourage going beyond that with participation in the process of governance on a local level.
Do you feel like taking more of a part in the Gilroy community in 2020? Consider taking part one of the city government's boards, commissions and committees. This is an opportunity for you to support and be involved in the planning projects or simply help conserve and protect the historical sites of Gilroy. The city is now recruiting for the Building Board of Appeals and Historic Heritage Committees. Applications are available online www.cityofgilroy.org and at City Hall. They are due Tuesday, Jan. 28. The Gilroy City Council will interview applicants the evening of Monday, Feb. 3, 2020.
Show your leadership skills and your love for democracy by getting involved in your city government.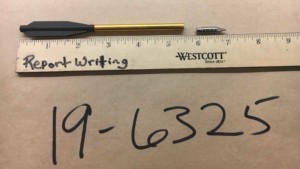 The Gilroy Police Department is looking for a Robin Hood wannabe. A person staying at the Best Western Plus Forest Park Inn in Gilroy was nearly struck in the head by a crossbow bolt Dec. 11 shot by an unknown suspect, police said.
The visitor, who was from out of town, was standing on a second-floor balcony when the 6.5-inch bolt flew past their head and into the wall beside them, breaking on impact.
Police are seeking information about someone in possession of a crossbow. If you might be able to provide info about the incident, the police can be contacted anonymously at (408) 846-0350.
Most likely the culprit is not a man in green tights who happens to reside in merry old England's Sherwood Forest. But who knows?
---
Robert Airoldi is the editor of Morgan Hill Life and Gilroy Life.

Latest posts by Robert Airoldi
(see all)