The Circle Up Experience taps into the human, and hooved, animals
---
By Donna Lane
Beth Killough is part cowgirl and part counselor. A licensed psychotherapist, she owns Take a Chance Ranch in Morgan Hill where she hosts The Circle Up Experience leadership workshops. But this isn't the typical corporate culture training, with stuffy PowerPoints, dry lectures, and the dreaded "trust fall." Instead, it features a bucolic, indoor/outdoor setting with horses, cattle, dogs, and other furry and feathered friends.
Here, participants have permission to revert to the human animal we lost on our way to becoming a responsible adult.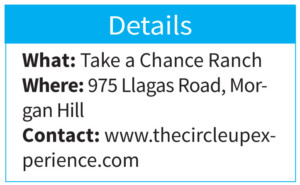 "We have a unique take on the concept of leadership and culture, based on a bit of a radical notion," Killough said. "We are human animals first and foremost. When we intellectualize leadership and culture, we lose touch. We're not as connected. By getting back into nature, and the very simple ideas we've forgotten, we remember that we are human animals. We're part of the mammal system—alive, aware, and at play. This is a chance for the human animal to be awakened. It brings about a more authentic part of our leadership. I think that's a relief to people."
Killough offers equine-assisted activities, which are non-riding experiences. Working with horses offers valuable assessment opportunities, due to their exceptional sensing systems regarding behavior. Circle Up's take on natural leadership and experiential learning with horses integrates human psychology, animal behavior, and natural systems to offer a unique approach to personal and professional development. Whether used for self-improvement or for corporate team building, there's something powerful about allowing nature to take its course.
"We're all out of balance a little bit," Killough said. "Learning how to access those channels gives us a choice point, allows us to have scope. We're so busy with our own stuff. Animals keep us honest with that."
In addition to leadership workshops, Take a Chance Ranch offers weekly meditation with the Dhammakaya monks who reside in a neighboring monastery. The ranch also hosts women's events, recovery groups, horsemanship events, and art programs.
Since civilization began, humans have lived in "herds." Those communities, large or small, provided opportunities to connect to, share with, and support others. However, as the human animal has evolved, we have become disconnected, private, and independent. Think of a high school clique, or the staff of a mid-sized tech firm. In either group, the desire to be part of the group is strong, but so is the desire to stand out from the crowd. How do we balance those desires and still maintain our individuality?
"In the horse world, there needs to be a group to be safe. The herd equals a survival system," Killough said. "If I don't take care of myself, the whole herd is at risk. This is how we used to live, with shared resources. But we forgot how to be a herd, how to need each other."
In fact, as their website points out, "when we stray from our herd and stop practicing the basic elements of community-building and trust-growing, our groups and relationships suffer." Killough notices this in professional groups, trapped in the pretenses of corporate culture and business-speak.
"Culture is a bunch of ideas," she said. "They sound smart, but there's not always a practical application. And it's that filter that's hurting us. It doesn't mean our socialization, language, and intellect aren't incredible influences. But they're out of balance. When I'm doing leadership workshops, I feel what's happening in the room. That culture has a feel to it, and I always trust the feel."
She continued, "Our approach pushes back on some of the ways we've been taught. Where do we speak up, shift things, give feedback? We get in a trance and parrot back" ingrained culture and ideas which may not represent our individual beliefs. "Deception is so dangerous in a group. But animals are always honest. That's why I try to use compassion with a little bit of cowgirl."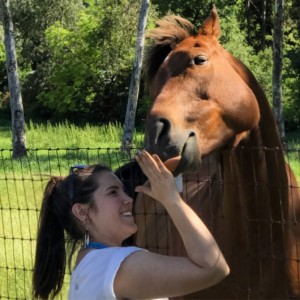 While the herd gallops in the pasture, cattle dot the hillside, a flock of sheep grazes nearby, and Killough's friendly Border collies practice herding skills. In the peaceful setting, guests are invited to participate in experiences, such as walking a labyrinth, with few limits.
"The primitive part of us wants to build and explore, but we often have constraints. That's taken away out here. Anything goes," Killough said. "I'll ask, 'Where are you called to out here? What are you exploring?' Then let's talk about it. Do you ever let your natural leadership take you where you need to go? How can you use that?"

Latest posts by Donna Lane
(see all)