Current Supervisor Mike Wasserman terms out after 12 years in office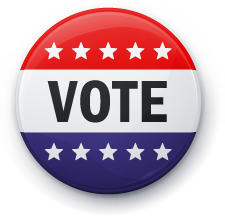 ---
By Marty Cheek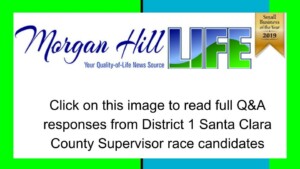 The race to represent District 1 on the Santa Clara County Board of Supervisors has just begun. Four candidates so far have announced their intention to run to replace Mike Wasserman, who represents the South Valley region and will be termed out in at the end of 2022.
The candidates are Rich Constantine of Morgan Hill, Johnny Khamis of San Jose, Rob Rennie of Los Gatos, and Claudia Rossi of Morgan Hill. They plan to compete  in the primary election scheduled for June 7, 2022. The general election next year will take place Nov. 8.
County Supervisor District 1 is made up of the South Valley region, parts of southern San Jose, the towns of Los Gatos and Monte Sereno, and unincorporated areas in the western county. Wasserman has served for three elected four-year terms.
Gilroy Life asked by email three questions of all four candidates on why they hope to serve on the county board. Their responses are published in alphabetical order by last name.
---
Rich Constantine is the mayor of Morgan Hill and a retired firefighter. He has been an advocate for the region while serving on boards including VTA, the Caltrain Local Policy Maker Group, and the Bay Area Air Quality Management District.
"While serving, my top priority has been making sure South County gets its fair and equitable share of regional resources," he wrote in his response.
Emerging with momentum from the economic crisis caused by the pandemic will be a challenge for the region, he said. Other important challenges include the problems of traffic congestion, access to healthcare, preserving open space, the threat of wildfires, affordable housing, water supply, climate change and access to education.
"As mayor, I am working with the county to address these issues and as supervisor I will continue to work with all levels of government to deliver for South County residents," he wrote.
A top South Valley priority for Constantine is protecting open space. Roughly 70 percent of the county's open space lies in District 1. It is important to capitalize on the uniqueness of South County including the wineries, small businesses, farmland and parks. It will be key after the region comes out of the pandemic to help businesses get back on their feet, he said.
Constantine said he's running because he is "tired of being asked to pay continuously increasing taxes to solve problems like housing, homelessness and crime while getting very little results."
In his eight years as a council member, he said he has led efforts to make government more efficient, customer friendly and completely transparent. As supervisor, he intends to make the county more efficient, transparent and accountable so South Valley residents can receive all the services they pay for.
---
Johnny Khamis is a former financial and insurance advisor. He was elected to the San Jose City Council in 2012, representing Almaden Valley and Blossom Valley. Re-elected in 2016, he was termed out as a council member in December 2020. Last year, he ran in the primary election for California State Senate District 15 and lost.
Khamis considers rising crime, homelessness and gridlock important challenges in District 1. He said he has worked on laws, such as Laura's Law, which, if passed by the county, will help mentally ill, homeless population who are in trouble with the law to get help.
"In my six years serving on the VTA, I have fought for transportation dollars to go to South County to fix and expand roads and increase transit options," he wrote in his response. "As your supervisor, I will look for innovative ways to help those on our streets and make sure people leaving our jails have the services they need to get back on the right track instead of becoming homeless or going back to crime."
Khamis said if elected he will host regularly scheduled, open to the public, community meetings and will also meet and work with local elected officials and public safety staff to address concerns the county can help with. He said he will work to ensure Caltrain adds more trips South Valley as promised in the past two tax measures.
"I will fight to make sure that South County receives its fair share of county resources," he said.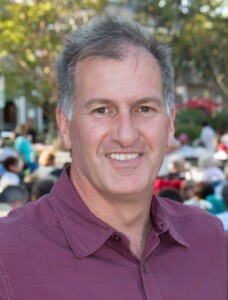 ---
Rob Rennie was elected to the Los Gatos Town Council in 2014 and re-elected in 2018. He now serves as the town's vice mayor. He wrote that his experiences as a professional engineer, small business owner, climate activist and council member representing Los Gatos on regional boards and commissions gives him insight and expertise working with county issues.
"I have been involved at the county level in transportation; disaster preparedness, mitigation and recovery; environment and climate change/clean energy to name a few," he said.
He considers COVID-19 recovery the biggest challenge South Valley faces because local businesses are suffering and the pandemic took its toll on the health and wellbeing of residents.
"It magnifies the pressing problems already facing South County of homelessness and the need for significantly more housing affordable to residents," he said. "As a county supervisor, I will seek innovative solutions to solve homelessness and bring the affordable housing needed. I will work with local leaders to promote controlled and responsible growth."
If elected Rennie will work for infrastructure upgrades such as the electrification of Caltrain, improve transit and active transit options, and to help maintain community character through smart controlled growth that manages traffic and preserves open space and recreational areas that benefit the region. Protecting agricultural lands from drought, wildfires, floods and economic instability is also crucial to the sustainability of the region, he wrote.
"Preserving farmland can play an important role in flood control, fire hazard mitigation and groundwater discharge," he said. "We can encourage carbon sequestration, diversification, eco-tourism, tasting rooms in appropriate areas, farm worker housing and other options.  I will work to ensure small farmers have what they need to thrive."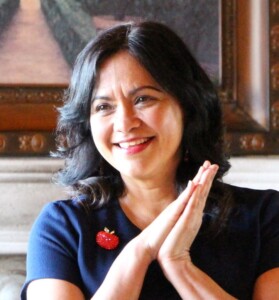 ---
Claudia Rossi is a registered nurse who now serves as the president of the County Board of Education. As the board supervisor for District 1, she plans to advocate for good jobs, quality healthcare and county services.
"Over the last year I've worked tirelessly to open vaccination sites throughout South County," she wrote. "I've dedicated my time as president of the County Board of Education working to ensure our students have the resources they need. As a mom who raised my two children here in South County, I have deep roots in our community. I will be a strong advocate for our health and safety on the Board of Supervisors."
Rossi sees the greatest challenge for South Valley is ensuring the voices of residents and local issues that are important to the region are recognized at the county level. The preservation of the region's agriculture industry and its open spaces is one of these issues she feels is important.
"I will lead and take action every day on behalf of South County families, and I will build a coalition of partners to work together to achieve all the great things our community deserves," she wrote. "We need a strong leader to fight to ensure Santa Clara County meets the needs of South Valley."
---
Latest posts by Marty Cheek
(see all)