Affiliated with the Indian Association of South Santa Clara County, organization provides meals, toys, clothing to the needy
---
By Marty Cheek
All it took was a decision made by one woman.

A year ago as the impact of the pandemic hit humanity, Morgan Hill resident Poonam Chabra saw how COVID-19 was hurting the lives of the needy in the South Valley.
Instead of sitting on the sideline, she decided to make a difference. In April 2020, she launched the Circle of Giving (CoG), a program affiliated with the Indian Association of South Santa Clara County. The humanitarian initiative provides support to various nonprofit organizations in the region.
"There comes a time in everyone's life when they have a calling to do something," Chabra said. "And I had that calling where I felt I had done so much in my career, but still there was a big void in my life. I wanted to do something that stirs my spirit and soul."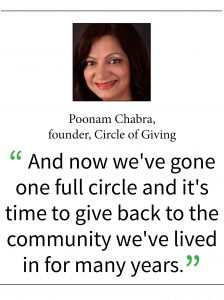 The former president of IASC soon found other people held a similar longing to help and heal men, women and children who were struggling as COVID-19 hit their lives.
"The folks who reached out to me were going through something similar," she said. " There was maybe 10 who reached out and said, 'You know what, we always wanted to do this, but we didn't know how to do this. You're basically the conduit for us to give back to the community now.'"
A team of 10 launched the first CoG project, calling it Hands Against Hunger. They provided 30 hot, home-cooked meals to the unhoused clients of the Gilroy Compassion Center on the first Tuesday of every month.
As word got out through social media, more Indian community members joined the group to support the cause of serving those less fortunate.
As the number of volunteers grew, CoG found more ways to assist those in need by starting several more programs.