Many folks feel overwhelmed with all these choices and are confused on what to do or how to research plans. 
---
By Michele Campbell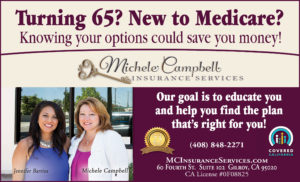 Annual Enrollment is here! This is the time to make a change to your health plan for your Medicare and Individual coverage.  You have until Dec. 7 for Medicare, to change your plan, for a Jan. 1, 2022 effective date. The Individual Open Enrollment Period runs through Jan. 31. If you want to make a change for Jan. 1, you must make your change by Dec. 15.
If you're on Medicare, this is an important time to review your Medicare Advantage plan and/or drug plan, to be sure it is still the best plan for you. Drug plans (Part D) change from year to year such as some plans go away, new plans come, and the drugs that are covered can change.
In California we have many Part D drug plans to choose from. There are also many Medicare Advantage plans available, which consist of HMO plans and some PPO plans. You might find that one of these plans could save you quite a bit of money, so you should review them also.