Curtain Up Review: LimeLight's "Inspecting Carol" — A pre-Christmas jaunt
Published on GilroyLife.com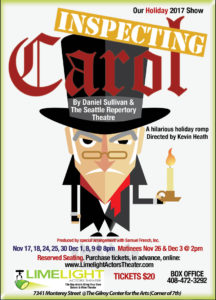 Limelight Actors Theater bounced into the Christmas Season with a joyous leap with Kevin Heath's production of  " Inspecting Carol", ( LimeLight's final 2017 show. Combining  with their annual  Michael J. Fox Parkinson's Fundraiser.
"Inspector Carol" has many firsts with the largest cast ever used in a LimeLight production , mostly  made up with the  tried and true former cast members from the past season and  for  first time using a child actor.
Making up this wild cast are  Doug Doughty, Joanne Englehardt, Roselind Farotte, Jason  Harris, Joey King. Dave Leon, Dana Morgan,  Bruce Pember, Rachel Perry, Michael Perry, John Verela and Christine Wanish
The  play is the story of a second rated soapbox  playhouse somewhere in the Midwest trying to get a third rate hammy bunch of  actors  getting  a production of  A Christmas Carol off the ground ready for an opening in a few days. Everything goes amiss, people involved are mistaken and replaced  for other characters finances are questionable  and chaos abounds with a lot of laughs and  hysteria.
The experienced cast pulls of the satire with great aptitude and gives everyone a relaxing fun time  with lots of laughs.
February 9th 2018  opens LimeLight's  8th top rated  season with the touching comedy  "The Savannah Sipping Society".
Do make reservations, tickets are paid in advance.
Doors open at 6:30pm with an 8pm curtain. Check for matinees – doors open at 1 p.m. with a 2 p.m. curtain. Lots of easy parking is available. As always remember you can bring dinner and a bottle of your favorite wine  There is also a concession that has wine and drinks available on premises. If you bring your own food be sure to bring all utensils needed for a comfortable dining. Dinner can also be ordered from the Milias Restaurant from their "Limelight Theatre to Go Menu". Order by noon the day of the show and dinner will be delivered to the theatre at 7 p.m. To order call (408) 337-5100.
"Inspecting Carol"
Where: Gilroy Center for the Arts, 7341 Monterey Street (7th & Monterey) Gilroy
Playing:   through Dec – Dec. 3
Tickets: $20
Reservations and Information: (408) 472-3292 or visit www.LimelightactorsTheater.com

Latest posts by Camille Bounds
(see all)