Published on GilroyLife.com on August 7, 2018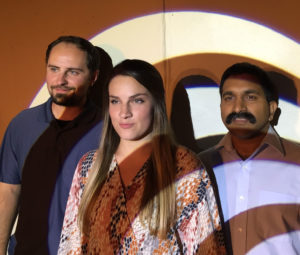 The Pintellos are at it again, kicking off their 2018-2019 comedy theater season with their latest laugh-a-minute production, a show called "Hypnosis!"  by  British playwright  David Tristran.
A  trio with great chemistry brings this comedy with a subtle thriller plot, that moves into a  delightful adventure that keeps the humor and wondering what is really going on – and who is doing what to who. It's certainly not boring. Director Whitney Pintello keeps her talented cast moving  with hypnotic  spinning lights to set change of scenes.
Nick Fryou plays "Gordo" as the edgy, on his last legs hypnotist performing his last show. Ronnie Misra as Alan Briggs is an unhappy policeman as his last on-stage stooge.  All goes well until Alan comes up with a surprise plan that he insists Nick participate in without a choice. Alan's wife, Helen Briggs, (Betsy MoLchan) is brought into the plot … and confusion with miscalculations  take over. I don't want to give away the big surprise… but it's more fun to go and see the well done production.
The audience appreciated the hard work that went into making this the smooth-running show that delivers a laugh a minute.  Of course, all the Pintello family were involved with lighting, sound,  spinning lights and set.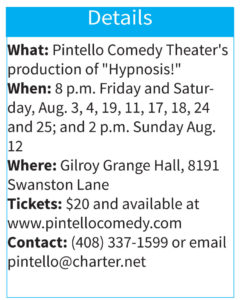 The Pintello Comedy Theatre is a family affair with everyone participating in just about every aspect of the production. And it is old home week for most of the audience. Four productions a year are offered with love and affection.
An evening with the Pintello Comedy Theatre offers the winery of  the evening and vino for purchase is available to the guests. If you are one of the few in the area that hasn't participated in one of their productions you're missing a wonderful opportunity for an amusing evening. The audience and the cast seem to have as much pleasure with one another to make this a love fest. So go, enjoy and relax. Where else can you get a better offer so close to home?
The Grange Hall in Gilroy is close to everyone in this and the Morgan Hill area and is well worth a trip for an entertaining, reasonable evening,
Neil Simon's "The Odd Couple "  will be Pintello's next production coming November 2018

Camille Bounds is the theater columnist for the Morgan Hill Life and Gilroy LIfe newspapers. She has performed on Broadway and traveled around the world. She can be reached at: bounds17@gmail,com

Latest posts by Camille Bounds (see all)