Humble hero receives honor at CHP headquarters in Gilroy April 23
Published in the May 2 – 15, 2018 Issue of Gilroy Life
By Donna Lane
Many of us wonder what we might do in a crisis, whether we would have the courage to take critical action when lives were at stake. Jose Perez of Morgan Hill already knows.
Perez is one of two men who risked their own lives when they ran to rescue two other motorists from a burning truck, following a crash that left one dead in January 2017.
At a ceremony held April 23 at the Hollister-Gilroy Area Office of the California Highway Patrol, Perez received the California Highway Patrol Commissioner's Medal of Distinction Award . He was accompanied by his wife, Marie, and their two sons. Also in attendance were representatives of State Sen. Bill Monning's office, and Assemblywoman Anna Caballero's office. Each presented Perez with an award from the respective elected officials.
"It's not very often our department gives out awards such as this," noted CHP Capt. Scott E. Parker during the ceremony. "It's rare, but well-deserved. Two people are alive because of Mr. Perez's heroic actions."
Just after noon Jan. 21, 2017, Perez was traveling eastbound on SR-152, east of San Felipe Road. Rain was falling in the area, an unincorporated part of Santa Clara County, and roads were slick. As Perez drove through the rain, he witnessed a head-on traffic collision, which resulted in a fatality, involving a 2002 Mercedes Sedan and a 2005 Ford pickup truck. A third car, a 2012 Scion, was also involved.
"It happened right in front of me," Perez recalled. "The truck veered sharply to the right and hit the guard rail."
As soon as the vehicles came to rest, the truck's engine compartment ignited. Without hesitation, Perez, and another driver, Vidal Flores, got out of their vehicles and ran to help.
Addressing Perez at the ceremony, Parker added, "You immediately stopped at the scene and called 911. You ran to the Ford pickup and observed that the passengers were trapped."
The Morgan Hill man says his first thought was there would be major injuries. "I was thinking that someone must have been hurt," he said. "As I was running toward the truck, I saw flames."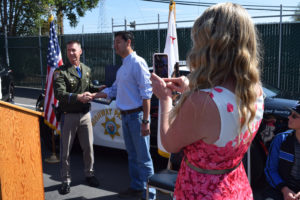 Knowing time was of the essence, Perez tried to open the passenger's door, but it was stuck. Both the female driver and her male passenger had severe injuries to their lower extremities, making it impossible for them to escape the harrowing situation on their own. He ran around to the driver's side and found she was unconscious and slumped over the wheel. With fire roaring from the engine compartment, Perez unbuckled her seatbelt, and pulled her and the man to safety. Moments later, the pickup's passenger compartment erupted in flames, and exploded.
"It all happened so fast," Perez recounted.
Parker commended Perez "for (his) heroic actions that saved the lives of two motorists." According to the CHP, "If not for the selfless acts of Jose Perez and Vidal Flores, both the driver and passenger of the Ford pickup truck would have perished in the flames."
Unfortunately, the woman driving the Mercedes died at the scene.
"Good Samaritans do stop frequently," Parker said. "It's just pretty rare for vehicles to catch on fire. It restores your faith in humanity when people conduct random acts of kindness toward others."
Perez expressed his thanks to the CHP for the award. "I appreciate it," he said. "It's a very nice gesture." Vidal, who lives in Lake Elsinore, will receive the same award at a ceremony there.
When asked what was going through his mind once he witnessed the accident and sprang into action, Perez said, "I was just hoping I had enough time to get them out. They were not going to get out on their own."
Perez grew up in Salinas and attended San Jose State University before becoming a corporate jet pilot. His parents were migrant workers, and he credits them with instilling in him and his seven siblings the value of hard work and helping others. Perhaps that's why he didn't hesitate to act in this dangerous situation.
He says he has had no contact with the couple he pulled to safety. "I don't even know who they are, but I hope they're doing well," he said in his remarks during the award ceremony. Capt. Parker interjected to say they're doing well and live in Los Banos. Smiling with relief, Perez said, "That's good to hear."
Marie Perez said she is proud of her husband. "That was a very heroic thing for him to do," she said. "It's unfortunate there was a fatality. But I'm extremely happy he was OK. He and the other man really put their lives on the line for others."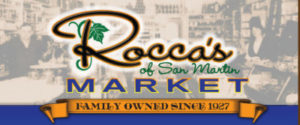 Donna Lane is a storyteller and San Jose native who earned her journalism degree at San Francisco State University. She lives in Gilroy with her family, who inspire her to celebrate life each day.

Latest posts by Donna Lane (see all)