Rucker Elementary students plant native hedgerow at Pajaro River Agricultural Preserve
---
By Donna Lane
It's never too early to develop an appreciation for the environment and all it has to offer the communities of South County and beyond. Conservation is serious business, but it can be especially fun when it means getting one's hands dirty. On Friday, January 31, a group of 72 third graders from Rucker Elementary did just that. They took action to preserve some of South County's watershed, by planting a native hedgerow at Pajaro River Agricultural Preserve. The event was a joint effort from Open Space Authority and Point Blue Conservation Science. Several other organizations contributed to this hands-on learning experience and conservation effort which has been a highlight of the Rucker curriculum for several years now.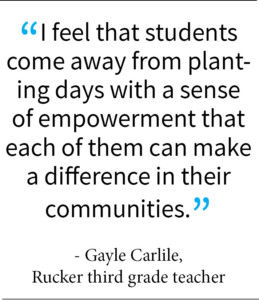 "I feel that students come away from planting days with a sense of empowerment that each of them can make a difference in their communities," said Gayle Carlile, who teaches third grade at Rucker Elementary. "And hopefully that will grow into continued action."
One of the purposes of this project was to benefit an organic farm, UC Farms in Gilroy, where farmer Luis Urias grows green beans. But it's important to understand the terminology in order to appreciate the impact this event had.
A hedgerow consists of several closely spaced plants which form a barrier, usually between neighboring properties. These can be shrubs or trees. They provide a habitat for beneficial insects, pollinators, and other wildlife, as well as a buffer from pesticide drift, noise, odors, and dust. As living fences, they increase biodiversity, and, of course, offer an aesthetic element to the landscape.
A watershed is an area or ridge that separates the waters that flow to different rivers or other waterways. Watersheds can supply drinking water, offer habitat to plants and animals, and provide water for agriculture, manufacturing, or recreational activities. Therefore, it's important to implement land use and water management practices which ensure that water and other natural resources are protected and utilized responsibly.
With that information as the framework, even young students can see the vital roles that water and plants play in our communities. For example, without these natural resources, it would be difficult to grow the food that ends up on their cafeteria tables each day.
Partnering with the Open Space Authority, Point Blue Conservation Science led the day's restoration activities as part of its innovative program, Students and Teachers Restoring a Watershed (STRAW).
Earlier in the school year, Point Blue visited the students' classrooms to give lessons on topics of watershed science and local agriculture. With this knowledge about the importance of healthy watersheds and restoration, the third graders set out to plant a variety of native, climate-smart shrubs along the property's edge.
"STRAW staff conduct a lesson prior to planting days that tells the origin of the organization and how it was a student-driven choice to save the habitat for the California Freshwater Shrimp," Carlile said. "One of the takeaways from that conversation is that this was not an attractive species, but it was still one that needed help to restore its habitat. Third graders love animals and are intrinsically curious about them. They also love to be helpers."
And help they did. In less than three hours, the students completed 1,400 feet of planting, stretching from the road to the property's irrigation canal. They worked over the course of the foggy morning, transplanting shrubs from nursery pots into the earth. The new natural barrier will help Urias maintain his organic certification, as the shrubs act as filters to reduce pesticide drift from neighboring, non-organic farms.
Jenni Benson, senior project manager at Point Blue, watched the students' progress and said, "The amazing transformation that has happened out here is really incredible."
To emphasize the fact that anyone can be a conservationist, the program was geared for this age group.
"Rucker third grader have been participating with STRAW for the past six years," Carlile said. "For five of the six years, we have been able to participate in a field day project. Each one is a little different depending on the site and type of plants needed.
STRAW does an amazing job of designing the project and plant palette, color coding the plants and locations at the site, and training the students so they know how to handle and use all the tools they will need for the project, she said.
As an added bonus, students can see in real time the impact of their hard work, and how easy it is to make a difference in their community, she said.
"Several of my students mentioned that they lived close to the site or had driven by the area before, so they already had a connection to place," Carlile said. "This year, because the soil had been prepared in advance by the farmer, students were able to do the work independent of the adults and were excited to complete the entire hedgerow."
It was also an opportunity to expand the boundaries of learning outside the traditional classroom, something that may not readily occur to students when they board the bus for a field trip. But, with any luck at all, it's an experience that stays with them for years to come.
The event was part of a larger, five-year project to improve water quality in the Pajaro Watershed, headed by the Resource Conservation District of Santa Cruz County, which administers the grant funding and sponsors projects, and is funded by the California Environmental Protection Agency and the California State Water Resources Control Board. The San Jose Conservation Corps spread mulch and installed deer-proof cages. Galli Basson, Authority resource management specialist, noted the intangible benefits of engaging students in local restoration work.
"Letting kids work on a meaningful project and get dirty, have a fun day, and be part of something in their community," she said. "It's something you just can't measure."