After reading story in Gilroy Life, Cam Diskowski came up with idea
Published in the May 2 – 15, 2018 Issue of Gilroy Life
Giving back to one's community is a noble act. One Gilroy teen is proving that it's never too early to start doing good for the place you call home.
Cam Diskowski, 16, is a junior at the Dr. TJ Owens Gilroy Early College Academy (GECA), which is an educational partnership between Gilroy Unified School District and Gavilan College. After reading an article in Gilroy Life about the Gilroy Demonstration Garden, he was inspired to build a barbecue pit for the garden that the entire community could use.
Using cinder blocks, clay bricks, mortar, and decomposed granite, the barbecue pit will be built for Cam's Eagle Scout Service Project. Diskowski joined the Boy Scouts in January 2014 and is a member of Troop 711. Eagle Scout is the highest rank one can achieve in the Boy Scouts of America organization.
"It shows you're committed," Diskowski said. Plus, he added, "it looks great on a resume." The high school junior is beginning to consider college and career plans, and this felt like a good fit.
"I've wanted to be an engineer for years," he said. "The barbecue pit seemed like a relevant project, and I wanted to give something to the Gilroy community."
Although Diskowski is interested in engineering, he's yet to decide on a discipline. Originally, he thought he'd become an architectural engineer, to design and construct buildings. Then the thought of working on aircrafts or spacecrafts as an aerospace engineer became appealing.
Currently, he's considering the idea of becoming a chemical engineer, focusing on replacing fossil fuels with a synthesized option. Whatever avenue he pursues, Diskowski is sure to look back on this project as a starting point.
Diskowski is not an active gardener at home, but his father, Craig, considers gardening a hobby. Diskowski had first visited the garden a few years ago. Ironically, it was to work on an Eagle Scout project for someone else. Now he's excited to design his own project for the same space.
Craig is a graphic designer. Diskowski used his software to design a 3-D model of the barbecue pit. He printed out the plans for a fundraising breakfast at the Chamber of Commerce. It was a smart move. The event netted more than $400, about half of what Diskowski estimates the project will cost. Diskowski later received another donation of $200.
With a projected cost of $804.24, Diskowski is well on his way to funding the project. The most expensive element of the project is the custom-made grill grate, totaling $458. To keep other costs down, his troop will pitch in with labor.
Diskowski also plans to borrow some tools and supplies. He spent some time online to conduct research, looking up material prices from a couple national home improvement chains. Although that gave him some figures to work with, he's hoping to approach some local building supply companies to see if they'd be willing to donate materials or be part of the project in some way.
Diskowski would like to express his appreciation and thanks to the donors in the community. "The money they've given will help this project be completed faster than I expected," he said.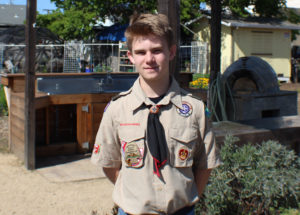 According to the Boy Scout Handbook, to become an Eagle Scout, a candidate must "plan, develop, and give leadership to others in a service project helpful to any religious institution, any school, or his community." The Eagle Scout Service Project is not allowed to benefit BSA.
Only about six percent of Boy Scouts will go on to achieve the rank of Eagle Scout. Doing so would put Diskowski in impressive company. Former president Gerald Ford, Academy Award-winning director Steven Spielberg, and astronaut Neil Armstrong, the first man to set foot on the moon, were all Eagle Scouts.
"I like scouting in general," Diskowski said, noting that he particularly enjoys backpacking trips and other outdoor activities, such as biking through the redwoods at Big Basin. "The skills you learn are useful and interesting. But it's not just about the outdoors. You learn life skills, too."
Surely, some of those life skills will include project management. He plans to begin construction on the barbecue pit on June 22 and estimates it should take two to three weekends to complete.
Some day in the future, Gilroy residents will be able to enjoy a freshly grilled burger while surrounded by thriving garden plots and enjoying the company of friends. And when they do, it'll be thanks to a local teen who understood the value of giving back.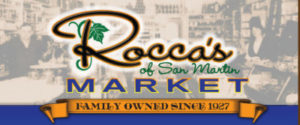 Donna Lane is a storyteller and San Jose native who earned her journalism degree at San Francisco State University. She lives in Gilroy with her family, who inspire her to celebrate life each day.

Latest posts by Donna Lane (see all)