Local elementary school students discover how to prepare a healthy meal
Click here to find more stories published in the April 17 – 30, 2019 issue of Gilroy Life
Watch out Iron Chef Michael Symon. Gilroy's youngsters are gonna give you a run for your money.
The celebrity chef who appeared at last year's Gilroy Garlic Festival would be impressed by the eight students from various Gilroy Unified elementary schools who took part in the 2019 "Sodexo Future Chefs Challenge" held at Gilroy High School March 6. The young chefs were encouraged to make healthy Mexican-inspired recipes, with an emphasis on reducing organic food waste. The winning dish came from Julia Finucane of El Roble Elementary. Her creation, Black Bean and Sweet Potato Taquitos, won over judges, and local culinary legends Sam Bozzo, Gene Sakahara, and Carlos Pineda to claim the top prize.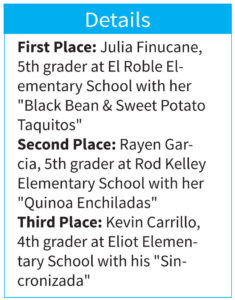 The Challenge, now in its ninth year, was created to get students thinking about making healthy food choices while also encouraging them to be active and creative in the kitchen. It's an idea that's timely and important. "According to the American Heart Association, about one in every three American kids and teens is overweight or obese," Stephen Dunsmore, CEO North America Schools, Sodexo, said. "This staggering statistic demonstrates why it is more important that never to engage youth to become advocates for their own health."
Sodexo is a school nutrition partner to more than 425 school districts throughout the U.S. It's taken a special interest in advancing childhood nutrition, health, and well-being. The Sodexo Future Chefs Challenge is an opportunity for the company to share its health and well-being expertise.
After 21 Gilroy Unified elementary students submitted their recipes, eight finalists were selected. Similar to TV cooking challenges like "Chopped" or "Top Chef," the competition presented the contestants an opportunity to show off their skills, creativity, and ability to remain calm under moderate pressure. In addition to Julia Finucane, the other finalists and their dishes include:
Kevin Carillo, Eliot Elementary, "Sincronizada"
Rayen Garcia, Rod Kelley Elementary, "Quinoa Enchiladas"
Sandra Martinez Aguilar, Glen View Elementary, "Fish Tacos"
Myra Moniz, El Roble Elementary, "Myra's Tasty Cheese Tostadas"
Michael Sarment, Luigi Aprea Elementary, "Shrimp Tacos"
Jack Zukowski, Luigi Aprea Elementary, "Jardin de Peces"
Tamara Grace, Rucker Elementary, "Burrito Bowl"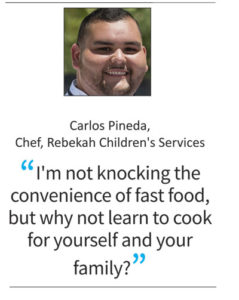 Students arrived at 3 p.m. and took a safety tour of the kitchen with Sodexo's Chef Jeff Brown, then began their recipe preparations. One by one, the students returned to their work tables. Some ingredients were prepped ahead to save time. Certain tasks were completed in the kitchen for safety purposes. Clad in black t-shirts and white toques, each student was paired with an adult volunteer, a lunch lady from one of the schools in the Gilroy Unified School District. Chef Brown made his rounds, inspecting the work stations and asking students questions about their recipes.
"I'm amazed," he said after the competition. "Some of these kids really have some skills."
Family and friends looked on as the students and their lunch lady volunteers chopped, mixed, and stirred their way to their completed recipes. As time elapsed, the pace quickened. Soon, leisurely trips to the kitchen to check on a recipe's elements or retrieve utensils turned into hurried steps at a quickened pace.
Meanwhile, the judges circulated throughout the competition, chatting with the competitors and offering advice. The friendly exchanges likely helped to ease some of the competitors' jitters.
Pineda, a graduate of Gilroy High School's Class of 2006 and the big winner of the Gilroy Garlic Festival's Garlic Showdown competition in 2017 and 2018, held court, taking the microphone at one point to thank the event's sponsors and shout out the competitors for their hard work and creativity.
Excited to be back in his old stomping grounds, and to see such an interest in culinary arts from the young students, Pineda said, "This is a huge community that's agriculturally-based, with lots of fresh ingredients available. I've been able to see kids morph into something they never thought of trying and morph their palates."
Pineda pointed to a dish being prepared, ceviche for shrimp tacos, which relies on the acid in lime juice, instead of heat from a stove or oven, to "cook" the shellfish. He added, "That's something that's easy to make, with no real cooking involved. And it helps build the palate for something else. I'm not knocking the convenience of fast food, but why not learn to cook for yourself and your family?"
A recipient of a Sodexo scholarship himself, Pineda went on to attend culinary school and currently works with Rebekah's Children's Service in Gilroy, running his own culinary academy for disadvantaged youth. He also praised his fellow judges, Bozzo and Sakahara, known collectively as SakaBozzo. "They're legends in the community," Pineda said.
At 4:30 p.m., the finalists plated their samples and placed them on the display table with high hopes. Then they presented their creations to the judges and audience members. Afterward, they proudly stood at their work stations, and shared high-fives and smiles with their lunch lady counterparts.
The future chefs also handed over their green organic waste buckets, full of any kitchen scraps that resulted from the creation of their recipes, and had them weighed. The trophy for Least Food Waste went to Rayen Garcia.
In the overall competition, Garcia also took second place, while Kevin Carrillo came in third. Each participant received a medal and certificate for their efforts, and a hearty round of applause.
"This event was great because there was so much adult help," Chef Brown noted. "But these recipes are all simple, and nutritious. It's the future of the culinary realm."
Speaking of the future, Pineda is hoping to pull off a three-peat this year, winning a third Gilroy Garlic Festival Showdown. When asked if he thought one of these elementary students might be his competition someday, his face erupted into a wide smile as he said, "I'll support it."

Donna Lane is a storyteller and San Jose native who earned her journalism degree at San Francisco State University. She lives in Gilroy with her family, who inspire her to celebrate life each day.

Latest posts by Donna Lane (see all)