Film by Gilroy-born soldier highlights veterans' invisible struggle with PTSD
Published in the March 20 – April 2, 2019 issue of Gilroy Life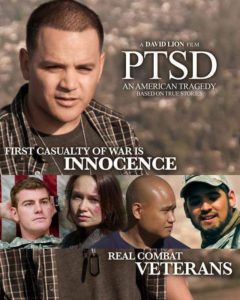 At the upcoming Poppy Jasper International Film Festival, audiences will see stories on the screen. One local filmmaker, Carlos Lopez, Jr., can't be there. He committed suicide last June after suffering from years of post-traumatic stress disorder. His film "PTSD: An American Tragedy" will share his story.
His father, Carlos Lopez Sr., said, "People don't ask why when they hear about veteran suicide." Yet, 22 veterans commit suicide daily, or 8,030 each year. That's why Carlos Sr. and his wife, Juanita, are raising PTSD awareness.
"Our intentions are to honor our son's work," Juanita said. "We want to be hopeful. We want a better outcome for other veterans."
According to Psychology Today, PTSD is "a trauma or stress related disorder that may develop after exposure to an event or ordeal in which death or severe physical harm occurred or was threatened." It affects about 8 million American adults. It's frequently seen in conjunction with depression, substance abuse, and anxiety disorders.
Born in Gilroy, Carlos Jr. attended Nordstrom Elementary School in Morgan Hill. His family later moved to Elk Grove, where he graduated from high school and attended college. A month before Sept. 11, he joined the U.S. Army. It's a family tradition. His grandfather is a World War II veteran. His father served in the Army. His younger brother is a Marine. From 19 to 24, Carlos essentially served three tours of duty in Iraq, Kuwait, and Afghanistan
"He served honorably," his father said. "But when he came out, he was not the same. He was easily agitated and angered. Frustration came quickly."
After Iraq, Carlos Jr. immediately entered a