Exhibit spotlights a variety of artwork by Armed Forces service members
Click HERE for more stories published in the May 1 – 13, 2019 issue of Gilroy Life
rt can bring healing and relief to those who have experienced trauma. It can also enable us to better understand someone else's experiences. With that in mind, the Gilroy Center for the Arts opens a new exhibit, "The Art of War, A Veteran's Art Exhibit" on April 27. Featuring the work of about a dozen veterans, the exhibit runs through May 25. There will also be a reception open to the public on Saturday, May 4, from 2 to 4 p.m.
"The people who inspired this exhibit were my father, Bob Clark, who fought in Vietnam, and both of my grandfathers," said Rachel Perry, a GCA board member who is producing the exhibit. "My dad has always been tinkering. As a kid, I watched him make jewelry and later, knives. He doesn't talk about his military service, but he's involved with his local VFW (in Hollister). I figured he wasn't the only veteran out there doing creative things to keep himself busy."
And she was right. She reached out to local VFWs and American Legion posts, and several veterans answered the call.
Joe Kline, of Gilroy, is one of the artists whose work will be displayed in the exhibit. A Vietnam veteran, Kline creates aviation art.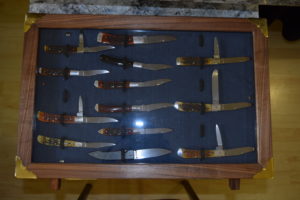 "I always had a talent for drawing," he said. "I spent two years in college, then went into the Army. When I came home from Vietnam, I started painting. I was interested in aviation art because of my father," who was a B-25 bombardier with the 340th Bomb Group in the Mediterranean Theater during World War II. Kline served as a Huey helicopter crew chief with the U.S. Army's 101st Airborne Division during the Vietnam War.
But besides the family connection, Kline recognized how deeply pe