Airplane museum to host public open house May 18
Click HERE to find more stories published in the May 15 – 28, 2019 issue of Gilroy Life
Aviation's past and present will come to life at the annual Aviation Day, May 18, at the Wings of History Air Museum next to the San Martin Airport grounds
Though the museum has been open for more than 35 years, this is the 18th open house. Among its displays are 24 aircraft, some of which are still operable, with a few more in storage. The nonprofit organization relies on donations, volunteers, and membership dues to keep going. The open house allows aviation enthusiasts and those curious about the subject to support the museum's efforts.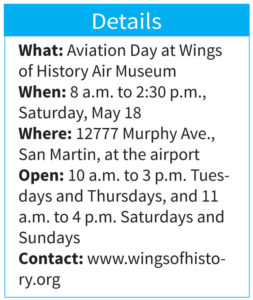 The open house will feature antique and vintage aircraft, tethered hot air balloon rides, free airplane rides for kids ages 8 to 17, a Drone Zone obstacle course, model aircraft demonstrations, model building, kids' activities, food trucks, and live music by the Bipolar Bears. The event and parking are free. All donations will benefit the Wings of History museum. Fly-ins are welcome. And of course, attendees can also tour the museum, which contains a fascinating array of aircraft, instruments, models, and memorabilia.
"This will be a more community-focused event than it has been in the past," said Ed Stricker, the president of the Wings of History museum. "The Santa Clara County Sheriff's Department will be here with their helicopter. The CHP will have vehicles, as well as the Civil Air Patrol. Gavilan College will have a booth set up for their aviation mechanics program. There will also be some technical lectures."
The purpose of this event is to promote interest in aviation and let residents see what the Wings of History Air Museum offers. One activity that's specially popular to educate would-be aviators is the free airplane ride for children. These are provided by the Experimental Aircraft Association Chapter 62. After a brief primer, they'll take up two or three kids at a time for a ride in a certified aircraft.
Stricker himself developed an early interest in aviation. "When I was a young kid, I just loved airplanes," he said. "I got my pilot's license in the early 1980s. I knew the museum had a restoration shop. I couldn't quit my job, but I like to work on stuff, li