Gilroy High's FFA Service Dog program teaches responsibility
Click HERE to read stories published in the May 29 – June 11, 2019 issue of Gilroy Life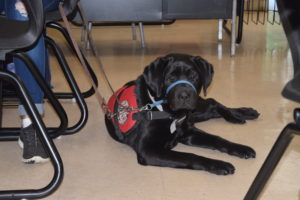 A high school campus is a place for acquiring new skills, making new friends, understanding how to socialize, and learning to help others. At Gilroy High School, those endeavors aren't just limited to humans. They're also shared by a group of four-legged, tail-wagging friends who will eventually make an impact on U.S. servicemen and women.
Elida Moore is a Future Farmers of America advisor at Gilroy High School, where she teaches Agricultural Biology, Agricultural Science I, Veterinary Science, and Agricultural Government/Economics. She oversees the school's U.S. Veterans Service Dogs program, which includes her dog, Odette, as well as Berto, Cleopatra (Cleo), Colt, Charlotte, and Delilah. It doesn't hurt that Moore is as full of energy as the puppies who go through her program.
"Before this, I got started through a friend with Guide Dogs for the Blind," Moore recalled. "Then last summer, I was introduced to the USVSD program. They need a lot of raisers, and Cody Bellanger (USVSD founder, CEO, and director of training and client services) was so excited that we wanted to start a program."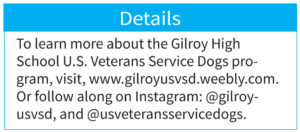 Moore was eager to make it happen. After speaking to Gilroy High's principal, Marco Sanchez, Moore started meeting with interested students. She assured everyone that they'd be held to an extremely high standard.
"Raisers must maintain a 3.0 GPA," Moore explained. "They understand there will be distractions, and they sign a contract. But they dive into it wholeheartedly. They're so excited to be out there every day."
The dogs go through a variety of training in order to aid veterans who may be physically disabled, experiencing mobility issues, or living with post-traumatic stress disorder. According to USVSD, they are "dedicated to helping veterans return to a new 'normal' by training and placing quality service dogs with veterans."