Nacho Moya creates connections beyond the studio
---
By Donna Lane
Creating art requires inspiration, determination, vision, courage, and opportunity. A little support doesn't hurt, either. Nacho Moya is a perfect example of how these elements can combine to achieve success, if you believe in yourself. From humble beginnings to a thriving business in downtown Gilroy and a promising future, he's using his gifts to make an impact on Gilroy and beyond.
Ignacio "Nacho" Moya, 38, was born in Mexico. He moved to South County at the age of 18. He grew up in Gilroy and now lives in Morgan Hill, with his wife, Alma Torres, a son and a daughter. He opened his business, Moya Art Gallery and Studio, in August 2017. His work is distinct, and he's become a fixture at community events. But what seems like an overnight success story at first glance springs from a palette of struggle and sacrifice.
"I've wanted to be an artist since I was in sixth grade," Moya recalled, sitting in his studio surrounded by huge, colorful canvases and personal mementos. As a kid, he played with rocks instead of toys and rolled a tire downhill for fun. They were happy times. But he wanted something more. "I loved art because I won a contest in school. That was the first time I thought, 'I'm an artist. I'm creative.' I was always drawing since I was little."
Inspiration and determination were there. Next came the vision.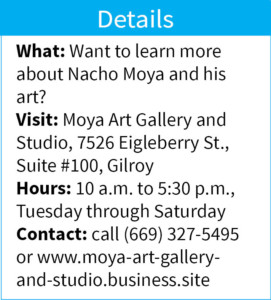 After moving here, he worked in retail and did construction at Gilroy Gardens. That paid the bills but didn't fulfill his artistic spirit. He took art classes at Gavilan, and the school's newspaper ran some articles about him. "It boosted my motivation," he remembered. "But there wasn't a lot of support, no money to start a business."
When Alma was pregnant with their son, he started making paintings, which he sold at a fruit stand in Morgan Hill. For a year and a half, he hosted paint parties in his living room. Word got out and people began recognizing his work. His vision had come to life.
Then the courage materialized.
"In 2016, I decided I wanted to follow my dream," Moya said. "The first step was to quit my job. I thought, 'People will buy my artwork.' You gotta believe. The life of an artist is not easy. It's hard work and a lot of sacrifices, but you gotta find a way."
Enter opportunity.
Ready to make his dream come true, he found the space on Eigleberry that now houses his studio and fell in love with it. The only drawback? The cost was much more than he anticipated.
"You don't stop because money's a problem," he said. Several paint parties later, he'd raised the funds to secure the space. That was two years ago. Since then, he's become somewhat of a local celebrity, and he enjoys giving back to his community. He's been asked to donate to local fundraisers, and is often invited to high-profile events, such as the Poppy Jasper International Film Festival and Gavilan's centennial gala.
"I love to meet and talk to people who've done something, whether they're celebrities, music producers, athletes," Moya said. "They share similar stories. I'm starting, and I want to learn how they started."
One of those connections is UFC fighter and Gilroy High School wrestling coach Daniel Cormier. Moya was so inspired by Cormier that he wanted to do a painting for "DC" and bring him to the studio. So, he called a friend who helped him make a video for Instagram, inviting the double champ to stop by and pick up the painting. Soon he received a notification from Cormier himself, saying he'd do it, and Moya's network expanded.
"I visualized it, and it worked," Moya said. He's linked to the mixed martial arts (MMA) community, displaying several pieces of memorabilia on his studio walls, but his network extends well beyond Gilroy.
Mattie Scariot, the director of PJIFF, put Moya in touch with her colleague, Randy Spendlove, who is the president of Paramount Pictures. Moya took a trip to Hollywood, where he tooled around with Spendlove, seeing the sights and, true to form, visualizing his future.
"I drove around with him and realized I want to see my artwork on a billboard," Moya said. "I'd like to do art exhibitions in Beverly Hills. Sooner or later, I want to make it happen."
Meanwhile, those paint parties have proven to be a solid element in his success. Though still popular for a girls' night out or team-building event, Moya has taken on high-profile clients, like Netflix.
"The same day as the Poppy Jasper gala, I did the first Netflix paint party," he recalled with a smile. "I got home at 5, took a shower, and by 6, it was vamanos! (Let's go!)"
Recently, he led a paint party at Facebook headquarters, with another party for Netflix and Dreamworks Animation on his agenda. In August, he was in Los Angeles, working on a music video.
"I go wherever they hire me," Moya said, indicative of a working artist. "When these big corporations look at my work, it's a blessing. I pinch myself and think this is crazy."
Except it's not, given his intentions and persistence.
"I'm an immigrant here. When I moved to this country, I moved with a dream," he said proudly. "I feel like I have an opportunity to make an impact on my Latino community. I meet very successful people, UFC fighters, Hollywood people, musicians."
Moya has come a long way from those days playing with rocks in Mexico. He wants to stay humble and doesn't take any of it for granted. In fact, he was surprised when someone at an art festival in San Jose recognized him.
"It's awesome hanging out with people I see on TV," he noted. "Don't forget about family and friends, but if you want to grow, surround yourself with success. How life is, it gives you everything. But you gotta do your part, you know? I visualized all of this by believing in myself and what I do. I'm thankful for my struggles. And I'm still struggling. But I'm better as a person because of my hard work and sacrifice. That's my motivation. It all happens at the right time and for a reason."

Latest posts by Donna Lane
(see all)